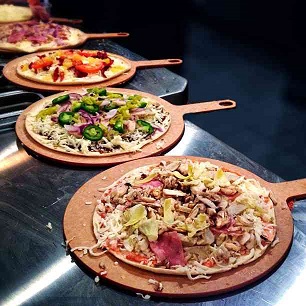 PizzaRev announced today that Buffalo Wild Wings, Inc. has taken a minority position in its innovative 'Craft Your Own' fast-casual pizza concept.   PizzaRev burst onto the scene in Los Angeles and in less than a year has earned rave reviews from fans and critics alike for its unique format which empowers guests to build their own custom pizzas, choosing from PizzaRev's vast selection of sauces, cheeses, and toppings for one affordable price.  Recently nominated for "Best Pizza in Los Angeles" by Citysearch, PizzaRev has earned one of the highest Yelp ratings of any pizza restaurant in Los Angeles, and is poised to continue its growth in the community and outward with its new partner.
"The PizzaRev team is thrilled to have Buffalo Wild Wings invest in our business.  Their strong track record and stellar reputation within the industry make them an ideal partner as we strive to reach new customers excited by our concept," said PizzaRev co-CEO Rodney Eckerman. "PizzaRev's unique and interactive approach is revolutionizing the pizza industry, and it's exciting to have a similarly innovative brand like Buffalo Wild Wings take notice."
"Over the past year, Buffalo Wild Wings has been investigating emerging restaurant concepts with high growth potential as we continue to build our dynamic company," said Kathy Benning, Buffalo Wild Wings executive vice president of global marketing, brand and business development.  "Along with chicken wings, pizza is one of America's most popular foods and we believe that PizzaRev has great potential for continued growth and success."
"PizzaRev is a truly interactive dining experience.  Starting with our made-from-scratch dough, everything you could want on your pizza is displayed right before your eyes and crafted to your personal preference.  Once your pizza is just right, it goes in our revolutionary open-flame stone-hearth oven and emerges just three minutes later perfectly cooked," explained Nicholas Eckerman, PizzaRev's head of operations.
"We believe that our relationship can have immediate impact in accelerating our growth in southern California and beyond establishing a leadership position in the fast casual landscape," said PizzaRev co-CEO Irv Zuckerman.
About Buffalo Wild Wings
Buffalo Wild Wings, Inc., founded in 1982 and headquartered in Minneapolis, is a growing owner, operator and franchisor of Buffalo Wild Wings® restaurants featuring a variety of boldly flavored, made-to-order menu items including its namesake Buffalo, New York-style chicken wings. The Buffalo Wild Wings menu specializes in 20 mouth-watering signature sauces and seasonings with flavor sensations ranging from Sweet BBQ™ to Blazin'®. Guests enjoy a welcoming neighborhood atmosphere that includes an extensive multi-media system for watching their favorite sporting events. Buffalo Wild Wings is the recipient of hundreds of "Best Wings" and "Best Sports Bar" awards from across the country. There are currently more than 900 Buffalo Wild Wings locations across 49 states in the United States, as well as in Canada.
To stay up-to-date on all the latest events and offers for sports fans and wing lovers, like Buffalo Wild Wings on Facebook, follow twitter.com/BWWings on Twitter and visit www.BuffaloWildWings.com.

PizzaRev is a Los Angeles-based fast casual Pizza chain that has re-invented the way America eats its favorite food by delivering a truly interactive dining experience where customers craft their own pizzas choosing from a wide variety of premium quality ingredients, in any amount, for one price.  PizzaRev fires its pizzas in a stone-hearth oven which produces a delicious, crispy Roman-style thin pizza in just 3 minutes.
PizzaRev was founded by long-time entertainment industry executives Irv Zuckerman and Rodney Eckerman, who bring Fortune 500 executive operating experience along with their Management team of highly experienced and long-tenured restaurant operators.
Like PizzaRev on Facebook www.facebook.com/pizzarevco, follow on Twitter @pizzarevco and visit www.PizzaRev.com for updated news, videos and location information.