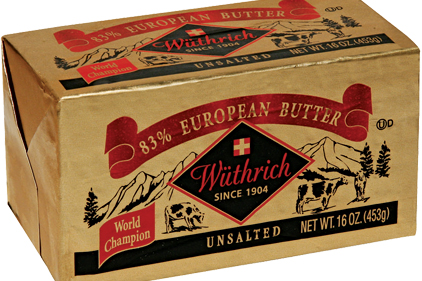 Greenwood, Wisconsin, March 21, 2013—For Father's Day menus, offer the affordable luxury of steak, with a decidedly contemporary flair. Grassland's Wüthrich (pronounced we-trek) 83% European Style Butter adds a boost of richness to the sauces and sides that elevate steak dinners to
celebration-worthy indulgences.
Wüthrich 83% European Style Butter provides unparalleled flavor, texture and cooking performance. It's a versatile, staple ingredient for foodservice kitchens. Because of its lower water content, Wüthrich 83% European StyleButter is ideal for making luxurious compound butters that freeze well and can be kept on hand to complement steaks and burgers. Chefs around the country have also discovered that the 83% fat content allow them to use nearly 25% less product and achieve the same results.
Chef Tyler Sailsbery of The Black Sheep Restaurant in Whitewater, WI, has created a luxurious Father's Day recipe that relies on the flavor and texture of Wüthrich 83% European Style Butter. Grassland Bleu Butter and Port Reduction with Steak and Butter-Curried Brandy Carrots features Bleu Butter topping for the steak and a buttery-rich sauce for the carrot side dish.
Start by mixing 1 pound of Wüthrich 83% European Style Butter with ½ cup milk bleu cheese, such as Amish Bleu or Gorgonzola. Stir the butter and cheese until they are well-combined, then refrigerate until needed. After each steak is partially cooked in a cast iron skillet or other heavy pan, top it with 3 Tablespoons of bleu butter. Finish steaks in the oven, and then drizzle them with port wine reduction. Chef Sailsbery's steak recipe is accompanied by Butter-Curried Brandy Carrots, featuring carrots baked until they're tender. The carrots are then coated with a sauce of Wüthrich 83% European Style Butter, yellow curry powder, brandy, brown sugar, salt and pepper, and a pinch of cinnamon, if desired.
Grassland produces a line of high-quality butter products for dining and baking operations, and has garnered more than two dozen awards for butter, winning top honors at state, national and world
competitions.
To learn more about the difference Wüthrich 83% European
Style Butter can make in your restaurant's kitchen, visit their website at
www.grassland.com, or call 1-800-4BUTTER. You'll find product information
about Grassland's line of cooking, baking and confectionary butter for
foodservice. Grassland also offers a short training video featuring ways
that foodservice operators can enrich their menus with Wüthrich 83% European
Style Butter.