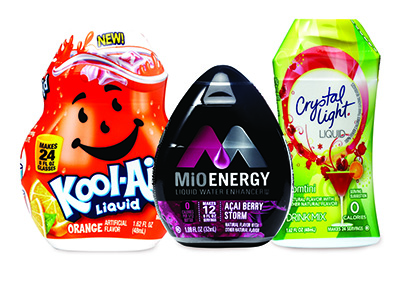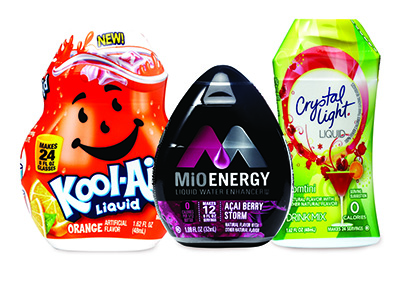 Squeeze in more profits and capitalize on the flavored water trend with the three leading brands in the liquid concentrate category: MiO, CRYSTAL LIGHT and KOOL-AID. Available in a variety of thirst-quenching on-trend flavors, single-serve liquid concentrates appeal to a broad customer profile.
As the demand for carbonated beverages continues to decline,2 liquid concentrates provide an attractive add-on opportunity for both tap water drinkers and bottled water customers to reverse slumping beverage sales. Portable and pocket-sized for on-the-go hydration, water enhancers allow customers to personalize their drinks with the right amount of flavors. Just open the lid, dilute in water and enjoy!
Made with the highest quality ingredients and natural flavors, MiO single-serve liquid concentrate enhances the flavor of water with 0 calories, 0g carbs, no sugar and low sodium. Rated a top-10 beverage brand, MiO showed 87% growth in 2012. The most popular MiO flavors include: Cherry Blackberry, Orange Tangerine, Energy Black Cherry and Fit Berry Blast.
As the #1-selling non-carbonated sugar-free powdered drink mix, CRYSTAL LIGHT boasts 90% aided brand awareness. Single-serve liquid concentrates, like revitalizing CRYSTAL LIGHT Mango Passionfruit, instantly transforms water into a new refreshing drink with 0 calories per serving and a refreshing better-for-you appeal.
With the #1 family trademark of all-time, KOOL-AID is the fun, nostalgic brand that families enjoy. Tropical Punch is a favorite among the iconic flavors and is now available in a convenient new single-serve liquid concentrate format.
Kraft Cold Beverage Brands represent the top 3 sellers within the single-serve liquid concentrate category between their top-selling brands – MiO, CRYSTAL LIGHT and KOOL-AID. These proven brands have the strong consumer appeal to energize your beverage business.
Keep customers happy and returning for more with today's hottest beverage format and the top 3-selling super concentrated liquids – MiO, CRYSTAL LIGHT and KOOL-AID.
ABOUT BEV1 BRANDS
Bev1 Brands is a single source for the diverse portfolio of hot and cold beverage brands offered by Kraft Foods Group, Inc. (NASDAQ: KRFT). From iconic coffee brands such as Maxwell House and Gevalia to refreshing Crystal Light, Capri Sun and more, Bev1 Brands offers products, equipment, merchandising and service support to the U.S. foodservice industry.
ABOUT KRAFT FOODS GROUP
Kraft Foods Group, Inc. (NASDAQ: KRFT) is one of North America's largest consumer packaged food and beverage companies, with annual revenues of more than $18 billion. With the spirit of a startup and the soul of a powerhouse, Kraft has an unrivaled portfolio of products in the beverages, cheese, refrigerated meals and grocery categories. Its iconic brands include Kraft, Maxwell House, Oscar Mayer, Philadelphia, Planters, Velveeta, Capri Sun, JELL-O and Lunchables. Kraft's 23,000 employees in the U.S. and Canada have a passion for making the foods and beverages people love. Kraft Foods Group is a member of the Standard & Poor's 500 and the NASDAQ-100 indices. For more information, visit www.kraftfoodsgroup.com.
ABOUT KRAFT FOODSERVICE
Kraft Foodservice is a division of Kraft Foods Group, Inc. (NASDAQ: KRFT), one of North America's largest consumer packaged food and beverage company. Kraft Foodservice provides a diverse portfolio of brands, marketing and sales expertise and resources to the U.S. foodservice industry. Visit www.Kraftfoodservice.com for more information.