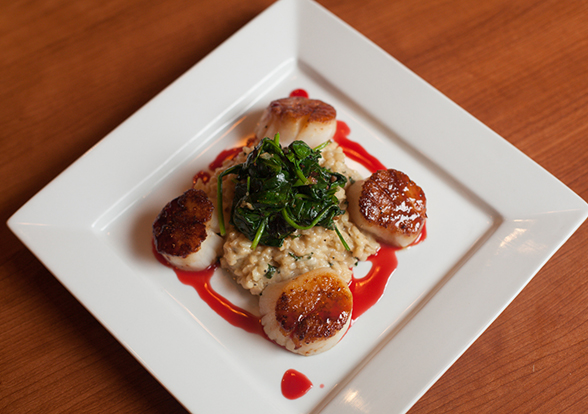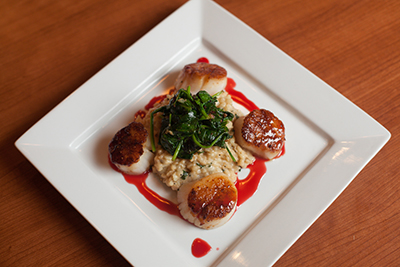 Pan Seared Scallops with Blood Orange Gastrique and Basil Risotto
Makes 4 servings
Ingredients:
20 Large Sea Scallops
2 Cups Arborio Rice
2 oz. Salted Butter
½ Cup Asiago Cheese
2 oz. Fresh Basil
¼ Cup Chopped Red Onion
2 Cups Vegetable Stock
4 Tbsp. Olive Oil
Salt & Pepper
For Risotto:
Heat 2 tablespoons of oil in small sauce pan.
Add onion and stir until translucent.
Add Arborio rice and continue to stir until the outside of the rice is translucent.
Add vegetable stock.
Bring heat to low and continue to stir until the rice has absorbed the vegetable stock.
Add Butter, cheese, and basil.
For Scallops:
Pat Dry then coat with salt and pepper.
Heat large skillet to high and get the pan HOT.
Very carefully add 2 tablespoons of oil.
Carefully place the scallops in the pan and allow to brown for approx. 1-2 minutes on each side, brown on the outside and opaque in the center.
Blood Orange Gastrique Ingredients:
1 Cup Fresh orange juice – from approx. 6 oranges
3 Tablespoons Sugar
1 Tablespoon Sherry wine vinegar
½ Cup vegetable stock
Blood Orange Gastrique Directions:
Place sugar in a heavy saucepan. Heat over medium heat until the sugar melts.
Cook until deep golden, approx. 4 minutes. Add vinegar (mixture will harden).
Stir until the caramel melts.
Add orange juice and boil until the mixture thickens (about 4 minutes).
Add stock and boil until gastrique coats spoon and is reduced to approx. ½ cup, about 15 minutes.
About Tuscany Grill
Tuscany Grill is located at 120 College St., Middletown, Connecticut in the historic Middlesex Opera House building. For more information, visit www.tuscany-grill.com.