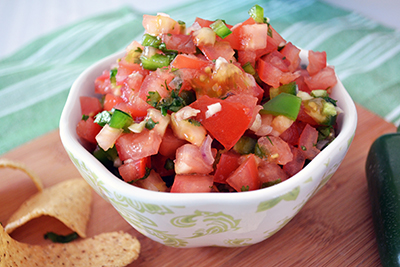 Fresh Tomato Salsa
Ingredients
1 cup of fresh diced tomatoes, seeded and drained
1/3 cup diced onion
¼ cup diced jalepeno pepper
1 tablespoon fresh cilantro
1 teaspoon fresh lemon juice or lime juice
¼ teaspoon of salt
Black pepper to taste
Directions
All you have to do is combine all of these ingredients in a medium bowl and serve!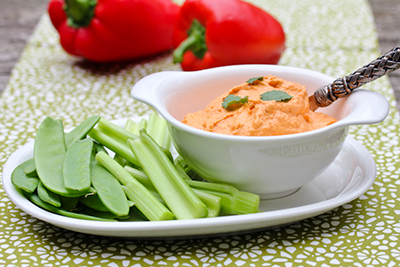 Roasted Red Pepper and Caramelized Onion Dip
Ingredients
1 teaspoon of olive oil
2 large sweet onions, sliced a ½ inch thick
2 tablespoons red wine vinegar
1 teaspoon of sugar
1 teaspoon of salt
Black pepper to taste
1 cup of reduced fat sour cream (8 ounces)
½ cup fat-free plain yogurt
½ of a jarred roasted red pepper, patted dry
Directions
In a large saute pan, heat the oil over medium high heat. Add the onions and cook, stirring a few times, for about 10 minutes
Add the vinegar, sugar, salt and pepper. Cover, and then reduce the heat to low and cook for about 3 hours, stirring every 30 minutes. The onions are done when the liquid has evaporated, the mixture is dark and sticky, and it measures about a cup. If you still have liquid in the pan after 3 hours, just raise the temperature and cook uncovered until the liquid evaporates.
Remove from the heat and transfer to a dinner plate to cool. Place the cooled onions in a food processor fitted with the metal blade. Add the sour cream, yogurt and red pepper after patting it dry. Process and smooth. Refrigerate before serving.
About bistroMD
bistroMD is the leading diet delivery program that provides the freshest, best tasting, and most nutritious meals. bistroMD was created by Dr. Caroline Cederquist, MD, who believes that food is medicine, and as such, bistroMD offers a variety of meal delivery programs targeting specific health needs such as weight loss, diabetes, hypertension, menopause, post-baby weight, gluten allergies, and more. All bistroMD mealsare prepared fresh by top chefs and contain the finest and natural ingredients, real vegetables, sustainable protein, and have minimal to no chemicals or fillers compared to other top competitors, and are packaged in BPA free trays. www.bistromd.com