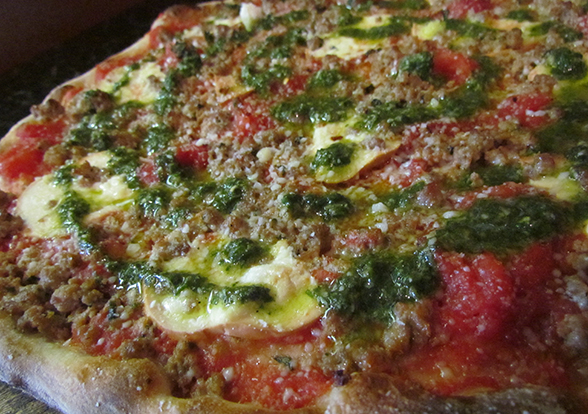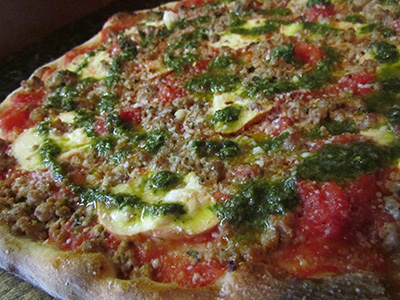 Neapolitan Ragu Pie 
Recipe make 1 small 12 pie
1-10 oz dough ball
5 oz of tomato sauce
3 oz of fresh smoked mozzarella
8-10 oz of meat ragu
A drizzle of basil pesto
A healthy sprinkle of Freshly grated Parmesan
Meat Ragu
6 oz of ground beef
6 oz sausage or ground pork
¼ cp of ricotta cheese
¼ tomato sauce
6 large fresh basil leaves chopped into thin slices
1 tsp chopped garlic
Pinch of salt and pepper
in a bowl…mix together all of the ingredients above. Cook them in a flat skillet while continuing to chop the pieces up until ragu is fully cooked and meat is crumbly.
let cool
Basil Pesto
1 oz fresh basil
¼ cp parmesan cheese
Pinch of salt and pepper
3/4 of Extra Virgin Olive Oil
using a small quisonart.. Place the basil, parmesan, salt and pepper in the bowl. Blend until basil leaves are chopped finely and slowly add EVOO and continue to blend for about 15 seconds.
keep pesto cool until ready to use.
Making the pie
 Preheat oven to 425 degrees
Using a 10 oz dough ball… flatten by hand or rollout to be approximately 10-12 inches
and place on a sheet pan or pizza peel that has been dusted with cornmeal.
Add tomato sauce to the edges of the pie
Add thin slices of fresh smoked mozzarella
Add meat ragu to entire pie
Bake in the oven for about 8-12 minutes
Once the pizza is fully baked….Add the fresh basil pesto drizzling it on the pizza and finish with a healthy sprinkle of freshly grated Parmesan
Bon Appetit!
About Harry's Bishops Corner
Owners, Kevin and Anne Plaut took over West Hartford's infamous Harry's Bishops Corner in 2007, formerly owned by Harry Rufleth.  Kevin and Anne had been long time employees of Harry's, originally meeting and working at Harry's Pizza on Farmington Avenue.   They moved to Massachusetts in 1997 for three years and returned to Connecticut in 2000 to get married and start a family.  Upon their return to Connecticut, they reconnected with Harry at Harry's Big Tomato restaurant located at Riverdale Farms in Avon CT.   In 2002, Harry's Big Tomato left Riverdale Farms to become Harry's Bishops Corner in West Hartford.   It is there that Harry was able to reconnect with the West Hartford community and reemerge as West Hartford's premiere pizza restaurant.   In 2007, Harry decided to retire from a long, successful career in the pizza business.   But he didn't want to sell the business to just anybody, so he asked Kevin and Anne if they were interested.    Kevin and Anne are now the proud owners of Harry's Bishop's Corner and take great care of the name and reputation that has been built over the years.   Kevin and Anne are so grateful to their customers for their support and encouragement.  For more information please visit www.HarrysBC.com.