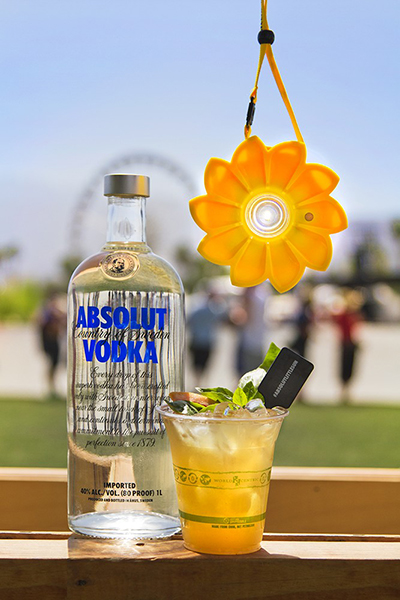 "Absolut Little Sun" Celebrates Creativity and Global Togetherness through Cocktails, Art and Music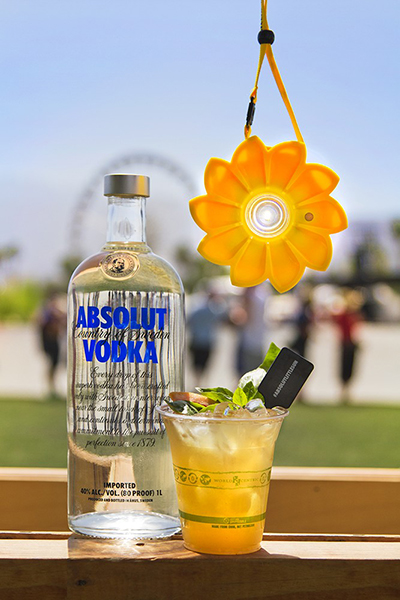 Absolut Vodka, the official spirits of Coachella Valley Music and Arts Festival, recently unveiled Absolut Little Sun– an interactive art bar designed by Little Sun. Embodying Absolut's Transform Today spirit of inspiring the power of creation, the space, created together with Absolut, is an immersive and celebratory environment offering festivalgoers the opportunity to participate first-hand in a global project and work of art.
Little Sun is a global project, a social business and a solar-powered LED lamp developed by world-renowned artist Olafur Eliasson and engineer Frederik Ottesen to provide reliable and affordable light to the 1.6 billion people worldwide without access to electricity.
"At Absolut we believe in the transformative power of art to create positive social change and help communities," said Afdhel Aziz, Director, Vodkas, Pernod Ricard. "We're honored to partner with visionary artists and projects like Little Sun by Olafur Eliasson, and can think of no better place than the Coachella Valley Music and Arts Festival to bring this idea to life."
As part of Absolut's sponsorship, the festival is hosting Absolut Little Sun in the Beer Garden next to the Main Stage on both weekends, April 11 to April 13 and April 18 to April 20. Absolut Little Sun features a sunlight graffiti photo booth and custom curated cocktails such as the Eternal Sunshine Tonic, which includes Absolut Vodka, house-made basil and grapefruit tonic.
Said artist and Little Sun founder Olafur Eliasson: "You are in the dark, waiting again. The music is playing. Let's dance. Suddenly the stage is yours. How does this feel? Music, art, light connect the world. Let's Little Sun."
Since 1985, Absolut has been active in the art world having collaborated with more than 550 artists on over 850 commissioned projects. Inaugurated in 2012, the Absolut art bar provides contemporary artists an opportunity to apply their unique vision to an immersive art bar installation. Artists are given carte blanche to develop the full concept, from bespoke, limited-edition Absolut cocktails to engaging site-specific environments, complete with nightly programs of music, performances, talks and screenings.
For more information on Absolut Little Sun, please visit www.Absolut.com. #AbsolutLittleSun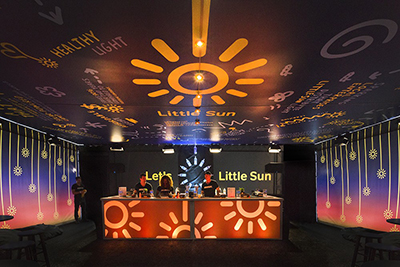 About Absolut
Absolut Vodka has been committed to developing innovative flavors since the introduction of Absolut Peppar in 1986, its first flavored vodka.  Since then, Absolut has continued to bring a unique twist to common flavors with products such as Absolut Mandrin, Absolut Citron, Absolut Kurant, Absolut Vanilia, Absolut Raspberri, Absolut Apeach, Absolut Ruby Red, Absolut Pears, Absolut Mango, Absolut Berri Acai, Absolut Wild Tea, Absolut Orient Apple, Absolut Grapevine and Absolut Cherrykran.
About Pernod Ricard USA
Pernod Ricard USA is the premium spirits and wine company in the U.S., and the largest subsidiary of Paris, France-based Pernod Ricard SA, which employs more than 18,000 people worldwide and is listed on the NYSE Euronext exchange (Ticker: RI). The company's leading spirits and wines include such prestigious brands as Absolut Vodka, Chivas Regal Scotch Whisky, The Glenlivet Single Malt Scotch Whisky, Jameson Irish Whiskey, Malibu, Kahlúa Liqueur, Beefeater Gin, Plymouth Gin, Seagram's Extra Dry Gin, Martell Cognac, Hiram Walker Liqueurs, Pernod, Ricard and Avión Tequila (through a joint venture with Tequila Avión); such superior wines as Jacob's Creek and Brancott Estate; and such exquisite champagnes and sparkling wines as Perrier-Jouët Champagne, G.H. Mumm Champagne and Mumm Napa sparkling wines.
Pernod Ricard USA is based in Purchase, New York, and has roughly 850 employees across the country. Pernod Ricard USA urges all adults to consume its products responsibly and has an active campaign to promote responsible drinking. For more information on this, please visit: www.acceptresponsibility.org.
About Absolut and Art
The first spirit brand to forge genuinely close ties with art and artists, Absolut has been active in the art world since 1985, when Andy Warhol was invited to create the first in a series of iconic advertisements inspired by the Absolut bottle. Since then, Absolut has collaborated with more than 550 artists on over 850 commissioned projects. These collaborations formed the Absolut Art Collection, now housed in the Spritmuseum in Stockholm.
To date, Absolut has collaborated with many of the world's most respected contemporary artists – Jeremy Shaw, Los Carpinteros, Adrian Wong, Mickalene Thomas, Nadim Abbas among others – and art projects like Little Sun, in cities around the world, including Basel, Miami Beach, Hong Kong, Dubai, and Indio, California.
About Little Sun
The Little Sun solar-powered LED lamp was developed by artist Olafur Eliasson and engineer Frederik Ottesen to bring clean, reliable, affordable light to the 1.6 billion people worldwide without electricity. Little Sun is at once a work of art, a global project, a social business, and a way to connect the world through sharing light. Not only for off-grid areas, Little Sun lamps are popular across the globe. Purchasing Little Suns in areas of the world with electricity makes the lamps available in off-grid areas at reduced, locally affordable prices, where they are providing a clean alternative to unsafe and toxic kerosene lanterns. For more information please visit www.littlesun.com