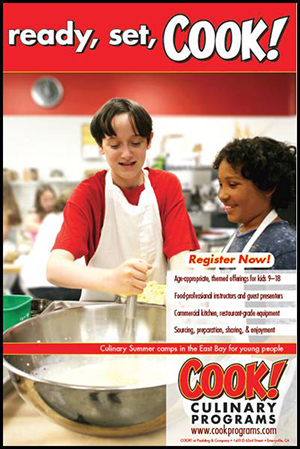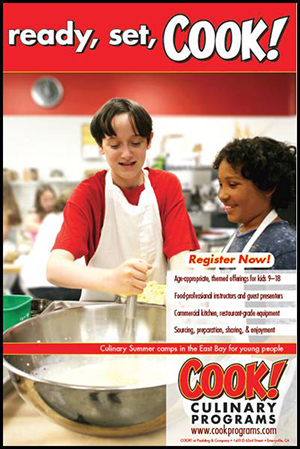 Paulding & Company's COOK! Programs are creative and challenging culinary courses for kids ages 9 – 18. Held primarily in the summer, in the Paulding & Company kitchen in Emeryville, the camps offer diverse training in everything from basic cooking skills to specialized cuisines, to kitchen science and more. These hands-on classes are designed to give kids the confidence and skills they need to cook for themselves, for friends, and for their families. COOK! promotes the understanding that life is more colorful, more fragrant, and simply more interesting when you cook.
COOK! provides a place for young people to explore and learn the art and science of cooking. Their philosophy is that everyone who desires to cook, can cook, and can cook well. Through hands-on classes, kids will learn safety, technique, and the joys of feeding oneself and others. Knowing how to cook can be a celebration of seasons, flavors, friends, and family. That's why they like to shout it out, "COOK!"
COOK! was created in 2009 by Tracy Paulding, of Paulding & Company, A Creative Kitchen. The program was designed in response to an overwhelming demand for teen cooking classes in the East Bay, and for the Directors love for camp. Ever evolving, and growing in line with its students increasing sophistication, the program strives to keep its classes challenging, experiential, and fun. 2012 has an incredibly diverse cast of chef/teachers, and not a single menu will repeat all summer long. Parents should expect their kids to come home sometime during the camp and say, "I'm cooking dinner!
Summer begins June 18th, with Kitchen Fundamentals. Beginning through Advanced Baking classes available. Flavors of the Mediterranean, Appetizers & Finger Foods, Knife Skills, and Restaurant COOK! to name a few. Registration is still open for many of our classes.
About Tracy Paulding:
From very early on, Tracy developed a love for food and for Chinese tea culture.  These two sensibilities turned into long-time pursuits for her. Working in the food business was and easy fit, beginning with deli work and winding into event planning, kitchen managing, catering, and eventually teaching.  Her interest in tea has been both sentimental and professional, most notably culminating in a year-long immersion course at the Urasenke Gakuen Professional College of Chado (the way of tea). In 2006 Tracy joined forces with her mom, at Paulding & Company, and in 2009 she created and founded COOK! Programs, which brings together everything she loves most about food. These days she is often followed around the kitchen by her precocious son, Miles, who has already (at 1 ½) developed a healthy interest in feeding himself and others. For more information please visit www.pauldingandco.com.