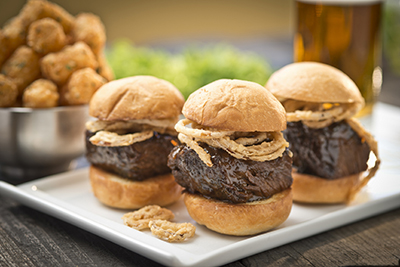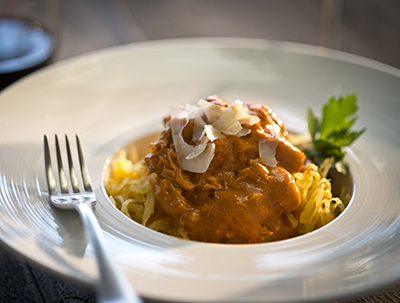 Celebrity Chef Kerry Simon and Managing Partner Cory Harwell have finalized the menu for Downtown Las Vegas' newest dining destination, Carson Kitchen, ahead of the restaurant's scheduled opening in early June at 124 South 6th St.
The American gastro-lounge will blend the award-winning gourmet flavors of Simon with the funky, hipster vibe of Downtown by offering an ingredient-driven menu at approachable prices with all items priced under $20. Dishes are divided into social plates, sandwiches, flatbreads, farm and garden and desserts. Drink selections feature microbrewed soda brands, such as Virgil's, along with handcrafted cocktails and an array of small-batch brews and global wines.
The entire menu is filled with creative and innovative dishes, indicative of Simon's style. Social plates will be priced between $6 and $12 with bites including: tempura green beans made with pepper jelly and cream cheese; bacon jam served with baked brie on a toasted baguette; SPAM croquettes served with jalapeño creamy mustard; and "Devil's Eggs" topped with crispy pancetta and caviar.
Carson Kitchen's sandwich menu, aptly entitled "Between Bread," priced between $10 and $14, including short rib sliders made with root beer glaze; a butter burger topped with Boursin and cheddar cheeses, lettuce and tomato; and trendy sandwiches such as a grilled cheese with apple slices and caramelized onions. Stone-oven flatbreads are available beginning at $8 and include duck confit made with black mission figs and gorgonzola cheese; merguez sausage topped with fennel, broccolini and ricotta cheese; and wild mushrooms complemented by caramelized onions and Cabrales bleu cheese.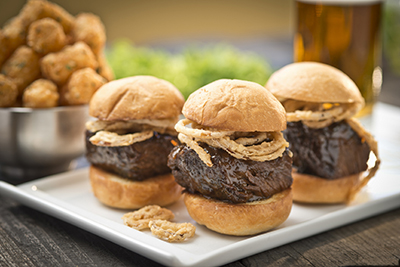 Farm and garden selections use sustainable ingredients and include: rabbit ragu made with spaghetti squash and Parmesan, priced at $12; endive & apple served with candied pecans and a white wine vinaigrette for $8; and black rice and oxtail risotto, made with a Parmesan cream, priced at $14. Fresh fish, such as a steelhead trout cake served with mustard cream for $12, and meat selections including a cocoa-espresso NY strip steak served with a red wine demi sauce for $18, are also expected fan favorites.
Diners may end an evening with "Something Sweet," a trio of dessert options priced at $6 each. Featured items will be a bourbon fudge brownie served with a brown butter bacon ice cream; a glazed donut bread pudding made with donuts from next door neighbor, O Face Doughnuts, three rum caramel and vanilla crème anglaise; and "Not Your Father's Twinkies," made with an organic wheat beer and mandarin orange coulis.
Executing the creative menu is Executive Chef Matt Andrews. Chef Andrews has worked hand-in-hand with Chef Simon to conceptualize and create the dishes for Carson Kitchen. Originally from Napa Valley in California, Andrews graduated from California Culinary Academy, San Francisco, with honors and has worked for the past seven years inside various Simon Company kitchens.
Carson Kitchen's progressive drink menu will feature more "mom and pop" style selections to support smaller businesses, such as Virgil's and Tommy Knockers. The cocktail menu will offer handcrafted varieties with an urban masculine influence and will utilize organic spirit options from craft distilleries around the country. Selections include the "Old Wooden Shed," made with No. 209 Gin, XTA Liqueur, fresh lemon and angostura bitters; and the "Brewers Fix," made with Hophead Vodka, Apricot Preserves, fresh lemon, simple syrup and Prosecco. For beer and wine, Carson Kitchen will have a diverse selection of small-batch American craft beers, such as Left Coast VooDoo Stout, and wines from boutique vineyards around the country like The Velvet Devil Merlot from Washington.
About Carson Kitchen
Carson Kitchen is Chef Kerry Simon's new American restaurant in partnership with hospitality veteran, Cory Harwell. The intimate restaurant will open in June in Downtown Las Vegas and feature Simon's social plates, entrées, sandwiches and stone-oven flatbreads, in addition to small-batch wine and craft beers. Hours are 11 a.m. to 11 p.m. for lunch and dinner. For more information, guests may visit the website at www.carsonkitchen.com or follow on Facebook, Twitter and Instagram at @CarsonKitchen.
About Simon Hospitality Group
Simon Hospitality Group was formed in May 2013 by Celebrity Chef Kerry Simon and restaurateur Cory Harwell. The newly-formed restaurant group owns and operates Simon Mansion in Punta Cana, Dominican Republic; Chuck's: A Kerry Simon Kitchen, in Chicago; and Carson Kitchen in Downtown Las Vegas. The group also manages Chef Simon's previously established restaurants including KGB: Kerry's Gourmet Burgers at Harrah's Las Vegas and Simon at Palms Casino Resort. Chef Simon, dubbed the 'Rock n' Roll Chef' by Rolling Stone Magazine, has starred on "Iron Chef America" and "Hell's Kitchen" and has developed award-winning restaurants around the country in Las Vegas, Los Angeles, Chicago and Atlantic City. Harwell, a restaurateur, has opened more than three dozen restaurants in his career and brings 20 years of restaurant management experience to Simon Hospitality Group. For more information about Simon Hospitality Group, visit www.SimonHospitalityGroup.com.