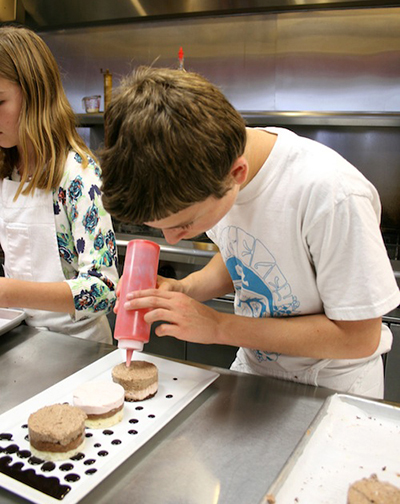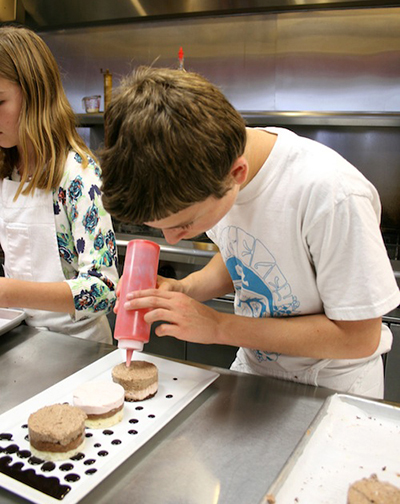 COOK! Programs, started by Tracy Cates of Paulding & Company, is a place for young food enthusiasts to learn, practice, challenge themselves, and grow. We teach practical culinary skills from the basics through advanced work training, to interested students between the ages of 9 – 18. Our philosophy is "learn by doing"- and along these lines we aim to inspire good eating habits, a sense of responsibility for one's actions, and respect for oneself and others, all through culinary adventuring. The rewards for our creative endeavors are sensational meals using fresh, seasonal ingredients, connections with new friends and old, and the attainment of skills that will last a lifetime.
Our summers feature mostly week-long camps/classes, where the kids spend 5 hours per day cooking, eating, and cleaning up. This summer begins June 16th with Southern Italian Cooking, a class in cooking-basics, which is already sold out, followed by a more advanced class in French Cuisine. New on the schedule this year is our Family Dinner class, which rounds out the season, ending on August 1st. Family Dinner begins at 3:00PM (unlike our normal 9:00AM start time), when students arrive to cook a full dinner. At 6:00PM families are welcomed each night to join the kids for dinner and help clean up.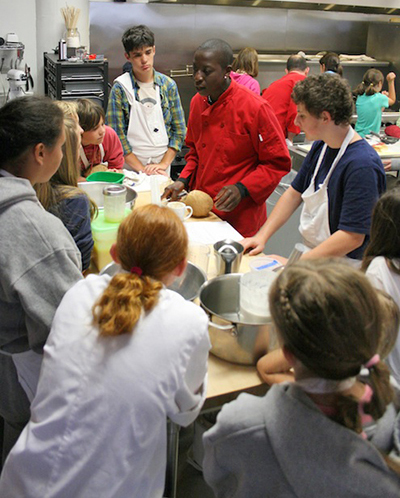 COOK! began in 2009, as a response to a desire in the community for culinary opportunities for teens. The San Francisco Bay Area has such a diverse and sophisticated food culture, including unmatched access to quality ingredients (not to mention the rise of the "celebrity chef"), it's no wonder there are so many talented and motivated young cooks in the area. Many of the kids who join our program already have a taste for varied, esoteric, and elegant foods, and beyond those that just want to learn to cook for their family, some come with the drive to make a place for themselves in the culinary world.
Whether new to cooking, or well practiced, students can expect to find a resource in Paulding & Company's COOK! Programs and staff. We make inroads for aspiring chefs who want to work or intern in restaurants, we teach skills to match our students interests, and we aim to expose our students to as many facets of cooking and food as we can. We are always looking for ways to integrate the classroom experience with daily life, as enjoying food should ultimately result in a healthy and varied diet, shared with family and friends.
About Paulding & Company
Paulding & Company's COOK! Programs are creative and challenging culinary courses for kids ages 9 – 18. Held primarily in the summer, in the Paulding & Company kitchen in Emeryville, the camps offer diverse training in everything from basic cooking skills to specialized cuisines, to kitchen science and more. These hands-on classes are designed to give kids the confidence and skills they need to cook for themselves, for friends, and for their families. For more about COOK! and Paulding & Company, visit www.cookprograms.com