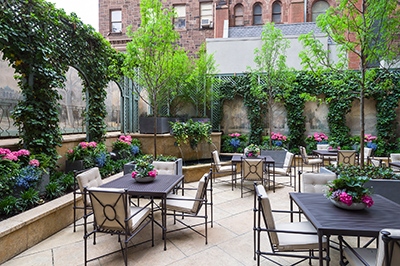 Philadelphia's Iconic Hotel Welcomes Summer with Cocktails and Cuisine Outdoors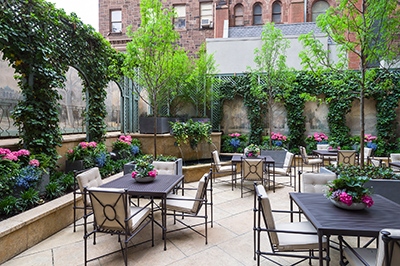 The Rittenhouse, Philadelphia's premier luxury hotel, is delighted to announce the introduction of a new dining and cocktail experience in its recently redesigned outdoor courtyard, which was conceptualized by acclaimed landscape design firm, Terrain. Guests are now welcome to enjoy delectable light bites, refreshing cocktails, and the summer sunshine in The Courtyard at The Rittenhouse, located on the lobby level of the hotel.
Providing an oasis of tranquility in the heart of historic Rittenhouse Square, the Courtyard is now available to guests and locals alike, seven days a week, weather permitting. Menu highlights start with "Oyster Hour," featuring $1 oysters and $5 sangria from 4:00 – 7:00 p.m. Stick around to enjoy a select variety of summer cocktails, wines and beers along with a selection from the raw bar and other refreshing snacks including: octopus with sunflower hummus and apricot, pork rillettes with pickled mustard seed and toast, zucchini chips with crab dip, salmon tartare with lemongrass and radishes, thai garlic sausage with cucumber and peanut, fingerling potato with nori and bonito flake, as well as a selection of artisanal cheeses and house made preserves.
In keeping with the hotel's commitment to preserving and incorporating the local architecture and character of Philadelphia throughout the property, The Courtyard design maintains many of the space's existing elements, including arched doorways and windows, faux balustrades, and classically detailed sculptures and planters, which cumulatively reference the Beaux-Arts style of the surrounding Rittenhouse Square. This niche now features a variety of new plantings to provide the space with year-round sculptural interest, including three large River Birch trees in simple, modern containers, and three large Honey Locust trees throughout the seating area, which will create perfectly dappled shade for guests enjoying their afternoon tea. Additionally, seasonal floral arrangements fill nine new planters within the archways of the courtyard walls. Rising out of a simple evergreen groundcover, these modern planters offer fresh bursts of color while maintaining the classic Beaux Arts repetition of the space's archways. Terrain topped off the transformed space with live centerpieces adorning The Courtyard's furniture.
Food and beverage service in The Courtyard is available from 4:00 – 10:00 p.m. seven days a week, weather permitting. This new summer spot can also be enjoyed exclusively for cocktails between 10:00 p.m. and midnight Sunday-Thursday, and until 2:00 a.m. on Friday and Saturday.
About The Rittenhouse
The Rittenhouse is an independent luxury hotel that has received the prestigious Five Diamond award for more than 20 years. This distinguished landmark hotel is a member of Leading Hotels of the World and considered Philadelphia's most desired address. Opened in 1989, The Rittenhouse is ideally situated on Philadelphia's famed Rittenhouse Square, within walking distance to the heart of the business district and premier shopping corridor. Additionally, the hotel affords easy access to the Philadelphia Convention Center and all of the City's numerous arts, cultural, dining and entertainment venues. For more information please visit www.RittenhouseHotel.com
About Hersha Hospitality Trust
Hersha Hospitality Trust (HT) is a self-advised real estate investment trust in the hospitality sector, which owns and operates high quality upscale hotels in urban gateway markets. The Company's 52 hotels totaling 8,403 rooms are located in New York, Boston, Philadelphia, Washington, DC, Miami and select markets on the West Coast. The Company's shares are traded on The New York Stock Exchange-Euronext under the ticker 'HT'. For more information please visit www.hersha.com