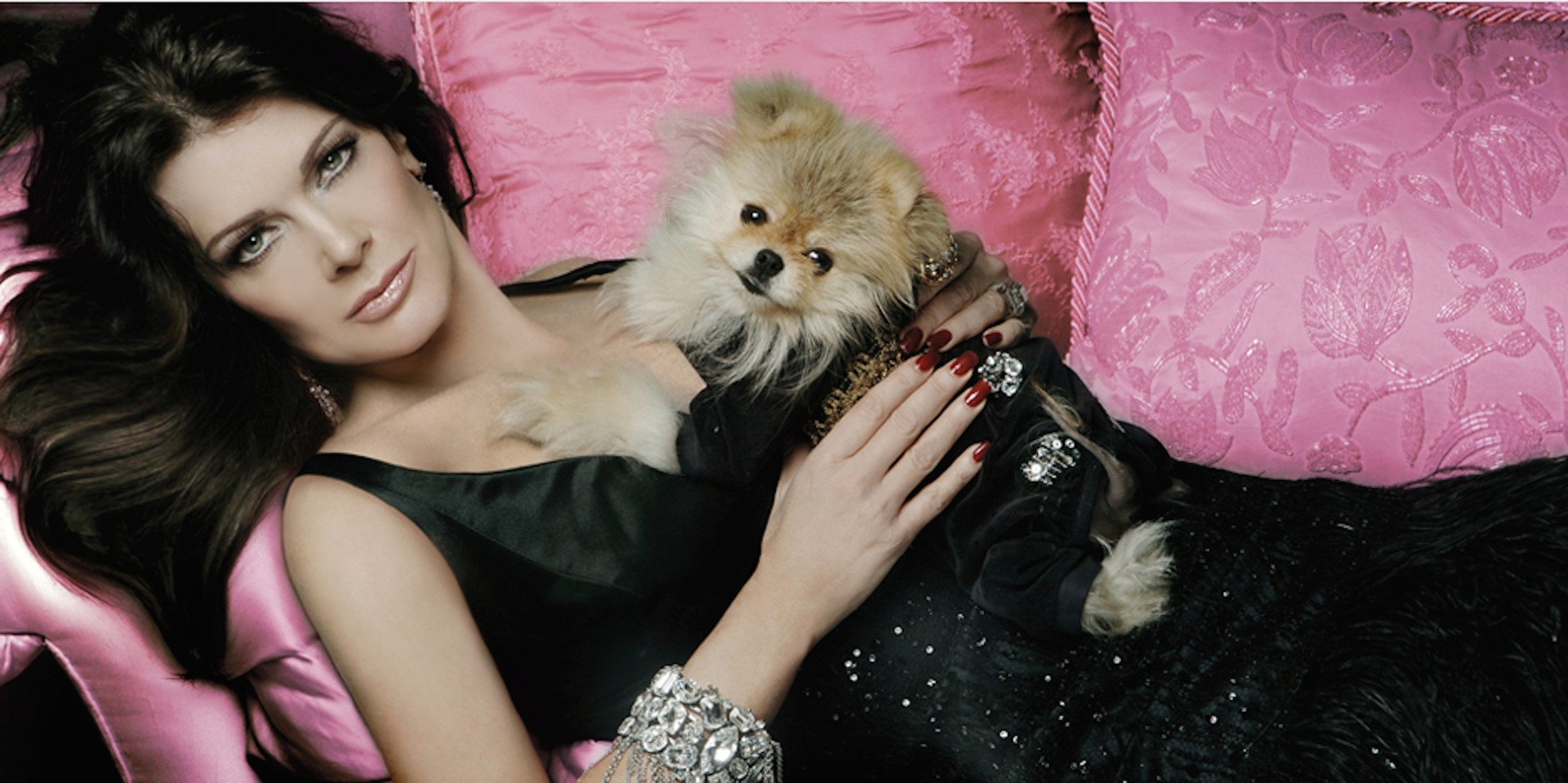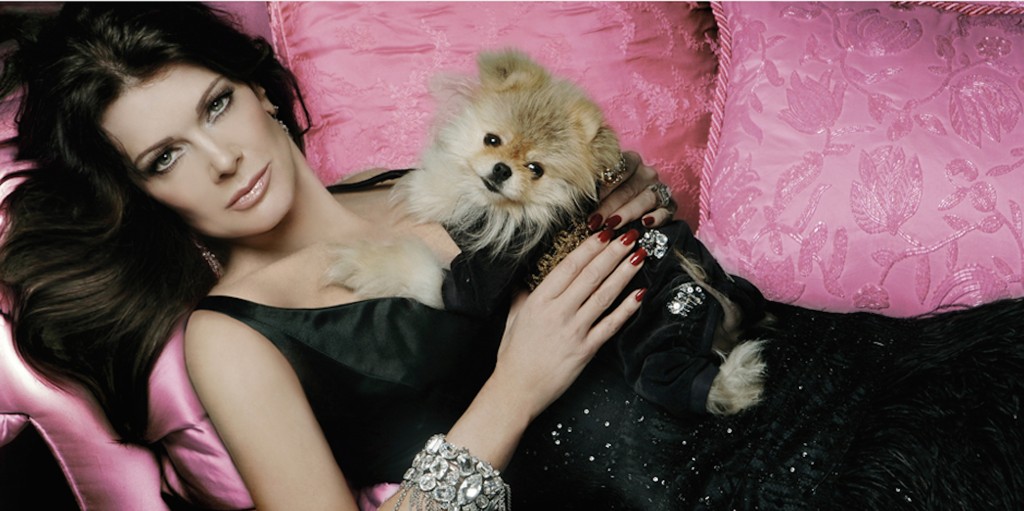 Lisa Vanderpump has become the breakout star of the hit Bravo TV series, "The Real Housewives of Beverly Hills." Her unique mix of sparkling glamour and down-to-earth style has appealed to thousands of fans. On the show, viewers can see her hosting dinner parties and running her popular Beverly Hills restaurant, Villa Blanca, with what can best be termed "easy elegance."  Fans can also catch Lisa on her spinoff show, "Vanderpump Rules", which centers around her West Hollywood eatery SUR, as well as her latest culinary endeavor PUMP on the corner of Santa Monica Blvd and Robertson, in the heart of WeHo.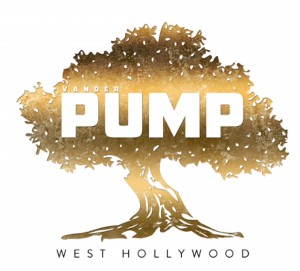 Lisa loved acting as a child and was a full-time drama student by the age of nine starring in numerous films and television shows. She made her film debut in the 1973 dramedy, "A Touch of Class", playing the daughter of Glenda Jackson. She also appeared on the television series "Silk Stalkings" and as Margo Curtis on the hit series "Baywatch Nights". Lisa was featured prominently in '80s music videos "Poison Arrow" by the band ABC and was a hit in the video "(What) In The Name of Love" by the duo Naked Eyes. She was also featured in the Lady Gaga music video for "G.U.Y." in March 2014.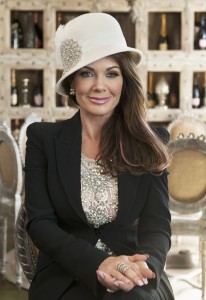 Lisa was living in London, the English Countryside and the South of France, when she came back to Beverly Hills 10 years ago. Since returning to the United Sates, Lisa has been working in many different arenas. As mentioned she has opened three very successful restaurants; designing all of their combined 27 restaurants, bars and clubs located in London and SoCal and has thoroughly enjoyed doing so. One of Lisa's motto in life is find something that you love to do and then you won't have to work a day in your life.
Lisa and husband Ken have been steadfast advocates for the LGBT community going back to the last century with the opening of their prestigious Shadow Lounge, the first gay cocktail lounge situated in the heart of the SoHo district back in 2001. Since its opening it has become one of London's most popular gay venues.
Lisa is also a spokesperson for GLAAD, worked with the Desert AIDS Project, when she was named "Queen of the White Party Palm Springs" and when she received an ICON Award from its producer, Jeffrey Sanker.  She also plays an active part in the Trevor Project and has worked with the L.A Gay & Lesbian Center concerning homeless LGBT youth, has conducted fundraising for Susan G. Komen in honor of October being Breast Cancer Awareness month and recently led this year's 30th annual Aids Walk Los Angeles, cutting the starting ribbon for over 25,000 walkers.
Lisa and Ken have been married for 32 years and have two children. Lisa has a great passion for life and she has tried to instill that in her children; Pandora 28 and Max 22. As Lisa said, "I've really adored being a mother, my children have grown so I've filled my nest with 8 four legged furry friends. They are the loves of my life."
We caught up with the British born magnate Lisa Vanderpump during her journey to NYC for her address to the United Nations "Stop Ebola and Build for the Future" concert. Also, honored last month by the California State Assembly as "Woman of the Year," for her west coast eateries, SUR, Villa Blanca and PUMP, her LVP Brand Sangria's and Vodka, her new line of table-top wares, her just launched jewelry line and her VanderPumpPets.com accessories, plus Executive Producing "Vanderpump Rules," Lisa Vanderpump is one "Real Housewife of Beverly Hills" that is not resting on her BRAVO-TV laurels.
The Sangria
Premium Spanish Wines. 100% Natural. No Sugar Added.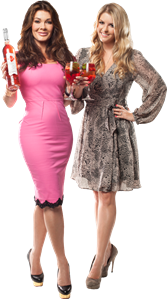 LVP is a luscious, refreshing sangria made from Spanish rosé and red wines.
Using Lisa Vanderpump's signature recipe, her daughter Pandora Vanderpump and her husband, Jason Sabo, have bottled the sangria and made it available for purchase. Launching in Los Angeles and Miami, LVP Sangria is available in the traditional red and, because its Lisa's signature color, also in pink, a unique offering on the market.
The sangria contains no additives and is created with 100% natural flavors. LVP Sangria is ready to be served straight from the bottle over ice and, when coupled with fresh fruit, is sure to be a crowd pleaser when entertaining.
"My mother has been serving her own special sangria recipes for as long as I can remember — it's one of her most popular drinks. Using her recipe, we've created something that's light, refreshing, easy to drink and impressive to serve – an ultra-premium blend that lives up to the Vanderpump standards of quality. Our family hopes you will love LVP Sangria as much as we do."
–Pandora Vanderpump
"LVP Sangria is a sexy, sumptuous drink. Coming from Europe, sangria is one of my favorite drinks to serve because it pairs well with almost any occasion and food. Having served this recipe for years in my restaurants, I am excited to share it with the world. Besides, getting the chance to work closely with my daughter Pandora makes this an incredibly special family experience."
– Lisa Vanderpump
                         

Red

Sangria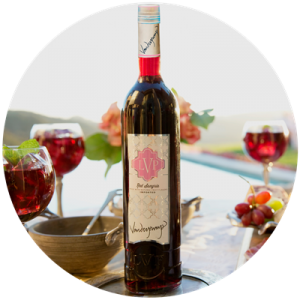 Our traditional red sangria is crafted with Tempranillo grapes, arguably the most famous of Spain's native grapes. Tempranillo is a vibrant, aromatic black grape that adds spicy, red fruit aromas and flavors for full-bodied red wine. The grape's name translates to "little early one," referencing the fact that it ripens several weeks earlier than most Spanish red grapes. The wines for LVP are aged in oak to generate increased complexity and harmony.
                         

Pink

Sangria

LVP's Pink Sangria is made from Bobal and Grenache grapes. Grenache, known as Garnacha in Spain, adds berry and cherry flavors, herbal accents and richness. Its full flavor and regional character makes LVP Pink Sangria silky and floral, well-integrated and lush.
Bobal is a variety of Vitis Vinifera, a red grape whose presence in Spain was documented in the 15th century in "Espill o libre de les dones" by Jaume Roig. Its name is derived from the Latin bovale, in reference to the shape of a bull's head. Its skin is intensely and brightly colored and the smell is fresh and fragrant.
What does your typical day look like?
Depends on whether I am filming my two shows, which is in production 8-9 months a year.
I wake up at 6:30am and have my breakfast in bed with Giggy and my husband Ken.  I then get on the treadmill around 7:30am for 45 minutes and answer my emails and try not to fall off while typing.
What techniques and tools do you use to keep yourself organized?
Well I don't have an assistant because I like to handle everything myself.  But I do have a great network of support that includes my husband, my daughter and my publicist.
Was there a person in your career who really made a difference?
Andy Cohen has obviously giving me so many opportunities and my executive producer Alex Baskin words of wisdom has seen me through many disconcerting moments on reality television.
What three character traits would your friends use to describe you?
Well, who knows? It depends who you ask.  I would like to think, funny, passionate and loyal.
What are the qualities of a good leader? A bad leader?
A good leader is focused on the task at hand. I juggle many things and try not to be overwhelmed by living in the moment.  A bad leader is one that gets overwhelmed and doesn't keep true to the vision.
Who is your role model and why?
When it comes to aesthetics I would say Ralph Lauren.  When it comes to food and beverage and venues, I would say Robert Earl, (of Planet Hollywood fame) whose brilliance and competence has been stellar in his diversity of projects around the world.
What do you love most about your job?
Well I wear so many different hats and have so many different jobs.  I am so passionate about creating fantastic ambiance – where I let my creative juices flow. And then I love creating the menus, which all fit together like a jigsaw puzzle.  For example, at my restaurant PUMP, where we have a diverse crowd, I created a menu that is as equally diverse.  But when you have 100-year-old olive trees as the centerpiece of your design and you add a Mediterranean board of olives, humus, breads and a glass of my LVP Sangria or a Pinot Noir – you now have the menu and the ambiance.
What things do you not like to do?
I hate to sit still.  I hate manicures and hate hairdressing…it seems like all such a wasted of time, although it becomes necessary – but it requires me to sit still which is not an easy task for me – I'm their worst nightmare.
What's the one accomplishment you're most proud of? Why?
My 33 years of marriage to Ken and my wonderful, kind children who have grown into amazing adults.
Where do you think the most significant growth will occur in the Food & Beverage Industry in the next few years?
 Hopefully leaving the minimalist error of cooking behind when you pay so much money for a meal and come away hungry.  All my restaurants give very satisfying portions and my guests have a hearty & healthy meal to savor and remember.
Who is your biggest supporter?
My husband Ken
What would you want to have as your last meal?
English roast beef, roasted potatoes, Roasted Cabbage and a glass of my signature LVP Sangria!
Are there any foods you just don't like?
I'm not a fan of clams and oysters – slippery and slimy food just doesn't do it for me.
If you had just one wish, what would it be?
To rid the world of aggression toward those in the minority and of course to also be kind and stop aggression toward animals – that would be my perfect wish.
Are you working on any big projects now?
I have so many projects in the works right now. One in particular that has consumed so much time is LVP Sangria, which was served exclusively in our restaurants until my daughter and son-in-law decided to take it to market. It has been a huge undertaking and though they are in charge of it, I get the final decision in the design and taste. It has to be to my very precise specifications. I suppose I have been a bit of a thorn in their side – me being so particular.  But they are doing an amazing job with the brand and I'm so proud of them!
If you were to give someone just one piece of advice, what would it be?
Find a job you are passionate about and then you won't have to work a day in your life, because your passion will be your job!
Food and Beverage Magazine loves Lisa, and we know you will too! For more about her, her website is http://www.lisavanderpump.com/, she's https://www.facebook.com/LisaVanderpump on Facebook, and her Twitter is @LisaVanderpump!
For all media inquires about Lisa please contact:
PHIL LOBEL / SHAUN KIMBROW
Lobeline Communications