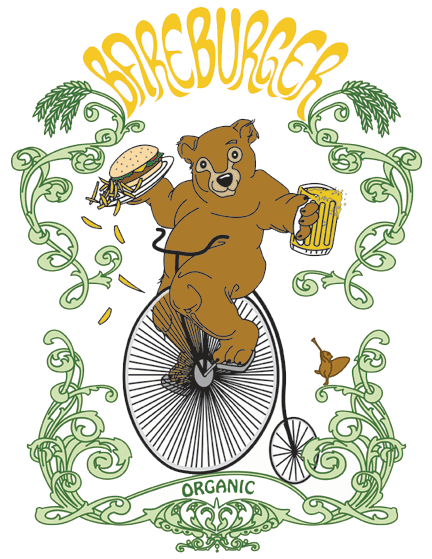 BAREBURGER LAUNCHES NEW LOCATION IN COLUMBUS CIRCLE
BB City Group LLC Opens Fourth Bareburger
Location  Launches with St. Mary's Children's Hospital Partnership
(New York, NY) June 2015 – BB City LLC, the group behind Bareburger Murray Hill, Bareburger East Village and Bareburger Hell's Kitchen, is proud to announce that they are adding a new location to their impressive portfolio in the heart of midtown Manhattan – Columbus Circle. Opening on Monday, June 15th this new restaurant, located at 313 West 57th Street, will stay true to Bareburger's promise to offer free-range, grass-fed, locally sourced and mouth-watering organic burgers, sandwiches, fresh salads, delicious shakes and sharable snacks in environmentally sustainable, eco-friendly atmospheres.
In conjunction with the opening, Bareburger Columbus Circle will be partnering with St. Mary's Children's Hospital to host a fundraiser during their opening week. The first $10 of each dine-in check will be donated to St. Mary's Children's Hospital during their opening night on June 15th. For the remainder of the week, Bareburger Columbus Circle will continue to donate $5 of each dine-in check to the organization. Bareburger and St. Mary's Children Hospital have had an on-going relationship for the past five years, and are looking forward to continuing this dynamic partnership.
Bareburger Columbus Circle's robust menu will include a variety of organic and all-natural, free-range meats as well as organically grown and locally sourced fruits and vegetables. Bareburger's dedication to its uniquely environmentally sustainable, eco-friendly materials is especially prevalent in the curated menu. The menu features a variety of grass-fed, free-range organic meats including traditional beef, chicken and turkey; exotic options such as elk, bison, wild boar and duck, while sweet potato & wild rice and black bean burgers are available for vegetarian and vegan guests. Bareburger also offers a number of savory and sweet salads, sandwiches, organic beer and wine, as well as desserts.  The full service restaurant allows for a full range of diets – vegans, vegetarians, meat and poultry lovers, observers of gluten-free, low carb or paleo diets.  From the condiments and proteins to the desserts and beverages, Bareburger utilized only organic, all natural and locally sourced products, wherever possible, on their extensive menu.  Bareburger Columbus Circle will also offer a catering menu.
In addition to a variety of menu offerings for every palette, Bareburger Columbus Circle will also boast an array of sustainable and organic beers and wines, as well as cocktails made with local, organic and small batch spirits. Their cocktail list will include the Breuckelen's Cup (Gin, Mint, Lime, Cucumber, Pastiche, Sea Salt), Fig & Pig (Bourbon, Lemon, Fig Jam, Agave, Country Bacon) and Salty Dog (Vodka, Grapefruit, Salt Rim, Apertif Bitter) in addition to a "Pack of Mules" which allows patrons to pick their mule between a Moscow, Mexican and Kentucky Mule.
Like the rest of Bareburger's locations, the Columbus Circle outpost was designed using sustainable and reclaimed materials. Unique lamps outfit the ceiling to brighten the wooden floors and bar. The restaurant boasts 66 seats and an additional eight stools at the bar.
Located on West 57th Street between 8th and 9th Avenue, Bareburger Columbus Circle aims to bring organic and environmentally conscious dining options to the heart of one of the country's busiest neighborhoods. Bareburger Columbus Circle will be open Sunday – Thursday from 11:00AM – 11:00PM and Friday & Saturday 11:00AM – 12:00AM.
ABOUT BAREBURGER
Bareburger (the "bare" being a nod to the choice to use organic & all-natural ingredients free of hormones, pesticides and other unsavory elements) is a micro-chain of organic burger restaurants that has quickly become known for its dedication to free-range, grass-fed, locally sourced and mouth-watering organic & all-natural burgers and sandwiches, fresh salads, delicious shakes and sharable snacks in environmentally sustainable, eco-friendly locations. Founded in 2009 by CEO Euripides Pelekanos and his partners, Bareburger now has 26 locations throughout Manhattan, Queens, Brooklyn, Long Island, New Jersey, Connecticut, Ohio, Pennsylvania and Canada. Bareburger was voted one of "New York's Top 10 Burgers" by Zagat from 2011 through 2014, and deemed a "sustainable-minded gem" and "addictive" in the 2011 through 2014 New York Michelin Guide.
ABOUT ST MARY'S CHILDRENS HOSPITAL
St. Mary's Healthcare System for Children is a national leader in post-acute care for children with special healthcare needs and New York's largest provider of long-term care services to children with medically complex conditions and their families. St. Mary's provides intensive rehabilitation, specialized care, and education to children throughout the New York metropolitan area at its inpatient facility – St. Mary's Hospital for Children – at home, and in the community. A pediatric healthcare innovator, St. Mary's opened the first medical facility for children in New York City in the 1870s, and today remains the City's only pediatric post-acute care hospital. St. Mary's created the nation's first pediatric palliative care program, NY State's first long-term home healthcare program for children, the  state's first certified home health agency for children and young adults with medical complexity, NYC's first certified pediatric traumatic brain injury program, and offers one of a select few interdisciplinary pediatric feeding disorder programs in the nation. Learn more at www.stmaryskids.org.