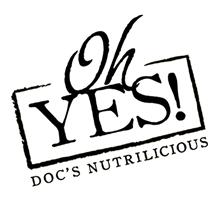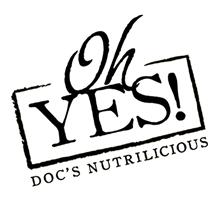 DOC'S NUTRILICIOUS OH YES! PIZZA
FRUITS & VEGETABLES "HIDDEN" IN EVERY PIE
Los Angeles, CA, June 1, 2015…It's a dilemma faced by grocery shoppers everywhere. You try to make sensible choices while perusing the frozen foods, but it can be pretty challenging getting enough grains, veggies and protein when it seems like everything convenient is overloaded with fat, sugar and sodium. What if you are dairy or gluten free or trying to feed your kids something quick? If only the foods you craved were the ones that were actually good for you. Grab a box of Oh Yes! Pizza by Doc's Nutrilicious, Inc. The company launched a frozen pizza line infused with fruits and vegetables in the crust and sauce. Oh Yes! Pizzas flawlessly combine the nutrients your body needs with the great taste you love. Visit docsnutrilicious.com.
The company was launched when Chip and Emily, two doctors, tried to expand the short list of foods their young daughter liked to eat. At the end of each meal, she would leave anything green and leafy on her plate untouched. They wondered how they would ever get her to eat it. They had an idea to get dehydrated fresh fruits and vegetables and blend them into her food.
Recognizing that they should share their idea with parents everywhere, Chip and Emily approached their friends Walter, an entrepreneur, and Andrew, a culinary genius to come on board. Together they created delicious pizza that no picky palate could resist. Oh Yes! Pizza (secretly) contains artichoke, broccoli, green pepper, kale, carrot, papaya, guava, red beet, cauliflower and butternut squash. Each all-natural pizza is also fortified with organic quinoa to ensure your intake of essential amino acids.
Oh Yes! Pizza is the perfect option for health-conscious eaters. Available in four varieties with/without gluten and with/without dairy cheese, the pizza is made with all-natural ingredients and without preservatives or GMOs. Just one serving of Oh Yes! Pizza contains as much Vitamin C as a cup of blueberries, as much Vitamin A as a glass of tomato juice, as much fiber as a bowl of instant oatmeal, as much Vitamin E as two carrots and as much iron as a cup of spinach.
Andrew, who loves to cook for his family, said, "We live in an overly-scheduled world where people come home and want to have a nutritionally sound meal even when they are not cooking themselves. Here is an alternative that assures you will have something good to eat in ten minutes that will not go against your better judgment."
Look for Oh Yes! Pizza in the freezer section of select markets.
When it comes to eating healthy, we want everyone to say Oh Yes!