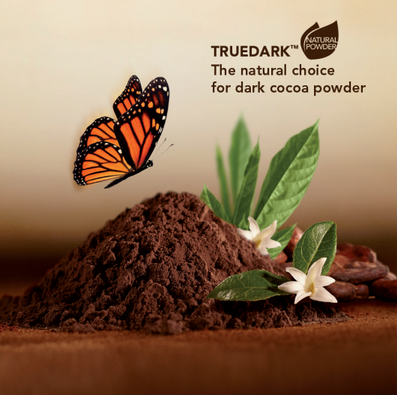 deZaan Revolutionizes Cocoa Ingredient Category with First-to-Market
Dark Natural Cocoa Powder, TRUEDARK™

ROLLE, July 9, 2015— With growing consumer demand for clean label and fewer additives, deZaan has again led the way in the cocoa ingredient category with the launch of TRUEDARK powder. Created using unique technology developed by deZaan, TRUEDARK is the first dark natural (i.e non-alkalized) cocoa powder that mimics the enhanced color and flavor intensities of alkalized cocoa powders.
While traditional natural cocoa powder's light brown color and mild cocoa flavor make it less suitable for many recipes, TRUEDARK powder provides strong cocoa taste and a rich brown color. These characteristics allow food manufacturers to meet clean label trends by presenting familiar and identifiable ingredients with the ability to label in the United States TRUEDARK as cocoa, rather than cocoa processed with alkali.
Additionally, TRUEDARK allows new products to be created without compromising taste, color, performance or quality by delivering rich cocoa taste and bold brown color naturally.
"As a result of deZaan's innovative history and century of expertise, TRUEDARK brings unequaled added value to the market," said Rinus Heemskerk, ADM Cocoa/deZaan Global Innovation Director. "TRUEDARK allows food manufacturers to simplify labels and improve the physical characteristics of products containing natural cocoa powder. It also performs exceptionally well in ice cream, confectionery, bakery, cookie and chocolate flavored dessert applications."
For more information on TRUEDARK powder and to explore how deZaan experts support and inspire new product development with technical knowledge, please stop by our booth No 119 during IFT Chicago (July 12-14) or contact admcocoa-advantage@adm.com.
About ADM
For more than a century, the people of Archer Daniels Midland Company (NYSE: ADM) have transformed crops into products that serve the vital needs of a growing world. Today, we're one of the world's largest agricultural processors and food ingredient providers, with more than 33,000 employees serving customers in more than 140 countries. With a global value chain that includes more than 460 crop procurement locations, 300 ingredient manufacturing facilities, 40 innovation centers and the world's premier crop transportation network, we connect the harvest to the home, making products for food, animal feed, chemical and energy uses.
Learn more at www.adm.com.