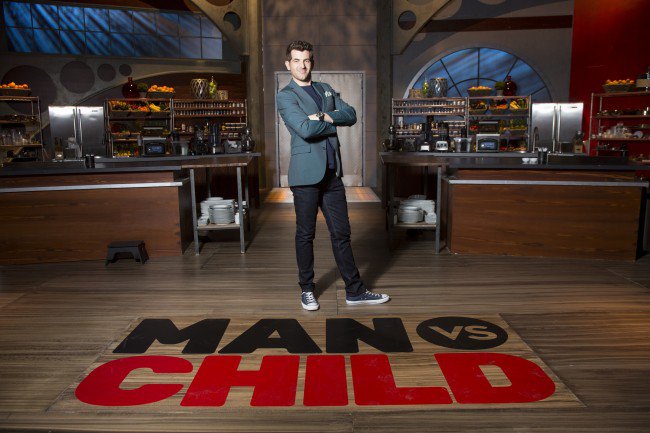 FYI™ PITS PROFESSIONAL CHEFS AGAINST CHILD COOKING PRODIGIES IN THE NEW ORIGINAL SERIES "MAN VS CHILD™: CHEF SHOWDOWN"
PREMIERES

THURSDAY, JULY 23 AT 9PM ET

NEW YORK, June 25, 2015 – FYI's new culinary competition series, "Man vs Child: Chef Showdown," pits some of the world's most talented young cooks against the very people they look up to – professionally trained, adult chefs. Fourteen one-hour episodes are set to premiere on Thursday, July 23 at 9pm ET.
In each episode of "Man vs Child: Chef Showdown," a team of five child cooking prodigies – Cloyce (13), Holden (14), Emmalee (12), Dylan (11) and Estie (7) – will challenge a prolific executive-level chef in the kitchen, where they will defend their culinary abilities. Will raw talent and imagination prove to be enough for the first generation of kids raised on cooking shows? Great chefs will be put to the ultimate test, against the food stars of tomorrow.
Each week, a new executive chef will face off against the team of minor masters. The competitors' overall aptitude and areas of expertise will be tested in three dynamic cooking rounds as they're challenged to create a different dish, under unusual circumstances. In the first two rounds, a panel of judges will taste the dishes and determine which chef has created the most delicious and inspired plate. The third and final round is blind tasted and judged by a critically acclaimed master-level chef. The overall winner takes home the ultimate prize of bragging rights.
Adam Gertler, chef and TV personality, hosts the series. Mike Isabella, chef and Washington D.C. restaurateur, and Alia Zaine, Los Angeles-based private chef, serve as reoccurring judges and commentators. Guest judges include a roster of executive chefs and restaurateurs including Hubert Keller, Ludo Lefebvre, Mary Sue Milliken, Josiah Citrin, Antonia Lofaso and more.
"Man vs Child: Chef Showdown" is produced by Kinetic Content for FYI. Chris Coelen, Katie Griffin, Kathleen Burns and Paul Hogan are executive producers for Kinetic Content. Gena McCarthy and Liz Fine serve as executive producers for FYI.
About FYI
For your inspiration, for your imagination or for your innovation, FYI™ embraces an adventurous, personalized and non-prescriptive approach to peoples' taste, space, look, story and more. FYI covers a range of stories and experiences that reflect how people actually live their lives today, not defined by just one passion or interest. FYI is a division of A+E Networks, a joint venture of the Disney-ABC Television Group and Hearst Corporation. The FYI website is located at fyi.tv. Follow us on Twitter at twitter.com/fyi and Facebook at facebook.com/fyi.