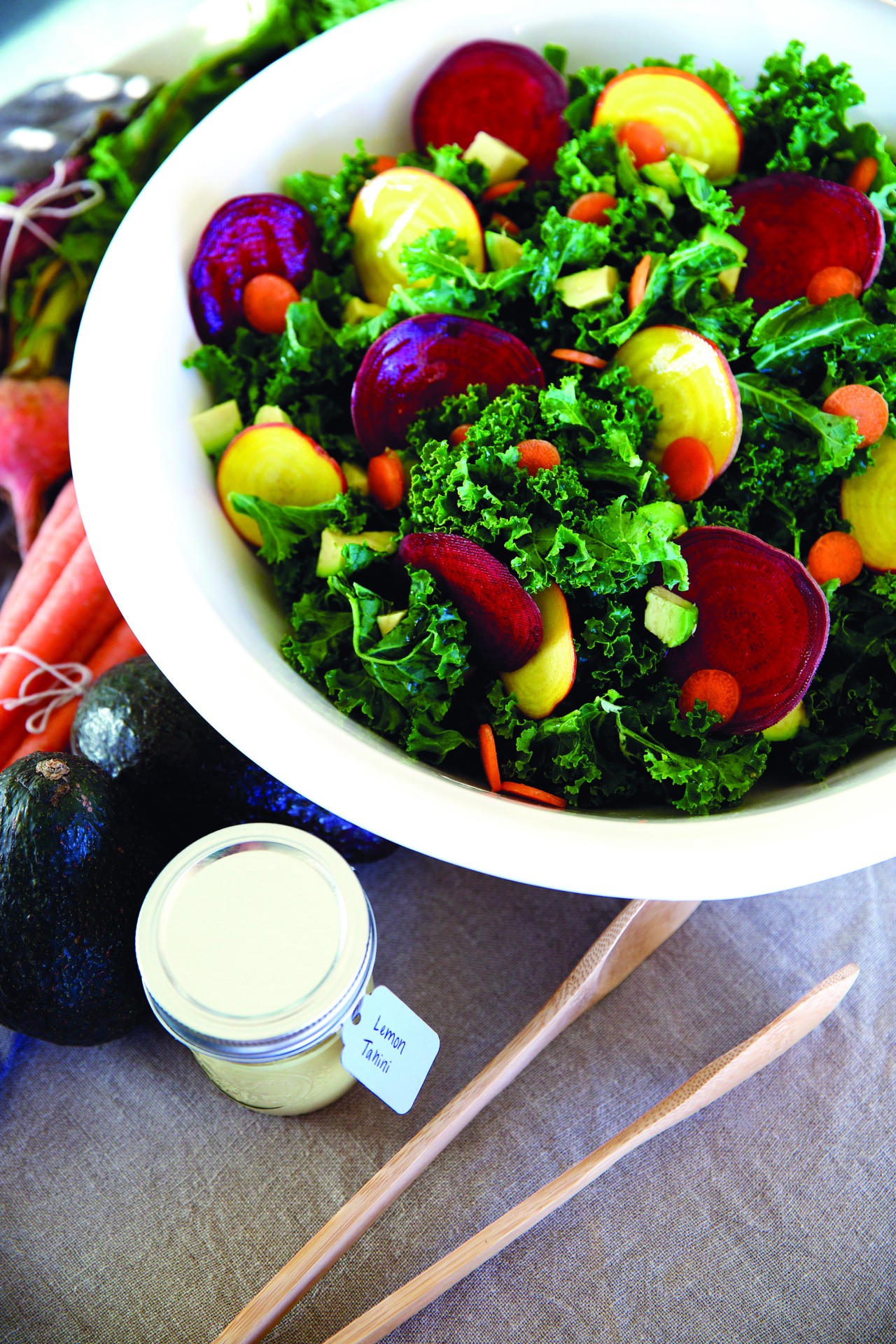 APPETIZERS
Raw Beet and Kale Salad Serves 1-2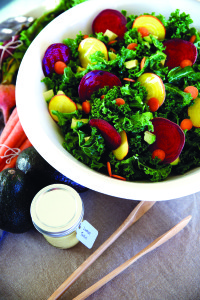 Ingredients:
For Lemon Tahini Dressing:
1/4 cup tahini
1/4 cup nutritional yeast
1/2 cup fresh lemon juice (2 lemons)
4 tablespoons olive oil
1 teaspoon sea salt
1 teaspoon black pepper
1/2 teaspoon paprika (optional)
3 tablespoons or more water (adjust to desired consistency)
Salad:
1 bunch curly kale
1 peeled golden beet
1 sliced carrot
1 cubed avocado
Directions: Wash the kale, remove ribs, tear into bite-sized pieces and massage. Grate the beet and carrot into a bowl. Add avocado Toss with dressing. For Dressing: Combine all ingredients in a small bowl and whisk vigorously to combine.
Sausage and Thyme Stuffed Mushrooms Serves 2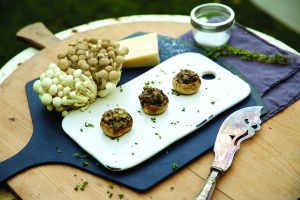 Ingredients:
Button Mushrooms large enough for stuffing
1 Link Sausage
1 Deseeded Jalapeno
1 Cup Grated Pecorino
1 Cup Grated Parmesan
1 Egg Yolk
1 Tablespoon Chopped Thyme
1-2 Teaspoons Lemon Juice
Directions: Preheat the oven to 350 degrees.Wipe each mushroom with a wet dishtowel to remove any dirt. Pull out each stem and set aside. Remove the casing from the sausage. Heat sausage in a skillet over medium heat, until it starts to break apart, then remove from pan. Finely chop the mushroom stems and jalapeno. Combine sausage, mushroom stems, jalapeno, cheese, yolk, thyme and lemon juice in a mixing bowl. Place mushrooms on a baking sheet covered in aluminum foil. Stuff each mushroom with mixture. Bake for 20 minutes.
ENTREES
Lemon Caper Chicken Serves 2-3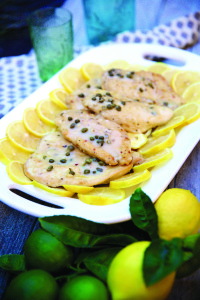 Ingredients:
1 teaspoon Kosher salt
1 teaspoon black pepper
1 teaspoon seasoning of choice (I use lemon pepper or another peppery seasoning)
4 tablespoons flour (gluten-free works)
2-3 chicken cutlets
2 lemons
2 tablespoons olive oil
1 cup chicken broth
2 tablespoons capers
3 finely minced cloves of garlic
1 splash half-and-half (optional) Parsley to garnish
Directions: In a flat dish, combine kosher slat, black pepper, seasoning of choice, and 2 tablespoons of the flour. Coat the chicken in the mixture. Zest a bit of the lemon across each cutlet. Bring a skillet to a medium heat, add olive oil and brown chicken until done, approximately 7 minutes, turning once. Transfer chicken to a fresh plate. In a mixing bowl, whack chicken broth, juice of 1 lemon, capers, and garlic until smooth. Pour the mixture into the chicken dripping and whisk until combined. Add a splash of half-and-half if desired Add chicken back to pan to warm before serving Spoon sauce over each cutlet Garnish with capers and parsley
One-Pot Steamed Fish Serves 2-4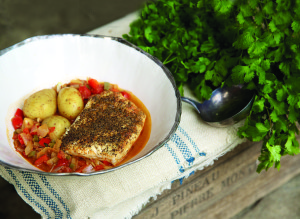 Ingredients:
4-6 peeled and sliced Potatoes
1 link Chorizo
1/2 cup Olive Oil
1 chopped and deseeded Jalapeno
1 chopped Yellow Onion
1 red of green Bell Pepper
3 cloves Garlic
1 handful Cherry Tomatoes
32 ounces Vegetable Broth
1 splash Tabasco
1 handful Cilantro
1 teaspoon Kosher Salt
1 teaspoon Black Pepper
1 teaspoon Lemon Pepper
1 Halibut Fillet
Directions: Bring a large pot of water to a boil. Add potatoes and boil until they are almost done. Remove from heat and set aside. Discard water. In a new pot, add the chorizo out of the casing and discard the casing. Add olive oil, jalapeno, onion, and bell pepper to the chorizo pot. Sauté until soft. Add the garlic and cherry tomatoes and stir, giving them a minute to soften. Add the vegetable broth, Tabasco, and cilantro, and bring to a boil. Add the potatoes. Sprinkle salt, black pepper, and lemon pepper on the fish. Lay the fish fillet across the bed of the potatoes and spoon some of the broth over the fish. Cover and do not open for 8-10 minutes, depending on the thickness of the fillet.
DESSERTS
Oven S'mores Serves 2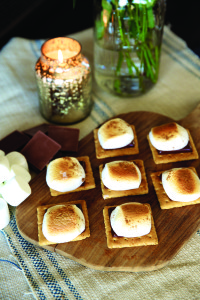 Ingredients:
Honey graham crackers
Chocolate bar
Marshmallows
Cinnamon
Directions: Turn on the broiler and let the oven get really hot. Break the graham crackers in half. Place a piece of chocolate on each graham cracker. Top each with a marshmallow. Sprinkle with cinnamon. Place the tray of s'mores under the broiler. Watch closely – they will burn quickly if you are not careful!
Crescent Roll Apple Pies Serves 2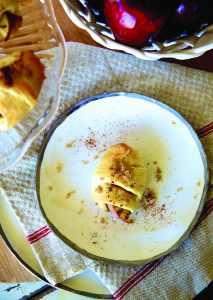 Ingredients:
1 can of Pillsbury Crescent Rolls
1 sliced Red Apple
2 tablespoons Splenda Brown Sugar
Directions: Preheat the oven to 350 degrees. Spray a baking sheet with canola oil. Lay out the crescent roll triangles on a cutting board. Roll 1 slice of apple and a pinch of brown sugar into each roll. Bake according to the directions on the Pillsbury package.
(Photo credits: Haylie Duff)