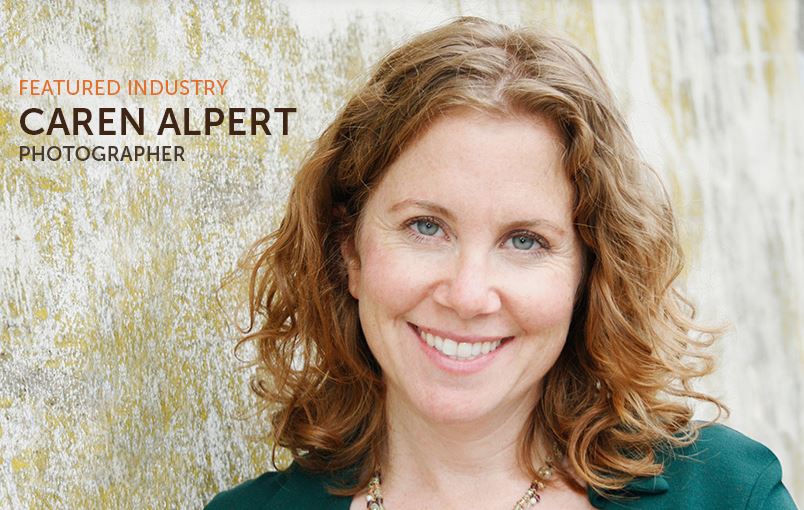 Caren Alpert
Name: Caren AlpertLocation: San Francisco / Los Angeles / New York City
Company: Caren Alpert Photography
Years in the industry: 15
Notable awards/accolades: IPA/International Photography Awards, The Lucie Foundation
Notable clients/publications you've worked for: Bon Appetit Magazine, Conde Nast Traveler, Food & Wine Magazine, Saveur Magazine, Williams Sonoma
What inspired you to pursue this career and what do you love most about it?
I must confess, I sort of fell into it. I had always been in the photo industry, but was on the magazine side, largely assigning other photographers to shoot stories for me. That part was very intentional. Then, one day, I decided to shoot a story for the magazine I was working at, and from there – it's history. I decided to step out from behind the desk and start shooting for myself. Also, being based in SF, I started to get more assignments shooting chefs and their food.
Where did you get your photography education?
University of Arizona, Tucson.
What kind of camera and equipment do you use?
My go-to camera is a Canon, but depending on how the images will be used, I also shoot medium format.
What's on your photography equipment wish-list?
The brand new Phase One camera back.
What is keeping you busy and engaged these days?
I just finished a cookbook with Harper Collins and a chef from the Food Network. Additionally, I recently shot a story about women winemakers in Napa Valley.
You see food trends first hand. What do you think is the next big food trend in our industry?
Crickets and 3-D printing in the kitchen (separately; not 3-D printing of crickets!) It's a ways out, but worry not – it's coming!
What food driven magazines and books do you read and draw your inspiration from?
I can't say I "read" food magazines too much. The pictures tell the best stories for me. I draw inspiration from magazines like Donna Hay and other international publications.
What would you say your signature style is? What makes you unique?
I think what clients hire me most for is an "editorial lifestyle" type of aesthetic. It's very approachable, but informative and aspirational at the same time.
What is your office/work environment like?
I have a 1,700 sq foot studio in San Francisco. It's a great space to spread out in and is very comfortable for my clients when we shoot there. Of course, I often shoot on location, too, so my work space can range from the kitchen of a bustling restaurant to the home of an aspiring food manufacturer who has yet to secure a commercial kitchen space.
What is your creative process?
The first and most important step is to learn how and why the client sees photography as a solution to their project. Generally, it's because food is such a visual experience, that it would be impossible to promote it without photos. But, the rubber hits the road when I can tell how meaningful good photography means to the client.
Chefs and restaurateurs are a creative bunch, is it hard to balance their vision with yours?
I often find that chefs take themselves very seriously, and for good reason! But, I also know that when being photographed for a portrait, for example, most people want to see an approachable warm and friendly face. Sometimes, convincing a chef of this is difficult.
What is your favorite project to date and who was it for? Why did this experience stand out from the rest?
All of my assignments have been notable for one reason or another. I think the favorites are the ones where a true collaboration happens, and you are able to exercise breadth and depth to the visuals.
Do you travel for your job? If yes, what is your schedule like and what standards have to be met for you to agree to take the trip?
Yes – I travel as needed. My schedule fluctuates from month to month and it's never the same. The only standard that has to be met is that the collaborator understands my process and knows the resources needed to execute on that.
What gets a photographer excited at a food photo-shoot?
I can only tell you what excites me about a photo shoot, and that is the meaning behind the assignment. I'm very "story driven" and if I can get excited about the messaging, I'm all in!
Is there a client/publication you've shot for whose food styling and cuisine blew your mind?
Usually the food styling is provided by someone I hire (and not the magazine or ad agency). Some of my favorite food stylists in the Bay Area are Heidi Gintner and Pouke. They do amazingly creative things with food.
If you could shoot for anyone in the world, who would it be for and why?
Italy has been on my mind lately. I don't know if this person exists, but right now I'd love to shoot for the little old Italian man in a seaside town in Italy (Cinque Terra or Positano, anyone?) running his own restaurant with local and fresh ingredients. Another project I've thought about for a while is the catering set up for a worldwide concert tour. I imagine the culinary manager has a very interesting task at hand sourcing meaningful and fresh food en route while covering many miles and feeding many mouths. The intersection of food and music is also of interest to me.
What are your career goals? Life goals?
My career goals are to keep shooting and evolving as a food photographer. Styles are always changing, along with the industry landscape and the people involved in it. To stay relevant and innovative is important to me, so I yearn to work with people who are as passionate as I am.
What is your "best case scenario" in the photography realm?
The best case scenario for me is when a chef not only lets me, but expects me, to exercise the same level or perfection as they do in their kitchen. To get the quality of photography seen on my website requires time and attention, which the subject, whether it be person or plate, deserves wholeheartedly!
Learn more about culinary photographer Caren Alpert on her Chef's Roll Industry profile HERE.
* Caren Alpert will be teaching a food photography class at Los Angeles Center of Photography on July 18, 2015. For class and ticket purchasing information, please click HERE.