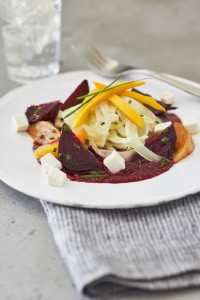 Roasted Pickled Beet Salad with Fennel Slaw, Mango & Ricotta Salata
Source: Parkside, Austin, TX
 YIELD: 12 side salads
2-1/2 pounds red beets, divided
1-1/2 pounds candy stripe beets (use orange beets if candy stripe not available)
1-1/3 cups red wine vinegar, divided
½ cup white wine vinegar
2 cups sugar
1-1/3 cups water
8 sprigs fresh thyme
Garam Vinaigrette (recipe follows)
6 ounces chives, sliced (3/4 cup)
12 ounces fennel, shaved thinly (3 cups)
Lemon Vinaigrette (recipe follows)
12 sprigs tarragon
1-1/2 pounds ripe Fresh Mango, julienned (3 cups)*
12 ounces ricotta salata, medium dice (1-1/2 cups)
*12 count round (green/red) mangos yield 6.77 ounces each. 12 count flat (yellow) mangos yield 9.23 ounces each. One cup 3/8" diced mango weighs 6.35 ounces.
To roast beets: Preheat oven to 350 degrees F. Place 1-1/2 pounds red beets in a pan with 2/3 cup red wine vinegar and 4 sprigs thyme. Place candy stripe beets in a pan with white wine vinegar and 4 sprigs thyme. Cover both pans with foil and roast until beets are tender, about 1 hour and 15 minutes. When cool enough to handle, peel off skins. Cut into bite size pieces, keeping varieties separate.
To make beet puree: Peel and dice remaining 1 pound red beets, cover with water, bring to a boil and simmer until completely tender. Drain beets, reserving about ½ cup cooking liquid. Puree beets and reserved cooking liquid until completely smooth. Pour through a fine strainer or chinois. Set aside.
To pickle candy strip beets: Bring sugar, 2/3 cup water and 1-1/3 cups red wine vinegar to a boil. Pour the mixture over the roasted, peeled, and cut candy stripe beets. Cool; refrigerate until needed.
Toss red beets and candy stripe beets separately with Garam Vinaigrette and chives. Season to taste.
To make fennel slaw, toss shaved fennel, Lemon Vinaigrette and tarragon in a bowl. Season to taste.
To assemble, per serving: Coat the insides of bowl with about 2 tablespoons beet puree. Place ¼ cup red beets and ¼ cup pickled candy stripe beets in each bowl. Top each with ¼ cup fennel slaw and 1 sprig tarragon. Garnish each with ¼ cup julienned mango and ¼ cup diced ricotta salata.
Garam Vinaigrette (Yield: 1 cup)
¾ cup olive oil
¼ cup white wine vinegar
1 teaspoon garam masala (more if desired)
salt to taste
Whisk oil and vinegar together. Add the garam masala and salt to taste.
Lemon Vinaigrette (Yield: 1 cup)
¼ cup lemon juice
2 sprigs thyme
2 tablespoons minced shallot
2 teaspoons minced garlic
¾ cup olive oil
salt to taste
 Combine all ingredients except oil and salt. Whisk in oil and season to taste with salt.