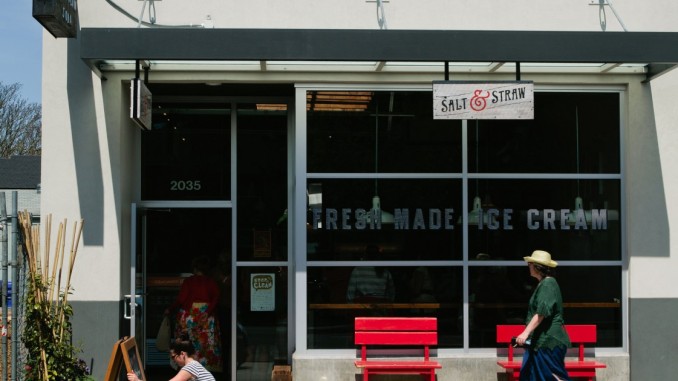 SHARE THE LOVE THIS FEBRUARY WITH SALT & STRAW'S CHOCOLATIER COLLABORATION FLAVOR SERIES
Salt & Straw continues their annual tradition of partnering with local artisan chocolate makers to recreate their delectable chocolates in ice cream form.
In 2013 the tradition of gifting sweet treats on Valentine's Day inspired Salt & Straw to partner with chocolate makers to highlight the individual techniques and ingredients of local, artisan chocolatiers through a scoop of ice cream. Now, the February Chocolatier Flavor Series has become an annual favorite. A step beyond sending the traditional box of chocolates, sample the variety of Portland's small-batch chocolatiers through a scoop, pint, flight or five pack of chocolate inspired ice creams. This year Salt & Straw has worked with artisanal chocolatiers
Cocanu Chocolate
, Xocolatl de David,
Missionary Chocolates
,
Alma Chocolate
and
Woodblock Chocolate
to portray the varied and exciting community of Portland chocolate. For Los Angeles scoop shops, Salt & Straw partnered with LA artisanal chocolatiers
Compartes
,
Ococoa
,
Twenty-Four Blackbirds
,
ChocoVivo
and
Bar Au Chocolat
. Taste through and find yourself taking a guided tour of the city in the form of chocolates!
Scoops, pints and flights will be available in scoop shops
Jan. 30 – Feb. 26
and gift packs of Portland's Valentine's flavors will be available for nationwide shipping through
www.saltandstraw.com
.
Portland February Chocolatier Series Menu:
Xocolatl de David's Chocolate & Hibiscus Flower Sorbet
Simple flavors perfectly executed. David Brigg's chocolates bar are arguably some of the most renowned chocolates in the country. Talking about flavor combinations and ways to extract & integrate new ingredients is like opening pandora's box of pastry science. Every bar of chocolate made in his kitchen is individually mixed and crafted in a way that intricately layers flavors. In this sorbet, the simple practice of candying hibiscus flowers, layering sweet & tart with peppers & chocolate, and churning everything together in frozen harmony creates the perfect depiction of this collaborative flavor.
Alma's PB&J Chocolate Bar
Always taking an incredibly thoughtful approach to combining flavors and chocolate, Sarah Hart of Alma Chocolates is creating one of the top chocolate empires of the PNW and some of the best chocolates in the region. The hardest part of sitting down to create an ice cream flavor with Sarah was narrowing down our options! The Alma team created this PB&J bar just this year to celebrate the 100 year anniversary of the National Park Service. While honorably commemorative, this chocolate bar happens to also be one of the most delicious things we've ever eaten in our lives. Our ice cream rendition created side-by-side with the Alma folks enlists the same peanut butter chocolate ganache that makes for the base flavor, then ribbons in dense and tart hunks of strawberry jam. Happy 100 year birthday US National Parks!
Cocanú's Valentina: Maple & Rose Chocolate Garden
It's pretty clear that everything Sebastian Cisneros of Cocanú makes is made with love. It was hard for us to pick just one flavor from his repertoire of chocolates because he consistently surprises us with ingredients like Palo Santo wood chips, baked milk, or bee pollen and showcasing them in single origin chocolates that he has roasted himself. This specific chocolate holds a very, very special place in Sebastian's heart and was created as a chocolate filled gift to his daughter. A combination of Ecuadorian cacao beans sweetened with Canadian maple sugar; this is the most beautifully poetic chocolate we've ever worked with. When using the chocolate in ice cream, we tried really hard to not mess with perfection. We made a dense chocolate base using Cocanú's Valentina chocolate, we lightly repeated the maple with our own sweet maple caramel, and gently steeped rose petals into the chocolate base to nudge this ice cream from quite-delicious to life-changing.
Woodblock Chocolate's Single Origins Chocolate & Coffee
Roasting single-origin cocoa beans in a 19th century, repurposed coffee roaster, Charley Wheelock's "bean-to-bar" chocolates are all roasted in his little shop in SE Portland. The sensation of eating his chocolate is more similar to drinking a fine wine rather than eating your typical chocolate bar. When sitting down with Charley, the origin of the chocolate itself became the precursor for how to pair flavors. Using Peru as home base, we paired Woodblock's single-origin chocolate with a single-origin Peruvian coffee from Stumptown. The flavors dance together in perfect unison as the roasted cocoa beans compliment the roasted coffee beans, neither overwhelming nor overshadowing one or the other.
Missionary Chocolate's Coconut Cinnamon Chipotle Rocky Road
Like a frozen chocolate, vegan, party-in-your-mouth pudding! We love working with Melissa Berry from Missionary Chocolates because all the proceeds from her amazing dairy-free, award-winning chocolate truffles are set aside with the goal of starting an in-patient naturopath hospital. For this collaboration ice cream, we use Melissa's exact recipe to scoop out a coconut-based, chocolate cinnamon chipotle ice cream that is combined with a shotgun of toasted cocoa nibs & marshmallows. All in, this yum-fest is "Rocky Road-esque."
LA February Chocolatier Series Menu:
Compartes Chocolate's Coney Island
While he claims to be a designer at heart, Jonathan Grahm at Compartes Chocolates is actually one of the more famous chocolatiers in the world. Jonathan took the helm of this 65 year old chocolate company as a teenager and has since designed over 200 uniquely delicious flavors and visually stunning packages himself. The hardest part of sitting down to create an ice cream flavor with Jonathan was narrowing down our options! For this flavor, we are using his "Coney Island Chocolate Bar" as both inspiration and as an ingredient. Vanilla and rainbow designs swirl together and blend themselves with Compartes milk chocolate bars and caramelized waffle cones… yum!
Ococoa's Fig & Sesame Butter Cup
Chocolate Butter Cups handmade on a hidden street corner in the middle West LA. Layering nuanced flavors with velvety textures is the specialty for Diana, owner of Ococoa, as she makes every individual beautifully oozing perfectly imperfectly molded Fig & Sesame Butter Cup. These chocolates happen to be some of the most difficult to find in the city, we feel that we're getting our hands on something really special and might even be able to amplify it in frozen form. Eating this ice cream should be a delightfully dense & simple chocolate sesame gelato-like ice cream with ribbons of a fig jam that is perfectly gushing with fruity flavor.
Twenty-Four Blackbirds' Cardamom & Candied Cocoa Nibs
Twenty-Four Blackbirds is an amazing, small batch chocolate maker in Santa Barbara, roasting single-origin cocoa beans using scientific precision to draw out amazing flavors from each bean. For this ice cream Mike Orlando, the owner of 24BB, worked on creating these single-origin candied cocoa nib morsels by slowly pan-roasting nibs in a hint of salt, butter, and a lot of sugar. The result are these candy morsels that have a pleasant bitter bite to them but melt in your mouth like none other. For an ice cream to frame these candied nibs, we kept things really really, simple by freshly grating black cardamom into sweet cream. Simply divine.
Bar Au Chocolat's Date Night
Nicole Trutanich of Bar Au Chocolat started roasting cacao in her kitchen in Manhattan Beach, CA five years ago. Her approach to roasting cacao is careful and she is constantly looking for ways to highlight the intricacies of the single origin beans that she sources. The goal with this ice cream was to carefully nod to Southern Cali's "Date Shakes" while using this flavor as a way to echo the complex dried fruit and vividly rich chocolate flavors. We chose to make an ice cream using Dayri Dates from Indio; while super sweet and fruity, this variety of dates almost already feel like chocolate. They are silky smooth, melt in your mouth, and pair seamlessly with Nicole's freshly roasted chocolate.
ChocoVivo's Olive Oil & Blood Orange Chocolate Milk Sorbet
Patricia Tsai at ChocoVivo is single-handedly changing the way we look at the way cacao beans are processed and served in this country. The goal at ChocoVivo is to ditch the 48hr processing of cacao beans like all the other chocolate producers in the world and, instead, honor the amazingly tasty benefits of stone-ground cacao beans. What's amazing about this ancient stone-ground process is that ChocoVivo can use whole ingredients and work them straight into the chocolate as the beans are being ground. It's so freaking simple! It's hard to believe that this ancient Mayan technique has been so completely lost over the last 2000 years. For this ice cream, Patricia pours local blood oranges and olive oil over the cacao beans and lightly stone grinds the cacao to a chocolatey paste. We try to make the ice cream as completely unadulterated as possible, we add a touch of milk to help carry some of the flavors, spin this into a sorbet, and let the stone-ground cacao speak for itself
About Salt & Straw Ice Cream
Salt & Straw Ice Cream is a chef-driven ice cream kitchen with scoop shops in Portland and Los Angeles that partners with local artisans, producers and farmers to serve unusually creative and absolutely delicious ice cream. Each ice cream is handmade in small batches using only all natural cream from local farms in each city. Flavors showcase the best local, organic and sustainable ingredients from Oregon and Southern California farmers and artisans as well as imported flavors from small hand-picked farms from around the world. The company started in Portland, OR serving eight flavors from an ice cream cart in May of 2011 and now has three scoop shops in Portland and two in LA. Scoops of hand-made, small batch ice creams, sundaes, milkshakes and floats as well as pints to go are available at each with an ice cream sommelier of sorts who will gladly take you through a tasting of all the flavors. Favorites, seasonal, design your own variety packs and pint club memberships are available for online purchase and can be shipped anywhere in the United States. Salt & Straw's ice cream cart is available for catering parties and events. Find more information at
www.saltandstraw.com
or call
971-271-8168
. Follow us on Facebook at Salt and Straw Ice Cream, Twitter and Instagram: @SaltandStraw.