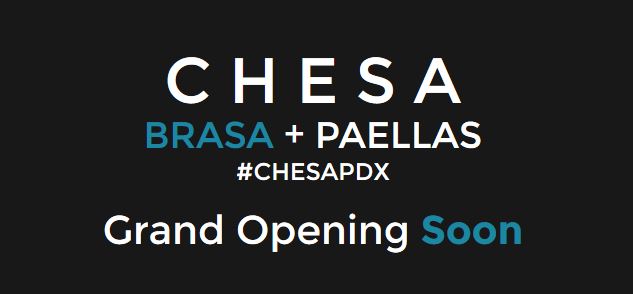 CHEF JOSÉ CHESA'S SECOND RESTAURANT CHESA OPENS

FEBRUARY 23
Named after his father José Chesa Senior, Chesa celebrates family and its connection with food, from its Spanish modern menu and charcoal infused dishes to its decor
Acclaimed chef José Chesa's first restaurant, Ataula, tells the story of a second-generation chef and restaurateur and his version of traditional Spanish dishes. His newest restaurant, Chesa, blends Catalonian tradition and modern techniques to create a menu of unique paellas and tapas, offering a deep-rooted connection to Chesa's Spanish heritage through food. Created with business partners, his wife, Cristina Baéz and Emily Metivier, Chesa will honor his father José Chesa Senior and his legacy, and tell the story of his childhood. Each dish will share a memory with diners of dishes his own father, also a chef and restaurateur, cooked throughout his childhood. The new restaurant will offer dinner service
Tuesday
through
Saturday
from
5 to 10 p.m.
and is set to open Tuesday, February 23rd at 2218 NE Broadway, Portland, OR 97232.
José will cook from memory to infuse menu items with the same delicious and unique aromas and flavors from his childhood, using a highly sought after modern Josper charcoal oven to bring to life the creative menu of paellas and tapas. A carving station will feature a vast selection of carefully curated Spanish hams, which will always include Iberico options. The restaurant's smartly designed dining room will feature a modern twist on rustic, old-world Spain, a warm space able to accommodate large groups. The dining room flows into the open kitchen, a space inspired by Chesa's grandmother's kitchen, an always unconcealed and inviting space.
"Brasa, meaning Catalan fire, is very nostalgic for all of us…spending Sundays by the hearth, as my father would wake up early, as he always does, lighting and tending the morning fire. Or the memories of winter waking up with a fire on inside our house not to mention the diversity of food cooked over the fire with my family has always been close to my heart. Food from Aragon, Andalusia, Catalonia. There is an emotion that cooking over fire brings out in all of us and as a cook it is very close to my heart. From those ashes Chesa is born," said chef José Chesa.
A full service traditional stand up tapas bar will grace the east wall of the restaurant, offering a signature cocktail menu developed by well known Portland bartender Tony Gurdian that will include one of Portland's larger Spanish sherry programs, vermut cocktails and one of the best Gin & Tonic's in Portland. Chesa will also feature a variety of new sangrias, an extensive list of sherry, and a grand reserve wine list that will be curated by partner/general manager Metivier with the help of José's father. Ultimately, Chesa will be a place for friends and family to gather and share amazing food and stories in a warm and inviting environment.
CHESA MENU
UNA TAPETA
Ensalada
Mix greens, Spanish quince paste, bomba rice goat cheese, membrillo vinaigrette
Tempura
Spanish style pig ears, sundried tomato vinaigrette, mix greens
Torrada
Smoked roasted peppers, capers, quail egg, toasted pine nuts
Bravas
Chesa's second bravas choice
Tortilla
Spanish tortilla made in the Josper
Costilla
Iberico pork rib, fennel-garbanzo salad
Bocata
Smoked Chistorra, Spanish style bun, teriyaki mayo, Mahon, date-sherry ketchup
Mejillones
Mussels made in the Josper
Tabla Iberica
Selection of Iberico meats and cheese
LATAS
Boquerones
House Spanish boquerones, house picatoste, Bosc pear, lime zeste
Brandada
Salt cod brandade, black olive and fig olivada, house coca xips
Empedrat
Viridian Farms beans, pine nuts, quail egg, scallions, sherry vinaigrette, smoked piquillo
Huevo
Blood sausage soil, farm egg, manchego cheese
Olivas
Spanish marinated olives
SNACKS
Xupa-foie
Hudson Valley foie gras, farm beets, Jacobsen's salt
XIP
Fried rice paper, black sesame, manchego, pimentos
Bunuelo
Salt cod beignet, Pil-Pil ali-oli
Yogurt
Idiazabal foam, marinated farm beets, soufflé  rice
Corteza
House made pork rinds, escabeche mussels, chipotle
Almejas Chesa
My dad's

Sunday

clams
Nuestra Croqueta
Porcini croquettes, porcini-sage ali-olii
PAELLAS
Mallorca
Carlton Farms pork shoulder, Spanish sobrasada, bomba rice, Nora Picada
Chesa
Sherry-marinated rabbit, Iberico ham, Viridian Farms beans, Boletus ali-oli
Barceloneta
Squid, sofrito, Spanish cuttlefish, Langostino, fried Xanquet, lobster broth
Mar I Montana
Braised oxtail, bomba rice, prawns, sofrito, scallions
Vegetal
Seasonal vegetables, sofrito, piquillo de gallo
Arroz a Banda
Chef's choice seafood, adobo, sofrito, lobster broth
POSTRES
Torta de Aceite
Citrus cream, blood orange marmalade, buttermilk ice cream
Natillas
Pineapple pudding, lime polvorones, brown butter magdalenas, creme fraiche sorbet
Bunyol
Chocolate beignet, olive oil cream
Helados
House ice cream selection
Sorbetes
House sorbet selection
Tarta
Flourless chocolate cake, coffee caramel buttercream, passion fruit sorbet
Queso's
Chesa's cheese interpretation
COCKTAILS
THERE
Gin & Tonic
Tanqueray, house made quinine tonic, clarified lime, chilled and carbonated
Sangria Roja
Red wine, Grand Marnier, pisco, Brandy de Jerez, lemon, orange, fruit, spice
Penedes
Priorat Vermouth, cava, bitter cube
Preperando
Yzaguirre Vermut Roja, splash of gin and campari, orange bitters
THEN
Adonis
Fino Sherry, sweet vermut, orange bitters
Flamenco
Amontillado Sherry, genever, orange, lemon, house orgeat
Dunhill
Gin, East India Sherry, dry vermut, Cointreau, absinthe rinse
Artists' Special
Oloroso sherry, blended scotch, lemon, black currant syrup
NOW
Chesa
Vermut Roja, olive oil washed gin, lemon, Pimenton & bay leaf syrup
Montoya Hotel Special
De-oaked Brandy de Jerez, blanco vermut, clarified pomelo, chilled and carbonated
Sometimes, Always, Never
Lemongrass vodka, manzanilla sherry, dry vermut
Run the Scales
Rye, china amer, palo cortado sherry, eucalyptus tincture
Ponche en Porron*
Rum, oleo saccharum, oloroso sherry, black tea, ponche caballero, nutmeg, bitters, cava, served in a Porron *serves 2-3
HOT
Sidra Caliente
Apple brandy, basque cider, lemon, cinnamon, orange bitters, pan-fired
Cafe Fernet
Fernet Branca, bourbon, PX sherry, espresso, marshmallow, pan-fired
Hot Buttered Orxata
Rum, chufa nut orxata, winter spice, butter, steamed
Palabra del Sabio
Genever, orange curacao, chartreuse, 180 xocolata, milk, salted coconut whip, steamed
ABOUT CHESA
Chef José Chesa, a 2016 James Beard award semifinalist for Best Chef Northwest, opens his second Spanish restaurant Chesa, alongside business partners, his wife, Cristina Baéz and Emily Metivier, in February 2016. The second-generation chef and restaurateur will offer his version of traditional Spanish dishes and paellas all prepared in a modern Josper charcoal oven. The restaurant, named for his father José Chesa Senior, celebrates family and its connection with food, from the menu of charcoal-infused dishes to its decor. A full service traditional stand up tapas bar will grace the east wall of the restaurant, offering a signature cocktail menu developed by bartender Tony Gurdian as well as a variety of Spanish sherry, vermut cocktails, new sangrias, and a grand reserve wine list curated by partner/general manager Metivier with the help of José's father. The restaurant is adjacent to the recently opened 180, Portland's first xurro bar, also owned by chef Chesa and business partners Cristina Baéz and David Martin. Chesa will offer dinner service Tuesday to Saturday from 5 to 10 p.m. Address 2218 NE Broadway St.,Portland Ore. 97232 Website: http://chesapdx.com/; Twitter/Instagram: @chesapdx email: hola@chesapdx.com; Phone: (503)477-9521.