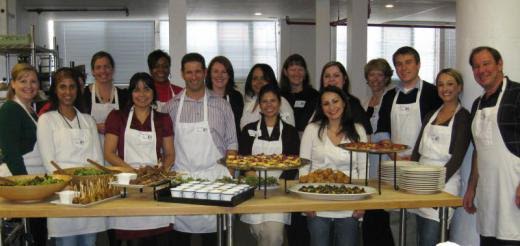 Team Build with Paulding & Company

Mother-daughter empire, Pauling & Company, has created the new wave of team-building. Located in the heart of San Francisco, Paulding & Company's warm and inviting kitchen hosts cooking events and parties, catered events, cooking classes, summer programs for kids as well as a TV and film location.
Mother of the duo, Terry Paulding, started the company in 2004. As a former restaurant cook and culinary school professor, Terry spent a lot of her years pushing forward the culinary community. Longing for a change while keeping in mind group events, both large and small, Terry built a custom, full-catering kitchen. Along with joining the business, Tracy Paulding crafted a way for kids to be involved in Pauling & Company. Thus was born, Cook!Programs , a summer camp for kids 9-18.
The philosophy is simple: to provide quality products, instruction and presentation in all that Paulding & Company does. With emphasis on creating a friendly, clean space, Paulding & Company hired a crew of professionals with the highest standards. Whether it be a team-building experience for the office, family-dinner or corporate event, Paulding & Company will cater to your every need.