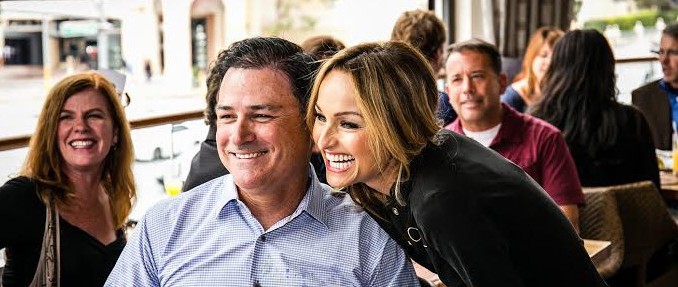 Giada De Laurentiis, Salvatore Calabrese, Gordon Ramsay, Guy Savoy and Francois Payard Headline Vegas Uncork'd by Bon Appetit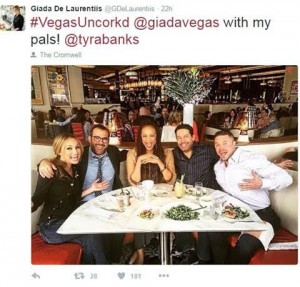 Vegas Uncork'd by Bon Appetit day three, Saturday, April 30, was a big day for The Cromwell as Giada De Laurentiis and Salvatore Calabrese made their event debut with brunch and a mixology class. At Caesars Palace, culinary gods entertained and Gordon Ramsay and HELL'S KITCHEN season 15 finalist Kristin Barone and newly-crowned winner Ariel Malone brought the heat.
Emmy Award-winning celebrity chef and New York Times best-selling author Giada De Laurentiis made her Vegas Uncork'd event debut with "Brunch at GIADA: An Italian Inspired Feast," at her wildly popular restaurant at The Cromwell. Guests at the brunch we also pleasantly surprised by the presence of Tyra Banks, who was there to support her good friend.
"​It was wonderful to see ​World-renowned mixologist, Salvatore "Maestro" Calabrese, taught guests how to shake, stir and pour like a pro at his "Mix it up with the Maestro: The Craft of the Cocktail" class at Bound by Salvatore at The Cromwell. Guests created four of his cocktails, including the famous Breakfast Martini and Spicy Fifty. "​ Michael Politz, Food and Beverage Magazine
In honor of Caesars Palace's 50th anniversary, chefs Gordon Ramsay, Guy Savoy and Francois Payard joined culinary forces for the Chefs of the Gods event, independent of the Vegas Uncork'd program. Ramsay kicked off the event with a multi-dish demonstration, Payard dished on his famous chocolates and Savoy demonstrated his famous incredible ​artichoke and black truffle soup.
​"Ramsay's second event of the day, "Beat the Heat with Gordon Ramsay," was a HELL'S KITCHEN reunion with season 15 winner, Ariel Malone, and runner-up, Kristin Barone, as well as season 10 winner and season 15 sous chef, Christina Wilson. Malone and Barone each created a dish for the event.​"​