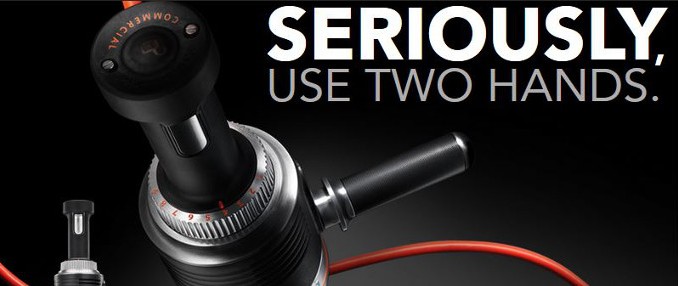 KITCHENAID COMMERCIAL INTRODUCES IMMERSION BLENDER FOR SERIOUSLY INSPIRED KITCHENS AT NRA SHOW 2016
400 series immersion blender promises to deliver more power and reliability to those seeking an extraordinary culinary experience

KitchenAid Commercial announced today the launch of the KitchenAid Commercial 400 series immersion blender, a brand-new, first-of-its-kind kitchen tool for easy blending and mixing in today's biggest and busiest commercial kitchens. For the first time ever, attendees of the 2016 NRA Show can view the blender in-person at the KitchenAid Commercial booth #3691 in the McCormick Center.
"By premiering the new 400 series immersion blender, KitchenAid Commercial is continuing to arm chefs and bakers with state-of-the-art commercial-grade products, allowing them to increase their versatility and productivity in the heart of restaurants – the kitchen." said Jeff McClure, global director at KitchenAid Commercial.
The NSF-certified 400 series immersion blender offers these features:
Stainless steel removable blending arm that ranges from 12 to 20 inches in length for a volume up to 26 gallons
Multipurpose blade to blend, crush, chop and purée
Bowl clamp for hands-free operation
Continuous run for unassisted blending
Top speed of 18,000 rpm for puréeing, whipping cream and emulsifying
Second handle and protective grip to assist in blending control and leverage
"We're thrilled to premiere the 400 series immersion blender at the landmark NRA Show, which we've exhibited at for the past three years," said McClure. "NRA offers the perfect blend of energy and excitement for the launch of this exciting, new product to market. The food world will learn that this blender is the only match for serious culinary artists who want to create inspired dishes."
KitchenAid Commercial aims to assist kitchen professionals in advancing their craft by providing top-of-the-line food-preparation equipment that performs with power and unmatched reliability. To learn more about KitchenAid Commercial, visit http://www.kitchenaidcommercial.com/.
The 400 series immersion blender is immediately available to interested buyers for purchase here: http://www.kitchenaidcommercial.com/dealer-locator.
ABOUT KITCHENAID® COMMERCIAL
For 95 years, KitchenAid has created iconic products that have become synonymous with craftsmanship and reliability. Already a trusted brand and widely used in households around the world, KitchenAid Commercial emerged to combine classic quality and timeless design with powerful upgrades to the legendary stand mixer, enabling chefs and bakers to thrive in a commercial kitchen environment.
KitchenAid Commercial products are designed to help kitchen staff power through their day, maximize their efficiency and focus on preparing foods that keep customers coming back. By providing countertop food- preparation equipment that performs with superior power and reliability, KitchenAid Commercial positions chefs and bakers for culinary success and empowers them to advance the beauty of their artisanship.