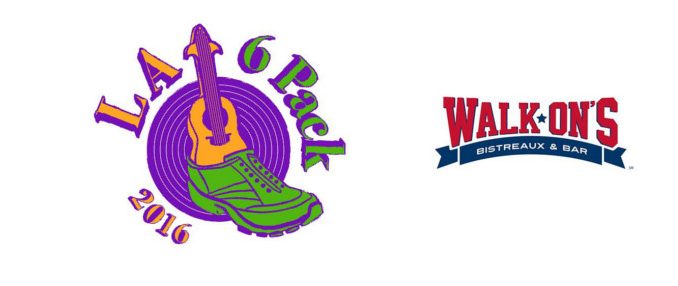 Walk-On's to Host Louisiana Six Pack Post-Race Parties
Six-race series across state begins in Baton Rouge Oct. 8

All great races have at least three things in common: a quality course, detailed race logistics and a rockin' post-race party with live music, delicious food and refreshing drinks.
So when you're organizing a series of six races across Louisiana, there's only one place to hold the party: Walk-On's Bistreaux & Bar!
Walk-On's announced today that it is teaming up with The Slow Polks – a Baton Rouge-based racing company – and Louisiana Country Music for the Louisiana Six Pack, a series of six races beginning in Baton Rouge this October and ending in New Orleans in March.
Whether you love to run or are just looking to enjoy a nice stroll in good company, the Louisiana Six Pack has a race for you. Between 1,500 and 2,000 runners are expected to participate in one or more of the four races – a 5K, 10K, half-marathon and the "Louisiana Country Mile" (one-mile-ish) – on each of the following weekends:
Baton Rouge –

Oct. 8-9

Lafayette –

Nov. 12-13

Metairie –

Dec. 10-11

Lake Charles –

Jan. 21-22

Bossier –

Feb. 11-12

New Orleans –

Mar. 25-26
Walk-On's is renowned for its Louisiana-style menu featuring some of the best food and drinks you'll find anywhere, all served with a smile by America's Cheerleaders. Its friendly, game-day atmosphere makes it the perfect place to celebrate the finish of another successful race.
In each race city, Walk-On's parking lots will be turned into block parties, much like the LSU parking lot during home football games. Runners will change out of their running shoes and into their dancing shoes for an afternoon full of live music and fun. Artists provided by Louisiana Country Music will take the stage and keep the party rocking.
"We can't wait to host the Louisiana Six Pack at our restaurants all across the state," said Brandon Landry, co-founder and owner of Walk-On's Enterprises. "Now that we've expanded to every corner of Louisiana, we're the perfect partner for this series. We're going to put on a heck of a party, and we guarantee the runners – and those who come to cheer them on – will all have a blast."
Baton Rouge-based Walk-On's – voted "Best Sports Bar in North America" by ESPN – now has eight locations throughout Louisiana – three in Baton Rouge and one each in New Orleans, Lafayette, Houma, Shreveport and Lake Charles. Other locations are on the way in Zachary, Covington, Alexandria, Bossier City and Metairie, as well as Dallas/Fort Worth, Houston, Lubbock and Tyler, Texas. Several additional markets across the Southern United States are likewise on the drawing board.
In May 2015, New Orleans Saints superstar Drew Brees and his wife, Brittany, bought into Walk-On's Enterprises as co-owners. Drew pointed out that Walk-On's is "a great place to bring my family, teammates and business colleagues" and that they were excited to help "expand the brand across the nation."
A portion of the proceeds from Louisiana Six Pack registration fees will be donated to multiple charities including, but not limited to, Walk-On's 4511 Foundation, The Drew Brees Foundation and The Slow Polks Foundation.
For more information regarding race locations, dates, registration and more, please visit louisianasixpack.com.
ABOUT WALK-ON'S ENTERPRISES
Walk-On's Enterprises is arguably the most distinctive restaurant company in America. Its concepts are fresh, fun and original, from Walk-On's Bistreaux & BarSM – voted ESPN's "#1 Sports Bar in North America" in 2012 – to Happy's Irish Pub and Walk-On's Catering. Additional growth lies ahead, as the company expands on its winning combination of delicious, affordable food and drinks presented in an uncommonly warm and friendly atmosphere. For more information, visit walkonsenterprises.com, or contact Ladd Biro at Champion Management at lbiro@championmgt.com or 972.930.9933.