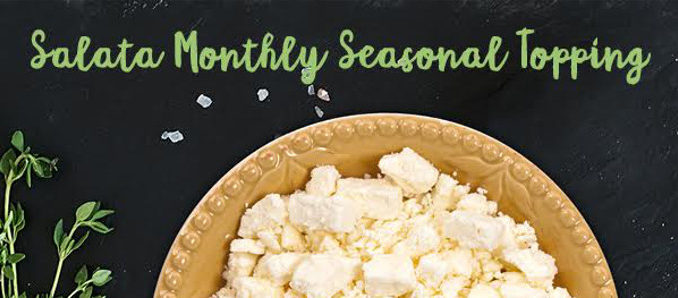 Top This! Salata Adds Ricotta Salata to Toppings Lineup
December's 'topping of the month' is deliciously cheesy

Say cheese! The restaurant known for its simple, fresh and honest ingredients – Salata – is introducing Ricotta Salata to this month's menu.
Ricotta Salata is an Italian cheese made from the whey part of cow's milk. Ricotta means re-cooked and Salata means salted. It's pressed, salted and aged for 30 days, giving it a pleasant milky flavor with a hint of salt.
At Salata, guests are able to customize their own salad to fit the mood they are in that day. But Ricotta Salata fans are encouraged to come by soon. This special topping will only be available through Dec. 31.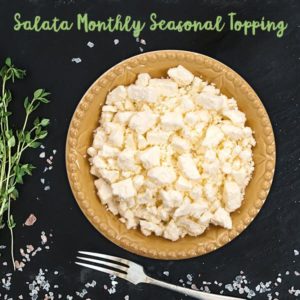 Some popular Ricotta Salata combinations include –
Salad 1 – spring mix, Ricotta Salata, red onion, tomatoes, lemon vinaigrette, salmon
Salad 2 – kale, Ricotta Salata, cranberries, walnuts, balsamic vinaigrette, grilled chicken
Salad 3 – Salata mix, Ricotta Salata, cucumber, red onion, tomatoes, black olives, fresh herb vinaigrette, falafel
And if Ricotta Salata isn't your favorita, don't fret. More than 50 fresh toppings and 10 house-made dressings are always available to create your perfect salad or salad wrap every day.
About Salata
Founded in 2005, Houston-based Salata is a fast-growing salad chain with more than 50 corporate-owned and franchise locations in Texas, Illinois and Southern California. Serving fully customizable salad and salad wraps made from a selection of more than 50 fresh, pure ingredients, Salata is the only salad concept that is gluten-free certified and completely customizable. Guests choose from an array of lettuces, vegetables, fruits, cheeses, seeds, nuts, chicken, seafood and vegan proteins, and all of Salata's dressings, soups and sauces are house-made and preservative-free. Freshly made soups, breads, desserts and signature teas and lemonades round out the menu. Ranked among the fastest-growing small chains in the U.S. by Restaurant Business, Salata plans to open 10 additional restaurants in 2017. For more information, visit salata.com or facebook.com/salatasalads.