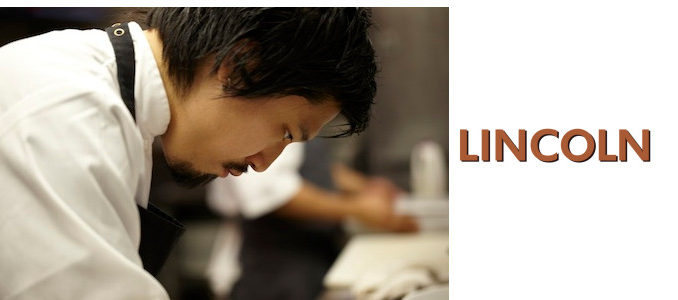 Chef Takeshi Nishikawa Named New Chef de Cuisine at LINCOLN

Kicking off 2017 with a bang, PRG Hospitality's Corporate Executive Chef, Demetrio Zavala, has infused his kitchen with fresh dose of talent in the form of Japanese chef Takeshi Nishikawa.  "We're excited to have him on our team," says the Food Network TV star who also oversees the kitchens at Teddy & The Bully Bar and Declaration.  "At the age of 29, Chef Takeshi already boasts an impressive resume – his diverse experience in so many different kitchens will add an interesting new element to things."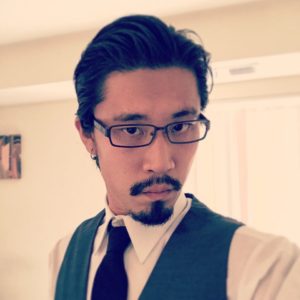 Born and raised in Japan, Takeshi displayed an interest in the culinary arts from an early age.  Nishikawa got his first taste of the American restaurant scene during his teenage years as he and his family relocated to the U.S. when he was 15 years old.
After graduating from high school in Alabama, Chef Takeshi spent two years at the New England Culinary Institute in Vermont before moving to Virginia to work for The Ritz Carlton Hotel Tysons's Corner and then Gibraltar restaurant in Lancaster, PA.  It was around this time that Chef Takeshi returned to his native Japan to reconnect with his roots and to continue honing his skills.
Upon returning to the U.S. with his new wife, Nishikawa found himself back in the Washington DC area when he accepted a position with Restaurant Eve.  The talented young chef's star continued to rise as he landed at Volt in Frederick, MD, where he worked as a Sous Chef under celebrity chef Brian Voltaggio.  Chef Takeshi subsequently took on the Executive Chef role at New Heights before joining the PRG Hospitality family as the new Chef de Cuisine at LINCOLN.
When he isn't in his chef's coat, you can find Nishikawa studying linguistics or putting his running shoes to good use.  The language lover (he's fluent in three and is in the process of learning a fourth) enjoys long bike rides and running 10k's.
Another hobby of the young chef?  Collection wine and various spirit.  He currently has 230 bottles in his home.
This new addition in the kitchen isn't the only change at LINCOLN.  The 6 year old restaurant recently underwent a bit of a facelift.  With the assistance of Maggie O'Neill's Swatchroom, handsome new tables and oversized seating in neutral tones are now the perfect complement to the colorful and eclectic art that adorns the restaurant's walls.
One of the most notable changes?  The floor.  Owner Alan Popovsky famously covered the floor of his downtown restaurant with over 1 million pennies when the restaurant opened in 2011.  LINCOLN's floor now consists of sleek black wood with 7,000 pennies inlaid in a symmetrical design.
About LINCOLN: LINCOLN, PRG Hospitality's first restaurant, honors the great Abraham Lincoln through gastronomy, mixology, art and design.  Pop art-style paintings of Honest Abe cover the walls while some of the president's own words are illuminated in neon on the wall of the restaurant's Emancipation Room.  The front dining room features a larger-than-life white leather chair (inspired the one Lincoln sits on at his memorial) as well as a bar covered entirely with pennies.  LINCOLN's seasonally-driven menu boasts some of the tastiest fare in Washington DC.  Chef Demetrio Zavala works with local farmers and artisanal purveyors to create crave-worthy dishes from the freshest ingredients available.  While the menu changes regularly, signature items include Root Beer Braised Short Rib (Cauliflower Gratin, Pretzel Gremolata, Apple Horseradish Mustard,) Apple Salad (Walnut Picada, Manchego Cheese, Soubise, Watercress, Maple Sherry Vinaigrette) and BBQ Pork with Buttermilk Biscuits (a favorite of Oprah BFF Gayle King.)
About Presidential Restaurant Group (PRG Hospitality): Founded in 2011 by restaurateur Alan Popovsky and local businessman Melvyn J. Estrin, PRG is known for creating contemporary dining experiences that celebrate American presidents in a multifaceted style.  PRG's leadership today also includes Corporate Chef/Partner, Demetrio A. Zavala, who has helped Lincoln, Teddy & The Bully Bar and Declaration become well known DC dining destinations.  While the 'presidential theme' of each restaurant highlights a specific time in our country's history, all three venues offer guests a decidedly modern experience.  Rather than paying homage to these iconic leaders in overt means, Popovsky and his team have created spaces that are subtly punctuated with historical references ranging from facts and figures to colorful stories about who these men were and how they impacted our great nation.  For more information on Presidential Restaurant Group please visit www.prghospitality.com.