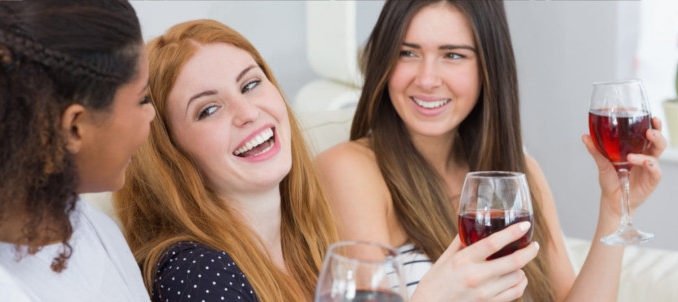 Millennial Wine Consumers in The United States

As millennials come of age and begin exploring wine as a passion and a pastime, they are causing a tectonic shift in the wine business. The fundamentals of the business have been tacitly accepted by wine drinkers for decades — the same varietals and regions have been favored vintage after vintage. Traditionally preferred grapes and regions are not falling into disfavor, per say, but rather the field is widening to include a broader array of selections. Each ensuing generation wants to do things its own way, and so the same is true for the millennial wine drinking generation. The shift toward "new" grapes (no matter how old they truly are) and heretofore overlooked regions is being led by a young group of wine drinkers, aged twenty-one to thirty-five, who demand a wider range of choices, drinking experiences, and values. It has been over a decade since social media began to take hold, and the millennial wine drinking generation is at the forefront of the digital movement. From Facebook to Snapchat and everything in between, engage-worthy, shareable moments are highly prized digital currency. For the wine industry, millennials present a new set of challenges and opportunities. Never before has it been so easy to reach a wide wine drinking audience and convince them to try something new. At the same time, our tried and true strategies which rely on brand loyalty and hand-selling are evolving.
Who are these so-called millennials?
Much ink has been spilled about the characteristics of the typical millennial. There are anomalies in every group, but by and large millennials shares a few key traits. The millennial generation is composed of 75 million internet natives born between the early 1980s and mid-to-late 1990s, many of whom are devout foodies anxious to share their experiences with food and beverage with their rapidly expanding social networks. That said, this is the era of the wine pairing — the quirkier the better. Never before has it been so easy to broadcast wine bottle shots, labels and logos to a large number of people. Digital technology also provides the tools to create exquisite photographs with which users style their unique social media personae. The millennial wine drinker is happy to put your brand or region on blast, so long as it pleases them in some way.
Socio-economically speaking, this generation delays a lot of the traditional adult milestones, whether through preference or because of macroeconomic factors. Millennials tend to live in their childhood homes for a longer period of time and defer marriage and children until later than previous generations. On a macro level, it's important to remember that millennials grew up during the Global Financial Crisis. As a result they understand the importance of considered purchases and revel in a good deal. Internet shopping has made price comparison shopping more available than ever before. Expect your millennial wine drinkers to be cost-conscious and price savvy. They want to be able to buy your wine online with ease. And while this generation started out on desktops, they now lead the charge in the "mobile-first" philosophy. Since Snooth's inception we've seen mobile traffic increase to almost 50% of our traffic mix. When we first began, mobile phones were not nearly as affordable or useful as they are today. I have little doubt that mobile and tablet browsing will continue to lead the way into the future of computing.
Millennials want you to embrace the digital realm.
This is the first generation to prefer electronic transactions over in-person meetings. It is up to the industry to use digital platforms to engender the desire to seek out a particular wine or region. Once that groundwork has been laid and the millennial consumer is in your tasting room or event, they will become immersed in the experience. One of the ways regions and brands have used digital platforms to engage an evolving audience is with designated grape and region days. These designated days are promoted via social media and events spanning multiple markets. #GarnachaDay, for example, is a nationwide effort led by a few key regions in Eastern Spain. By galvanizing audiences across the country about the Garnacha grape on the same day, brand awareness can be built and somewhat directed. There has also been renewed interest in Chile's Carménère. Now in its third year, #CarménèreDay celebrates the re-discovery of the grape in 1994. Plantings have increased by 140% between 2000 and 2014, for a total of 11,319 hectares under vine. Both Garnacha and Carménère are available to United States wine consumers at good values, and the awareness generated by a designated day campaign is helpful to the continued cultivation of interest in the grapes by the bottle and glass. The hashtag allows for interactive participation and celebration that can be broadcast to large, intertwined social networks. While there is no shortage of designated hashtag days (not only for wine, but food and other causes too), there is room for everyone. Designated hashtag days provide the desired opportunity for millennial social media users to have voices in a larger conversation, but be prepared to invest deeply in these opportunities and bring your friends, lest your campaign fall on few ears.
Millennials are building upon the wine knowledge of their predecessors.
Wine consumption in the United States has increased every year since 2000, and that growth is being driven by millennials. They build on what they know about the previous generation's wine drinking habits and seek to turn that information on its head with new trends and unique interpretations. Barolo is a key example. Barolo's indigenous white wine grape, Nascetta, disappeared after World War II. But a new generation of forward-thinking producers has plugged into the millennial generation's thirst for something new and brought the grape back into view. The concept of "White Barolo" is a nod to the architects of wine history, but shows a desire by succeeding generations to innovate and disrupt the status quo. Plantings began in 2005, with the first vintages released in 2008. Many plantings are grown using sustainable and organic farming methods, which is also important to millennials. They want a lot of choice, but those choices should have a positive impact on the environment and their own health.
Millennials care about sustainability, variety, and enotourism.
Much to the millennial wine drinker's delight, one of the leaders in sustainable wine growing in the United States is California's Lodi region. Introduced in 2005, The Lodi Rules for Sustainable Winegrowing is California's original, third party verified sustainable viticulture certification program. It is hailed for its rigor and transparency, acting as a benchmark for this type of program around the world. In addition, Lodi is uniquely positioned to capture the hearts of millennials due to the sheer variety of wines they produce. In 1990 the region grew twenty-eight different grape varieties. Today they cultivate over one hundred different varieties at commercial levels, more than any other region in the world – demonstrating the region's commitment to the evolving palates of the next generation of wine drinkers. Lodi has also witnessed a spike in tourism (hotel stays were up eighteen percent year over year). An increasing number of millennials are attracted by the region's fresh, accessible marketing campaigns and seek to experience the region for themselves. And best of all for millennials, fat pocketbooks are not required.
Millennials love a bargain.
The 2016 Wine Opinions survey, "American Wine Generations," states that 63% of millennials regularly buy in the under $10 category and 79% in the $10 to $14.99 category. Eighty-six percent of millennials surveyed said: "At least two to three times a month I will either buy a bottle of wine I've never tried or try a new wine by the glass in a restaurant." Whether they are buying wine online, in store, or at the tasting room, value and novelty are key facets of the millennial wine drinker profile. Domestic regions aren't the only wines on the menu. Millennials also have a thirst for that which is exotic, far-flung, and previously underappreciated. Portugal's Vinho Verde, for example, offers young, quaffable wines that appeal to millennials who subscribe to a "drink now" philosophy. The region boasts a slew of indigenous grapes, which also appeals to intrepid millennial palates. With this kind of demand in mind, the United States is now the number one importer of Vinho Verde wines in both volume and value, growing 14% and 35% respectively between January and September of 2015.
This penchant for redefining norms and embracing new regions extends across continents. South Africa is a prime example in terms of price point and positioning. According to a 2016 survey by the Wine Market Council, 31% of high frequency wine drinking millennials reported that they had purchased a bottle of South African wine in the three months prior. The above mentioned Wine Opinions survey also reports that "more than six in ten (62%) millennial high frequency wine drinkers buy red blends frequently or occasionally." Red blends are not exclusive to South Africa, but the country does offer a wide range of inventive red blends, many made with native varietals such as Pinotage. Numerous regions are following suit, coming up with their own salmagundi of red wine grapes in a bottle.
What do millennials want from you?
In summary, shatter traditions. Dare to be different, and talk about it at length on social media. Be ready to change the way you transact. Go mobile. Invest in the experience in addition to the story. Give millennials lots of choices. Empower them to feel in charge. Be prepared for change.
ProWein, International Trade Fair for Wines and Spirits, is the ideal platform to learn about the shifting dynamics of the wine business and the effect this new generation has on our industry. Held annually in Düsseldorf, Germany (March 19 – 21, 2017), ProWein is an indispensable trade-only event where over 6,000 exhibitors and 55,000 trade visitors from around the world meet to discuss philosophies, best practices, and successes. The experts at ProWein are ready to embrace the millennial wine drinking generation, armed with the latest information and cutting-edge ideas about how to reap the most benefit from this group of thirsty wine lovers. Every wine growing region is represented and every element of the industry covered – from wine and spirits to gastronomy, catering, packaging, marketing and more. ProWein is the place to hone your understanding about the millennial generation.
Written by Mark Angelillo
co-founded Snooth.com over 10 years ago with the goal of organizing the world of wine information. He views that as an exciting challenge, requiring an ongoing dedication to the pursuit and passion of wine. Although a software engineer by training, he has reviewed thousands of wines and hosted wine events and dinners.