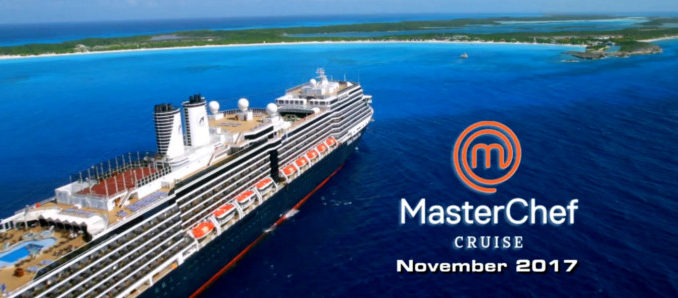 Sail Away To The Eastern Caribbean On The MasterChef Cruise Returning November 2017
With A Line Up Of MasterChef Winners And Fan Favorites From The Hit Culinary Competition Series
MasterChef Winners Shaun O'Neale (Season Seven), Claudia Sandoval (Season Six), Luca Manfé (Season Four) and Fan Favorite Brandi Mudd (Season Seven Finalist) among featured talent to appear.
Embarking from Ft. Lauderdale, FL, the MasterChef Cruise will visit Grand Turk, Turks and Caicos; San Juan, Puerto Rico; Philipsburg, St. Maarten; and Half Moon Cay, Holland America Line's award-winning private island in the Bahamas.
Building on last year's successful second run of the MasterChef Cruise, the MasterChef Cruise is returning to the Caribbean for a third serving of culinary delight at sea November 12-19, 2017.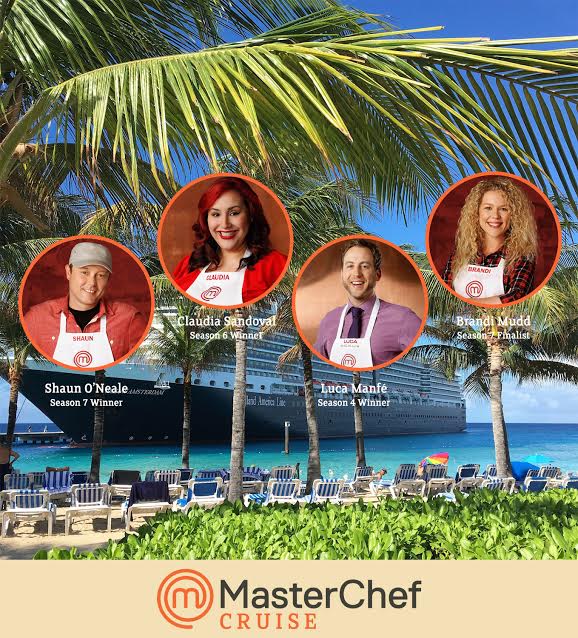 Presented by Endemol Shine North America, producers of the television series and events company Life Journeys, the MasterChef Cruise will bring back current MasterChef season seven winner Shaun O'Neale, who's exquisite flavors and thoughtful dishes won over the MasterChef judges and earned him the winning title. Former MasterChef winners Claudia Sandoval (Season Six) and Luca Manfé (Season Four) are also set to return. Fan favorite Brandi Mudd (Season Seven finalist) will join the winners circle. Each chef will bring to the table their individual specialties, techniques and the ultimate show experience for fans and foodies alike while visiting the beautiful islands of the Caribbean.
Guests can look forward to the week-long adventure at sea with opportunities to expand their own culinary skills. The MasterChef Cruise will offer 15 hours of theatre programming such as cooking demonstrations, mystery box challenges, pressure tests, audience participation and more inspired by the show, MasterChef. A number of premium events and dining experiences will also be available. All events and programming are exclusive to MasterChef Cruise guests and will be announced at a later date.
New in 2017, the MasterChef Cruise will sail to the Eastern Caribbean on Holland America Line's first Signature-class cruise ship, ms Eurodam. Now, as part of a $300 million fleet enhancement initiative, Eurodam recently received enhancements showcasing a host of exciting updates, including a new lounge, dining and entertainment venues, and completely refreshed suites.
The 7-day cruise setting sail November 12-19, 2017 will embark from Fort Lauderdale, Fla. and it will visit Grand Turk, Turks and Caicos; San Juan, Puerto Rico; Philipsburg, St. Maarten; and Half Moon Cay, Holland America Line's award-winning private island in the Bahamas.
To learn more about the third MasterChef Cruise and relive last year's tasteful voyage, guests can visit www.masterchefcruise.com
About Endemol Shine North America
Endemol Shine North America delivers world-class content and compelling storytelling to multiple platforms in the U.S. and across the globe. Endemol Shine North America is part of Endemol Shine Group, the global content creator, producer and distributor with a diverse portfolio of companies that are behind some of the most prominent hit television formats and series in the world.
Its Endemol Shine Studios division develops and produces original scripted television programming in the U.S. for global exploitation and Endemol Shine Latino oversees all Spanish-language sales and development in both the U.S. and now across all of Latin America. Subsidiary production companies include Authentic Entertainment, Original Media, True Entertainment and 51 Minds Entertainment. In addition, Endemol Shine North America has a strategic partnership with Ryan Seacrest Productions.
Endemol Shine Group's companies in North America are behind such hit series as Big Brother (CBS), The Biggest Loser (NBC), Hell on Wheels (AMC), Ink Master (Spike), Kingdom (AT&T Audience Network), MasterChef (FOX), MasterChef Junior (FOX), Swamp People (History), The Real Housewives of Atlanta (Bravo), Steve Harvey (NBCU), T.I. & Tiny: The Family Hustle (VH1), Steve Austin's Broken Skull Challenge (CMT), Billion Dollar Buyer (CNBC) and upcoming "Page Six TV" (Syndicated), Hunted (CBS), Superhuman (FOX), and I'm Dying Up Here (Showtime).
About Life Journeys
California-based Life Journeys Inc., is the nation's Premier Global Travel Tour Production company with an impressive roster of clients from the Artistically Creative and Literary field.  Life Journeys brings content to life, creating an exciting event platform that will immerse your fans/audience into your brand, message and products. Life Journey's vision is to bring together an array of authors, celebrities, speakers, musicians and organizations that inspire, motivate, educate, entertain and empower participants by creating a targeted unique brand of customized, one-of-a-kind event.  Life Journeys specializes in stellar productions and operations on Cruise ships, all-inclusive Resorts and Multi-City Tours – Worldwide.
About Holland America
Holland America Line's fleet of 14 ships offers more than 500 cruises to more than 400 ports in 98 countries, territories or dependencies around the world. From shorter getaways to 115-day itineraries, the company's cruises visit all seven continents with highlights including Antarctica explorations, South America circumnavigations and exotic Australia/New Zealand and Asia voyages; four annual Grand Voyages; and popular sailings to the Caribbean, Alaska, Mexico, Canada/New England, Bermuda, Europe and the Panama Canal. The line currently has a new 2,650-guest ship, ms Koningsdam, delivered in April 2016, as well as a second Pinnacle Class ship, ms Nieuw Statendam, due for delivery in November 2018.
The company recently announced $300 million in brand enhancements to secure its position as the leader in premium cruising. Fleetwide, the ships feature innovative initiatives and a diverse range of enriching experiences focused on destination immersion and personalized travel. Guests can expand their knowledge onboard at an America's Test Kitchen show; Explorations Café, powered by The New York Times and Digital Workshop powered by Windows. Outstanding entertainment fills each evening at venues including Lincoln Center Stage, Billboard Onboard and B.B. King's Blues Club. The dining experience can be savored at a variety of restaurants with menus that feature selections from Holland America Line's esteemed Culinary Council that comprises world-famous chefs who design dishes exclusively for our guests.