Gabriele Originario, Director of Beverage & Food @ W San Francisco

Gabriele Originario has expanded his role as Director of Beverage & Food at W San Francisco, now overseeing all venues (TRACE restaurant, UPSTAIRS Bar and Living Room Bar, in-room dining),  and most recently banquet and catering functions (20,000 sq. ft. of meeting space) at the San Francisco LEED Platinum hotel.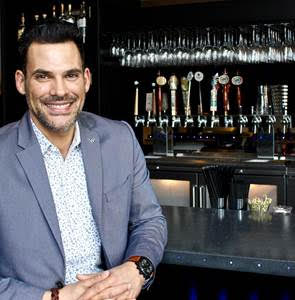 In May 2016, Originario joined W San Francisco as Director of Beverage & Food overseeing operations for the hotel's signature TRACE restaurant, dedicated to socially responsible food created from locally sourced and sustainable ingredients, Upstairs Bar & Lounge, a dynamic lounge fuses signature cocktails with vibrant design, and The Living Room Bar, a chic hangout that couples craft cocktails with dynamic décor and electric beats spun by a live DJ.
With nearly 20 years of experience in the hospitality industry, Originario has worked with renowned chefs and sommeliers, including Thomas Keller, Larry Stone, Gaston Acurio and Hubert Keller, providing an invaluable and inspiring foundation for his career. Prior to joining W San Francisco, Originario held the title of director of operations at Emporio Rulli's, a beloved artisan bakery in downtown San Francisco and general manager of La Mar, where he developed, implemented and maintained exceptional customer service standards.
Originally from Rome, Italy, Originario made his way to the U.S. bringing along a passion for wine, shoes and fitness.
W San Francisco
W San Francisco is an electric urban oasis in the heart of San Francisco's SoMa district. With 404 guest rooms including 9 suites, the hotel's chic and contemporary design offers a hip, stylish retreat downtown. Property features include The Living Room, a perfect gathering spot for cocktails or an energizing place to work, FIT, the hotel's state-of-the-art fitness center, TRACE, the hotel's signature restaurant, and seven state-of-the-art meeting room and banquet spaces including the award-winning SOCIAL terrace. The hotel offers panoramic views of the city's skyline and a breathtaking view of the Bay Bridge and is just steps away from attractions including the San Francisco Museum of Modern Art, Yerba Buena Gardens, and the waterfront. W San Francisco is a leader of sustainable initiatives and the first LEED-EB Platinum certified building in North America, the highest ranking by the U.S. Green Building Council (USGBC) and the world's most widely used and recognized green building rating system. For more information, please visit http://www.wsanfrancisco.com/.