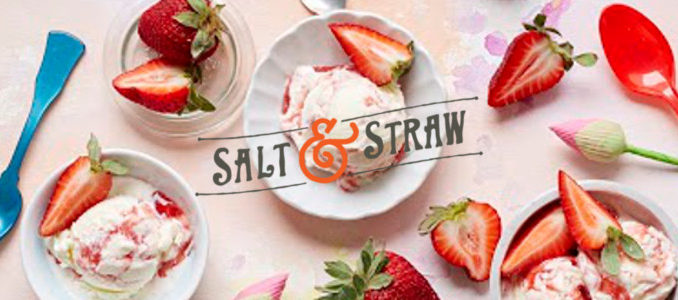 SALT & STRAW ANNOUNCES SUMMER 2017 ICE CREAM SERIES LINE-UP INCLUDING RESCUED FOODS SERIES DEBUT
June, July and August ice cream flavors from the Salt & Straw kitchen explore the bounty of summer berries, farm-fresh produce and raise awareness around food waste with creative flavors made from rescued foods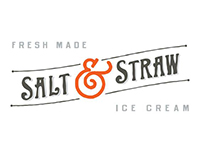 Salt & Straw Ice Cream
, the iconic Portland-based, family-run ice cream company known for its artisanal, chef-driven approach to an American classic, will be featuring a series of limited edition seasonal menus at scoop shops in Portland, Los Angeles, and San Francisco shops this summer. The seasonal menus rotate every four weeks, vary by market and showcase the compelling stories of what is happening in each community. Starting in June, Salt & Straw brings the issue of food waste to the forefront, making ice creams out of rescued foods. A particular passion of head ice cream maker Tyler Malek, Salt & Straw will work with local gleaning partners to shine a light on this important issue, coming up with creative ways to minimize food waste. Throughout the month, we're highlighting creative ways food in our cities can be reused, rescued, preserved, and redirected in the most delicious of ways with flavors like Spent Brewer's Malts & Candied Bacon S'mores and Second-Steeped Rum Spices and Apple Butter. In July, the Oregon and California berry bounty will steal the show in the Berry Series highlighting the quintessential summer fruits with flavors like Meyer Lemon Buttermilk with Blueberries and Birthday Cakes & Blackberries. And, in August, Salt & Straw will work with the community of local farmers and producers on a suite of flavors featuring fresh, locally grown ingredients in flavors like Aquabeet Sorbet and Carrot Cake Batter and Pralined Hazelnuts.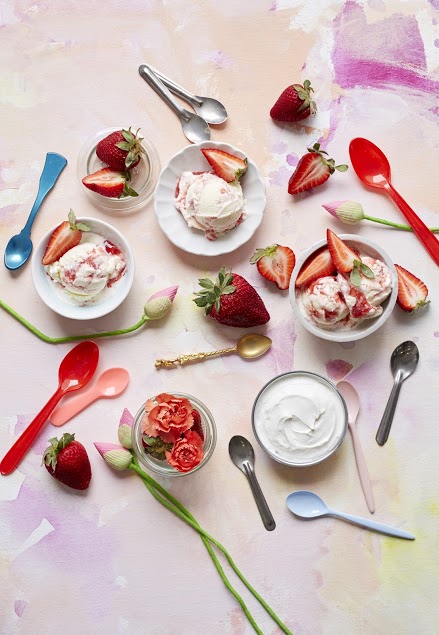 Flavors rotate each month and are available locally at Salt & Straw scoop shops. The Portland monthly flavors are available for national shipping by visiting,
http://saltandstraw.com/shop/
.
Salt & Straw Ice Cream menus will feature flavors such as the flavors included below. Flavors will vary by market.
June Rescued Food Series
Here in the United States, about 40% of our food supply goes into the trash. That's not all spoiled food—the vast majority of this waste is made up of surplus, edible ingredients that could help reduce hunger in our most vulnerable communities, but get tossed because of lack of storage space, lack of distribution chains, passing food fads and holidays. This month, we're highlighting creative ways food in our cities can be reused, rescued, preserved, and redirected in the most delicious of ways!
Second-Steeped Rum Spices and Apple Butter
We teamed up with Portland's Eastside Distillery to make the most of the delicious warming spices used in their Below Deck Spiced Rum. The distillery makes liqueurs by steeping whole spices—think Moroccan peppercorns, Sri-Lankan cinnamon, Mexican vanilla, Indian mace, and California orange peel—in large batches of rum for 4-6 weeks, during which the spirit soaks up the zest of the spices. For this flavor, we're using the spices after this process, re-steeping the rum-soaked spices in cream that forms the base of our spiced rum ice cream. We then ribbon in a deliciously caramelized apple butter made with bruised apples from Urban Gleaners—an incredible Portland nonprofit redistributing food from high-end restaurants and grocery stores to schools and agencies working to end hunger.
Spent Brewer's Malts & Candied Bacon S'mores
Beer brewers throw away tons of spent grains in the process of making the microbrews Portland is known for—so we worked with Breakside Brewing to rescue a variety of grains and malts after the brewing process. We start by toasting the spent grains to bring out their sweetness, then grind them into a powder that forms the base of this campfire-ready ice cream. This flavor also utilizes another pivotal link in our local food waste-reduction chain—pigs from Naked Acres, which are fed surplus food from Urban Gleaners. We transform pork belly from the near-zero-waste local farm into bacon in our kitchen, which we use two ways in every scoop: cooked into a syrup that's stirred into a bacon marshmallow fluff, and as candied bacon bits mixed with pralined spent grains in a dark chocolate candy bark.
July Berries Series
Oregon is one of the top producers of berries in the world, and we look forward to showcasing the beautiful berry bounty of the Pacific Northwest every summer. Berries have been one of the most important agricultural items in Oregon since the early pioneers came across the Oregon Trail—these early settlers needed an instant way to feed themselves and their families before the orchards they planted matured. The solution? Propagate berry seeds and feast on the blue, purple, and red rewards. A nod to our local agricultural history, this month's flavors are also nothing short of delectable… and are worth the inevitable berry stains on our hands and kitchen counters!
Portland Creamery's Goat Cheese Marionberry Habanero
Back by popular polite discourse, this refreshing and summery flavor has been perfected in its fifth year (but it's still h-o-t spells hot!) It starts with Portland Creamery's "Sweet Fire" goat cheese, which literally comes to us three days after being milked. This smooth, creamy chevre is churned into a tart, creamy goat cheese ice cream and ribboned with a thick, blazing, so sweet marionberry jam that has been infused with fiery habaneros. You may, on occasion, get potently thwacked by a lick of habanero, but it makes the next lick so much sweeter for drama of it all. Not to brag, but we got our hands on some of the best goat cheese ever to come out of the Willamette Valley. Portland Creamery handcrafts its "Sweet Fire" flavored chevre under the benignly interested gaze of a much loved, multiply-awarded, and freely roaming herd of goats in Molalla, Oregon.
Meyer Lemon Buttermilk with Blueberries
A lemony ice-cream nap. There is just something truly soothing about this ice cream, something so comforting and comfortable and good. We start with a Meyer lemon ice cream that is round and warming, not tart and acidic. Buttermilk adds a little sweet-tart, and more roundness. For added relishing, blueberries are whirled in to deliver pops of juicy-sweet summer-ness. Kick back. Eat this. Kick more back.
Birthday Cakes & Blackberries
The freedom to eat cake in your ice cream. We declare this ice cream your official holiday from adulthood. It tastes like freaking frosting, the better to feature the chunky hunks of three-vanilla cake and swirls of home-made straight-arrow Evergreen blackberry jam. Whirled with non-organic, bright-as-you-remember Technicolor sprinkles, we dedicate this flavor to the discerning palates of children who know that sometimes cake ice cream is exactly what's called for.
Ancient Heritage's Fresh Cheese & Strawberries
Hood River strawberries reach their jammy apex in this nod to cheesecake ice cream! Full-bodied and luscious, this flavor mixes fresh cow cheese from our neighbors at Portland's urban dairy Ancient Heritage into a custard ice cream. We then add in a stripe of light and slightly tart homemade strawberry jam using the best strawberries around!
Wild-Foraged Berry Sherbet
We kept things super simple; fold fresh berries into a bit of cream & sugar, pop it into our ice cream machines, and let the amazing berries just do their thing. And where do we get these amazing wild berries?… So there's this guy, Tom, right? And he forages all over Mt. Baker and Mt. Rainier for berries. Wild mountain blueberries and blackberries and whatever other berries he finds. Could be huckleberries. Or lingonberries. Mystery berries, maybe even. Anyway, we get as many of these berries as we can from Tom from NW Wild Foods, and that's that.
August Farmer's Market Series
Our local farmers market is the beating heart of our food community. Every week, you'll find Portland's top chefs, bakers, cookbook authors, food critics, and home cooks elbow to elbow with star farmers, ranchers, fishers, and culinary artisans. It's impossible to escape the piles of rainbow carrots, curly kale, fresh berries, and fragrant herbs without being inspired to whip up a menu of locally sourced flavors, so we dedicate one month a year to the fruits and vegetables that give us a true sense of place. We partner with local farms to put the spotlight on their unique ethos and practices, imagining a farm tour through our region without leaving the ice cream shop—and manage to get thousands of people to eat their veggies in ice cream form!
Carrot Cake Batter & Pralined Hazelnuts
An excuse to have your (carrot) cake and eat it too. Have you ever kind of wanted to eat cake…or, wanted to eat ice cream… but then thought, nah, I should eat vegetables. Well we're here to say you can have it all. This ice cream is brimming and dense. We roast super-sweet carrots with spices and molasses, then add vanilla and cream to make a frozen carrot cake batter without the flour. We then pipe in liquid cheesecake and handfuls of pralined hazelnuts for creaminess and crunch. We can't promise this ice cream will satiate your daily nutritional requirements but can promise that it will satiate your daily yummy-ness requirements.
Zucchini Bread with Chocolate Freckles
Yummmm, zucchini bread. The destitute destiny of all that zucchini we so ambitiously planted in early spring. Our zucchini bread ice cream is lavishly packed with cinnamon, clove, and nutmeg layered with massive hunky hunks of tender zucchini bread and a buckshot of tiny freckles of single-origin, Portland roasted chocolate. We love this ice cream for the sheer ingenuity of something so basic yet so darn delicious.
Green Fennel & Maple
Woah, these fennel bulbs are so plump they'll make you blush! Fresh fennel is slowly steeped in Vermont maple syrup. The maple syrup we use in this ice cream is pretty unique because Morse Farms in Vermont has been in the family for over 200 years! We've tasted a lot of maple syrup in our days, and this is the best!
Aquabeet Sorbet
Beets are the new sugar cane when it comes to agricultural sweetness, so it's no wonder local beets make a phenomenal base for a summer sorbet! We grate piles of gorgeous ruby beets with sugar to draw out their natural juices, then blend the blood-red veggies with Aquavit, a deliciously complex Scandinavian-style liqueur from Portland's House Spirits. The earthy sweetness of the beets pairs perfectly with the spirit's notes of star anise and caraway for a refreshing combo of warmth, spice, and terroir.
About Salt & Straw Ice Cream
Salt & Straw Ice Cream is a family-run, chef-driven ice cream company with kitchens and scoop shops in Portland and Los Angeles that partners with local artisans, producers and farmers to serve unusually creative and absolutely delicious ice cream. Each ice cream is handmade in small batches using only all natural cream from local farms in each city. Flavors showcase the best local, organic and sustainable ingredients from Oregon and Southern California farmers and artisans as well as imported flavors from small hand-picked farms from around the world. The company started in Portland, OR serving eight flavors from an ice cream cart in May of 2011 and now has three scoop shops in Portland in addition to the Wiz Bang Bar, five shops in LA, and one on the way in San Francisco opening March 2017. Scoops of handmade, small batch ice creams, sundaes, milkshakes and floats as well as pints to go are available at each shop with an ice cream sommelier of sorts who will gladly take you through a tasting of all the flavors. Favorites, seasonal, design your own variety packs and pint club memberships are available for online purchase and can be shipped anywhere in the United States. Salt & Straw's ice cream cart is available for catering parties and events. In April of 2016, Salt & Straw opened the Wiz Bang Bar at Pine Street Market, a soft serve dessert bar featuring fresh spins on the childhood swirl, sundaes, novelties, and, more. Follow Wiz Bang Bar on
Facebook
at Wiz Bang Bar and on
Twitter
and
Instagram
at @wizbangbar. Find more information at
www.saltandstraw.com
or call
971-271-8168
. Follow us on
Facebook
at Salt and Straw Ice Cream,
Twitter
and
Instagram
: @SaltandStraw.