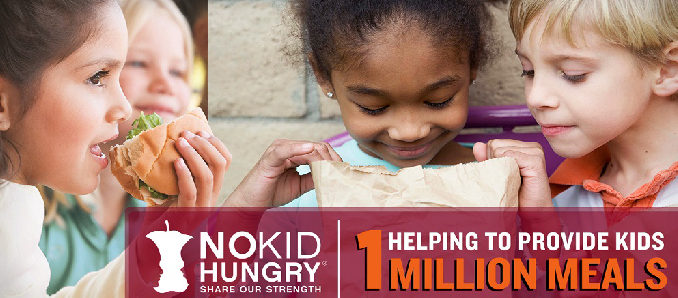 The Brand´s First Nationwide Cause Marketing Campaign Works to Combat Childhood Hunger in America through Education & Action; To Address Immediate Hunger Needs, Bar-S Donates Food to Tropical Storm Harvey Victims

 Bar-S, the brand behind America's #1 selling franks for 12 years in a row, today announced an annual partnership with No Kid Hungry in honor of Hunger Awareness Month this September. Bar-S will help provide 1 million meals to children in need. In its first major nationwide Cause Marketing effort, Bar-S' "Fighting Childhood Hunger" campaign helps alleviate childhood hunger in America together with the brand´s customers, employees and partners. Beyond a donation that will benefit kids nationwide during the summer months — often the hungriest time of year for many children — the campaign will also engage employees and shoppers via volunteer activities, on-pack information, and a dedicated microsite. Bar-S is also donating hot dogs, sausages, and lunch meat for over 160,000 meals to the No Kid Hungry affiliate, Houston Food Bank, to help the victims of Tropical Storm Harvey.
"It's heartbreaking that 1 in 6 children in the U.S. struggle with hunger, especially during the summer months when school food programs are not as available," commented Warren Panico, CEO, Bar-S. "Our support of No Kid Hungry is the next natural step in our ongoing commitment to serving our community and the children of our community. At Bar-S, we operate on the belief that 'you can't out give' and we're honored to be a part of No Kid Hungry's important work."
To engage shoppers in hunger awareness action, Bar-S is:
●   Adding on-pack communication about childhood hunger on the brand´s top items (approx. 80,000,000 packages) from September – December 2017.
●   Creating an influencer campaign to bring further awareness to childhood hunger issues in America.
●   Launching "Bar-S Serves," a digital platform for all of the brand´s charitable giving. A new microsite at Bar-S.com/Serves and corresponding social media campaign will launch on September 6 to connect employees and shoppers with ways to learn, donate and volunteer for the childhood hunger cause.
Also in honor of the campaign, Bar-S employees will hold a canned food drive during National Hunger Awareness Month to collect donations and create bagged lunches for local food banks. Bar-S' commitment to the Summer Meals program with No Kid Hungry follows a long history of company giving to worthwhile causes and nonprofits including City of Hope,  Second Harvest (food banks), St. Jude's, and United Way.
"Everyone has a role in helping end childhood hunger in America," said Jill Davis, Senior Vice President, Corporate Partnerships at No Kid Hungry. "We could not be more thankful for Bar-S' generous support of No Kid Hungry and their commitment to raise awareness and funds for this important cause during Hunger Awareness Month."
About Bar-S
For more than 35 years, Bar-S has earned a reputation for high-quality meat products including bacon, hot dogs, sausages, lunch meat and more. As the only national value brand in the country, Bar-S believes shoppers shouldn't sacrifice great taste to stay on budget. The brand is committed to giving back to the communities where their customers, employees, and partners live and especially to causes that help alleviate hunger in the U.S. For more information, visit www.bar-s.com.
About No Kid Hungry
No child should go hungry in America, but 1 in 6 kids will face hunger this year. Using proven, practical solutions, No Kid Hungry is ending childhood hunger today by ensuring that kids start the day with a nutritious breakfast, eat healthy summer meals, and families learn the skills they need to shop and cook on a budget. When we all work together, we can make sure kids get the healthy food they need. No Kid Hungry is a campaign of national anti-hunger organization Share Our Strength. Join us at NoKidHungry.org.