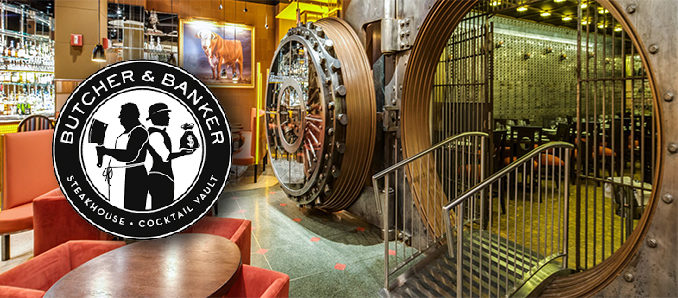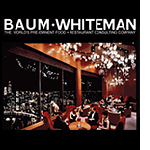 The former bank vault beneath New York City's historic New Yorker Hotel had sat vacant for more than 30 years when the hotel offered it to restaurateur Alex Sgourdos, owner of the Tick Tock Diner on the busy corner above. Sgourdos knew the space had potential, but what to do with a space that had never been a restaurant and was hidden out of sight beneath a hotel? He decided to hire world-renowned restaurant consultant Michael Whiteman, who heads Baum+Whiteman International Restaurant Consultants (best known for projects like Windows on the World and the Rainbow Room in NYC) to conceive a project that nodded to the hotel's Art Deco past while appealing to modern diners – Butcher & Banker, NYC's first "steak-easy."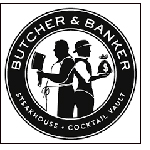 The New Yorker Hotel opened in 1930 at the height of the Great Depression as the then largest hotel in New York City. For years, it attracted a who's who of entertainers and dignitaries from around the world, from Muhammad Ali to JFK to Joan Crawford to Nikola Tesla, who spent his final years in the hotel. The existence of the bank vault below the hotel dates back to how the building was constructed. The Manufacturers Trust Company owned a building on a corner of 34th Street and in exchange for tearing it down, the bank gained a free 50 year lease on office space and a vault in the hotel. After the bank closed in 1980, the vault was used for storage.
Whiteman enlisted architect Richard Bloch to make the space functional and inviting. Bloch has designed hundreds of projects around the world, including Masa, Shuko, the Empire Steakhouse and more in NYC. "We were particularly careful not to build a "bank-themed restaurant," Whiteman says. "Instead, we focused on a slightly Jazz Age, slightly Mad Men ambience with overtones of a speakeasy, pulling inspiration from old school New York. It's reminiscent of a place where one would have a cigar and strong drink over dinner, a place where you'd have no qualms about cuddling up to your significant other in one of the capacious booths. Even down to our playlist, we wanted to recreate that era with up-tempo jazz standards from the '30s, '40s and '50s."
Whiteman collaborated with Chef Scott Campbell on the restaurant's menu development. Chef Campbell is no stranger to historic dining ventures, having worked at some of the city's iconic spots including Le Cirque, The Oak Room at the Plaza, Windows on the World and the original Union Square Café. He is also adept at reviving historic spaces, having previously worked with Bette Midler on the restored New Leaf Restaurant in Fort Tryon Park.
The menu features aged prime steaks as both traditional and unique cuts, while seasonal vegetables and locally sourced seafood round out the offerings. A dozen USDA prime, dry-aged steaks are on offer, from a Tomahawk Ribsteak to a Cowboy Bone-In Rib Eye topped with oysters and brown butter béarnaise sauce to a Coulotte Sirloin (top sirloin cap). An in-house smoker allows Campbell's team to smoke pastrami-rubbed Long-Bone Short Rib. Beyond beef, diners will eat just as well as Campbell applies his creative touch to kitchen specialties Five Spice Duck Steak; Filet Mignon of Tuna Florentine; Sea Scallops & Foie Gras with Cabernet-shallot risotto and the show-stopping Kan-Kan Pork, a grand arch of double loin chops, belly & cracklings with caramelized Catskill apples and apple cider reduction.
Butcher & Banker upends traditional steakhouse wine offerings. Instead of bible-length books full of staggeringly priced wines, guests will find a curated selection of 100 wines – with 20 bottles affordably under $50. "We asked our wine friends to bring us 'outliers' – from wineries around the world that focus on quality," Whiteman explains.  "And then we supplemented those with classic producers for those customers who occasionally require brand familiarity." Cocktails by consulting mixologist Allen Katz (New York Distilling Company) nod to the classics and revive lost recipes, like the original recipe for the Raffles Singapore Sling, gin, cherry heering, curacao, Benedictine and pineapple juice, that has been revived with a focus on fresh ingredients. Favorites like the Manhattan, Corpse Reviver #2 and Martini get their own house spin as well.