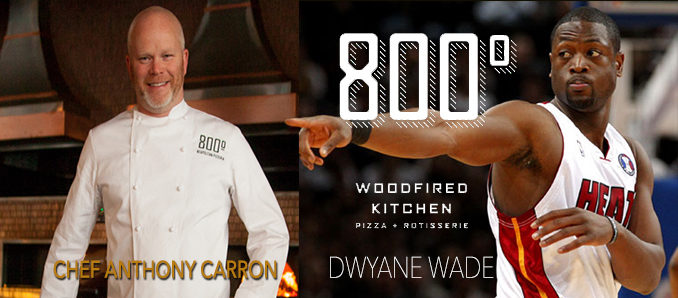 HEAT Champions Dwyane Wade and Udonis Haslem,
to Bring 800° Woodfired Kitchen to South Florida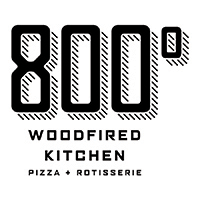 800° Woodfired Kitchen has announced a partnership with NBA Champion Dwyane Wade, joining forces to continue to propel the fast-growing brand's expansion nationally and globally. Drawn to the concept's top-quality, gourmet woodfired dishes, Dwyane has committed to becoming a partner of 800° Woodfired Kitchen on a brand level internationally, and locally, as a franchise partner.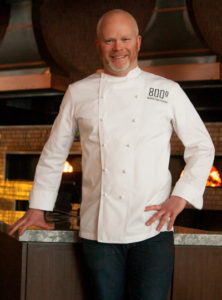 "I am both humbled and excited that Dwyane has chosen to partner with 800° Woodfired Kitchen," said Carron, founder of 800° Woodfired Kitchen. "Dwyane and I connected instantly with our shared love for fresh and thoughtfully prepared food, which is what this concept is all about. I admire Dwyane's commitment to aligning himself with brands he is passionate about and know with our joint vision and enthusiasm, 800° Woodfired Kitchen will continue to be made accessible to communities around the world."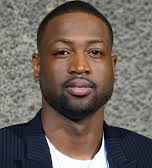 Wade has joined forces with longtime friend and Miami HEAT teammate Udonis Haslem, applying their on-the-court synergy to another shared passion: great tasting and high-quality food. The duo has launched Forty-Three, a joint company named after the HEAT champions' respective jersey numbers, kicking off their first venture to bring Chef Anthony Carron's woodfired concept to South Florida.
"When I first discovered 800° Woodfired Kitchen I was impressed by the inviting atmosphere and the fact that its menu offered something for everyone," said Wade. "As a professional athlete, I understand the importance of eating well. 800° Woodfired Kitchen raises the culinary bar by offering guests a unique dining experience with high-quality ingredients and delicious food in a relaxed setting. I'm excited to partner with a growing company as they continue to expand with new locations around the world and introduce this concept to wider audiences."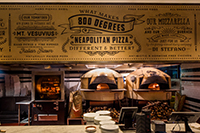 As part his ongoing partnership, Wade will focus on building 800° Woodfired Kitchen's brand awareness globally.
For more information on 800° Woodfired Kitchen, please visit www.800degrees.com.
About 800° Woodfired Kitchen Pizza + Rotisserie
800° Woodfired Kitchen Pizza + Rotisserie brings a unique and innovate approach to the art of cooking with fire, offering guests top-quality, gourmet woodfired dishes. Founded by Chef Anthony Carron, with the first location opening in Downtown Los Angeles to much fanfare, the artfully crafted menu features craveable and irresistibly delicious pizza, rotisserie meats, salads and sides.
800° Woodfired Kitchen utilizes specially designed woodfired stone hearth pizza ovens and woodfired rotisseries that burn fragrant woods, imparting a unique, subtle, smoky taste to anything cooked within them. Starting with the purest ingredients, scratch dough, fresh produce and artisan-quality meats and cheeses, 800° Woodfired Kitchen creates an offering that is authentic, delicious and diverse. Look forward to an 800° Woodfired Kitchen coming to a location near you, and taste the magic of woodfired!
800° Woodfired Kitchen and its legacy concept 800 Degrees Pizzeria operate locations in Los Angeles, CA; Las Vegas, NV; Tokyo, Japan; Dubai, UAE; and Doha, Qatar, with locations coming soon to Seoul, South Korea and within the United States.
For more information on 800° Woodfired Kitchen,
visit www.800degrees.com.
About Forty-Three
Forty-Three is a joint company created by Miami HEAT champions Dwyane Wade and Udonis Haslem. The company is named after their respective jersey numbers. 800° Woodfired Kitchen is the company's first venture.
Dwyane Wade is a three-time NBA Champion with the Miami HEAT, twelve-time NBA All-Star and an Olympic Gold medalist. Off the court, he is a New York Times best-selling author, style icon, entrepreneur, and philanthropist. Wade is continuously recognized for his style and incorporates his passion for design into his partnerships with Stance, Li-Ning, Hublot, MISSION, and The Tie Bar. Founder of ZZ Productions, Wade recently served as an executive producer on Shot in the Dark for FOX Sports with Chance the Rapper.
Udonis Haslem is a three-time NBA Champion and Co-Team Captain for the Miami HEAT. Off the court, Haslem is a businessman and philanthropist. He is a franchisee of five Subways and two Auntie Anne's Pretzels in South Florida. He is a partner of JFC Miami, a food and beverage company which operates licensed stores, including a Starbucks and Einstein Bros. Bagel on Jackson Memorial Hospital's campus. Always willing to give opportunities to those in need, Haslem partners with CareerSource Florida and the Employ Miami-Dade Project to hire and train those who are unemployed to work at his Starbucks and Einstein Bros Bagels stores.