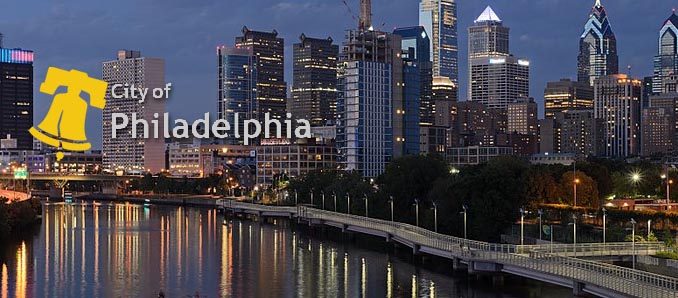 A History & Love Story Between A Proud City & Its Delicious Inventions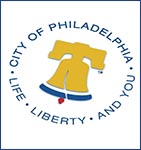 Here in Philly, cheesesteaks, hoagies and roast pork sandwiches are civic icons, tourist draws, cultural obsessions—and, most importantly, beloved meals. A visit to the city would be incomplete without a dive into the distinct, no-forks-required specialties that make this "America's Best Sandwich City," as Saveur magazine recently declared. Here's the lowdown on the holy trio of between-bread Philadelphia:
Cheesesteak:
What Is It?
A cheesesteak—always one word!—consists of a long, crusty roll filled with thin-sliced, freshly sautéed ribeye beef and melted cheese. The art of cheesesteak preparation lies in the balance of flavors, textures and what is often referred to as the "drip" factor. For many fans, the definitive "cheese" of choice is Cheez Whiz®, but American and provolone have long established themselves as accepted alternatives. Other common toppings include sautéed onions, cooked mushrooms, ketchup, and hot or sweet peppers.
The History
The origin of the cheesesteak dates back to 1930, when during one fateful lunch hour, South Philly hot dog vendor Pat Olivieri slapped some beef from the butcher on his grill. A cabbie driving by sniffed something delicious, leaned out his window and requested his own. It didn't take long for news of the creation to spread—taxi drivers came to Olivieri demanding their own steak sandwiches. Soon after, the vendor opened a permanent shop on 9th Street and Passyunk Avenue, Pat's King of Steaks, to sell his invention to the masses. Pat's grills now sizzle 24 hours a day. So do those of Geno's Steaks, the rival across the street that opened in 1966, whose late owner claims to have first added cheese to the sandwich. For more than half a century, Pat's and Geno's have waged a (mostly) friendly competition, with visitors often ordering from both shops to see which they deem the winner.
Where To Eat One
Nearly every pizza or sandwich shop on any corner of every neighborhood in the city serves up the workaday delicacy. Here are a few notable spots in Center City and beyond, but first a lesson on ordering. Those who crave a cheesesteak must first consider two critical questions: What kind of cheese? Onions or no onions? Those who want Cheez Whiz and onions, ask for a "Whiz Wit." Those who want provolone without onions, ask for a "Provolone Witout."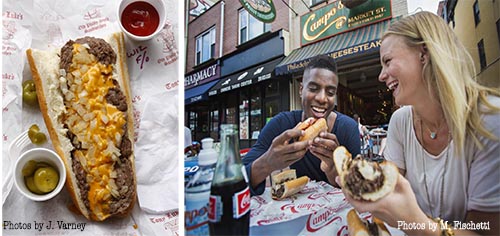 VISIT PHILADELPHIA® is our name and our mission. As the region's official tourism marketing agency, we build Greater Philadelphia's image, drive visitation and boost the economy.
On Greater Philadelphia's official visitor website and blog, visitphilly.com and uwishunu.com, visitors can explore things to do, upcoming events, themed itineraries and hotel packages. Compelling photography and videos, interactive maps and detailed visitor information make the sites effective trip-planning tools. Along with Visit Philly social media channels, the online platforms communicate directly with consumers. Travelers can also call and stop into the Independence Visitor Center for additional information and tickets.