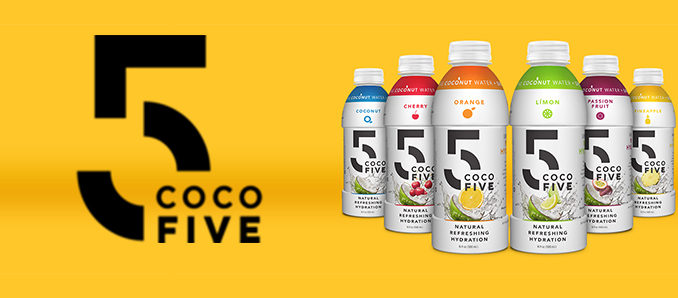 Today, COCO5, the Chicago-based all-natural sports hydration company, reported a capital raise of $1.5 million, with key contributors including longtime investors Jim Reynolds and Spiral Sun Ventures, National Basketball Association players Marcus Morris and Markieff Morris and National Hockey League player Andrew Shaw.
The company also announced new retail partnerships with grocery giants, Jewel, Wegmans and Kroger in addition to its current relationships with select Whole Foods, Mariano's, and other smaller retailers — expanding in-store availability four fold and doubling the number of U.S. states where the product is currently sold.
Consumers looking to buy the product in states where expansion is still underway can purchase COCO5 on an enhanced ecommerce platform within the brand's new website, unveiled today. With this increased retailer presence, including into Canadian metro markets where the product was adopted early by professional hockey players, COCO5 is poised to deliver clean sports hydration to modern athletes across North America. The company is partnering with Marsham International Food Brokers Inc., a full service natural food & beverage broker in Canada, which represents many of the leading natural products brands in Canada.
"For more than seven years, COCO5 has been committed to making the cleanest sports hydration that we know athletes don't just love, they rely on to perform," said Scott Sandler, COCO5 co-founder and chief executive officer. "We stand by the belief that nature makes the best sports fuel, and you'll see that in our product: it has half the sugar of the leading sports drink, five naturally occurring electrolytes and no artificial additives — ever. We started the business because we felt today's athletes deserved better options, and now we're on a mission to bring this product to even more consumers, from professional sports players to everyday athletes."
More than 60 professional and collegiate sports teams, across the National Hockey League, Major League Baseball, National Basketball Association, National Football Association and more than 15 universities, have already chosen COCO5 as their preferred sports drink. Some players among them, including NBA stars Marcus Morris of the Boston Celtics and Markieff Morris of the Washington Wizards and NHL Montreal Canadiens player Andrew Shaw have contributed to the latest round of fundraising, further demonstrating their commitment to the product.
Leadership Appointments
In addition to COCO5's capital raise, the brand has appointed Jim Reynolds, chairman and CEO of Chicago-based Loop Capital and a 30-year veteran of the financial services industry, to the company's newly formed board of directors.
To learn more, purchase online or find a retailer near you, visit http://www.coco5.com/ and follow COCO5 on Facebook, Instagram and Twitter.
About COCO5
Founded in Chicago in 2011, COCO5 was created by the Chicago Blackhawks head trainer who was on a mission to develop a cleaner sports hydration for the modern athlete. Knowing the players needed a beverage that performed as hard as they did — without the sugar, additives and artificial ingredients in most sports drinks — the team behind COCO5 created the all-natural and delicious sports hydration championed by professional athletes across North America today. Now available in six refreshing flavors, COCO5 is committed to the belief that nature makes the best sports fuel, and it's what our athletes deserve.