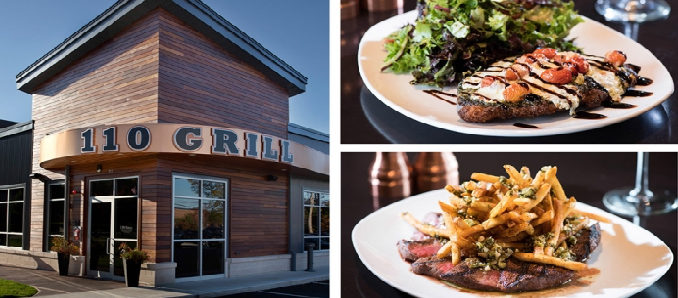 Modern-American Concept Opens Third Location in Worcester County
110 Grill Restaurant Group continues its rapid and impressive expansion with the opening of its fourteenth location in the heart of downtown Worcester, Massachusetts. Located at 123 Front Street in Worcester, MA, adjacent to the highly-anticipated AC Hotel Worcester, the 6,200 square-foot, 240-seat restaurant offers both indoor and outdoor dining, featuring modern American cuisine with unparalleled gluten-free and dietary restricted menus.
"We're thrilled to be joining the thriving neighborhood of downtown Worcester, and sharing our concept with the local community," said Ryan Dion, 110 Grill's Chief Operating Officer. "We look forward to serving the great patrons of this region and introducing our modern-American cuisine as the newest addition to the city's established dining scene."
Following the vision of Elliot Williams, Director of Culinary, 110 Grill Worcester brings his global culinary influence to the forefront with seasonally-inspired dishes. The menu is proficient in allergy awareness, offering the entire core lunch and dinner menu 100% gluten-free. Guests can enjoy seasonal favorites including Firecracker Shrimp, tempura battered and lightly fried shrimp tossed in sweet chili sauce; Pulled Pork Sandwich with slow cooked, dry rubbed pulled pork, tossed in BBQ, served on a pretzel bun with coleslaw, pickles, cheddar and crispy onion strings; Cucumber & Avocado Tuna with sliced Cajun tuna, served rare, over jasmine rice with avocado, thinly sliced cucumber and honeydew melon, finished with a light soy ginger dressing; and Roasted Beet Salad with marinated and roasted purple and golden beets, tossed with arugula, pickled onions, candied walnuts and red wine vinaigrette, finished with crumbed goat cheese. Signature items on the menu include the Chicken Cordon Bleu Sandwich with lightly fried or grilled chicken topped with swiss, shaved ham, honey mustard, leaf lettuce and tomato, served on a pretzel bun; and Shrimp & Clam Linguini with sautéed shrimp tossed in an herbed clam sauce with roasted tomatoes and linguini, finished with basil and parmesan accompanied by grilled ciabatta bread.
Known for its signature horseshoe bar, 110 Grill offers guests a variety of beverage options to pair with their meals, including craft beer from both local and national brands, a diverse wine list and a selection of signature and seasonal cocktails. 110 Grill Worcester's cocktails include Caribbean Margarita with Tres Agaves Reposado Tequila, house-made mango simple syrup, fresh lime juice and jalapeno infused agave nectar; Violet Juniper with Empress Gin, house-made honey simple syrup and lemonade finished with The Bitter Truth Elderflower Liqueur; Mango Smash with Hammer & Sickle Premium Vodka and Goslings Gold Rum, mixed with house-made mango syrup with muddled citrus; and Blueberry Pomegranate Sangria with merlot, Cold River Blueberry Vodka, Van Gogh Pomegranate Vodka, and pomegranate juice with house-made blueberry simple syrup.
In addition to Worcester and the recent openings in Stratham, NH and Athol, MA, the 110 Grill team is projected to open new locations in New England soon, including Massachusetts locations in Holyoke, Wrentham and Woburn, as well as in Albany NY, and New Hampshire locations Manchester and West Lebanon. The next location opening is expected to be Manchester, New Hampshire in July with more New England locations opening in 2019.
110 Grill Worcester will open Tuesday, May 22, 2018 at 4:00PM. The restaurant will be open thereafter for lunch and dinner Sunday through Tuesday from 11:30AM – 9:00PM, Wednesday through Thursday from 11:30AM – 10:00PM and Friday through Saturday from 11:30AM – 11:00PM. For more information please visit 110grill.com.
About 110 Grill
Modern American Cuisine in a Trendy Casual Atmosphere
110 Grill is a growing restaurant group based in Westford, MA, which currently has fourteen locations in Massachusetts and New Hampshire. Its comfortable, but yet upscale-casual atmosphere, complete with open kitchens, private dining rooms, large horseshoe-shaped bars and outdoor patios with fire pits, creates the ideal dining environment for any occasion. 110 Grill prides itself on preparing its dishes from the freshest ingredients in its scratch kitchens and offers seasonal menus and monthly specials. The organization is very committed to allergy awareness and features extensive gluten free menus. For more information, visit www.110grill.com.