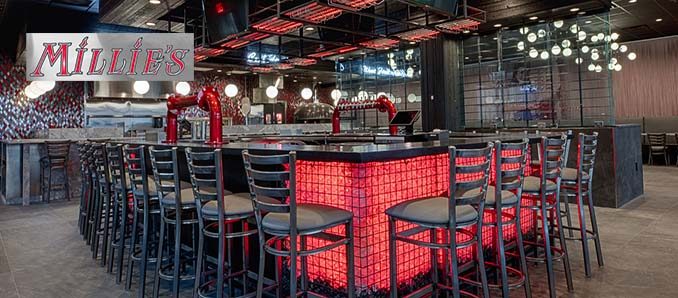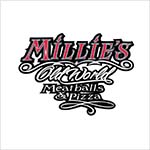 Staten Island natives and business owners, The Carrabba Brothers, bring award-winning wood and coal-fired pizzas and meatballs to their own backyard
After moving to New Jersey, Vince & Brandon Carrabba grew tired of traveling to NYC to find "good pizza" and decided to open their own restaurant. Millie's, named for their grandmother and using her recipes, is a passion project for the brothers rooted in family tradition.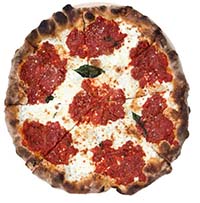 NOW OPEN
This is Millie's second location following the success of their Morristown, New Jersey spot (est. 2013), that quickly rose to the top of NJ's "Best Pizza" lists. Millie's Pizza was also awarded Top 3 Best Pizzas in the World and Best Traditional Pizza (open region) at the 2011 International Pizza Expo in Las Vegas.
Millie's is open 7 days a week serving lunch, dinner, happy hour and late night in the Bricktown Shopping Center at Charleston, 185 Bricktown Way, Staten Island.
The stunning, contemporary custom-designed restaurant was created by owner, Vince Carrabba in collaboration with SR Design Studio. Highlights include:
Custom bar features blackened steel and LED backlit panels illuminating glass stone that resembles coal embers. Hand-assembled chain link wall art made in Spain featuring Millie's image. 45-foot Brazilian quartzite stone Pizza Bar with built in wine fridge offers guests a front-row seat to pizza making in action.
Japanese charred cedar wood (Shou Sugi Ban) used throughout the space pays homage to Millies' wood burning ovens. A custom-built glass wine cellar is a magnificent showcase that holds 160 bottles that separates the bar and dining room. The menu features Millie's award-winning wood and coal-fired artisan pizzas and meatballs. A number of signature pizzas are available to choose from or you can create your own with an assortment of toppings.
Meatballs are served a variety of ways – with warm ricotta, topped with house-made fresh mozzarella, in marinara sauce or vodka sauce. Turkey meatballs are available too.
In addition to Pizza & Meatballs you will find:
– Starters and Salads –
– Chargrilled Oysters –
in herb butter topped with cheese (available at this location only)
– Calzones & Sandwiches –
– Desserts –
Millie's makes 700 lbs. of fresh mozzarella a week (per location) for use on their pizza, meatballs and dishes.
View full menu here