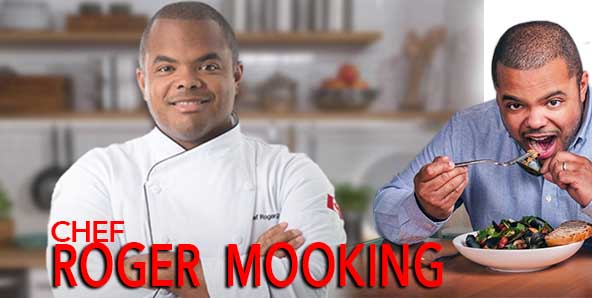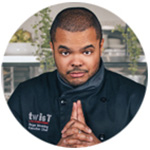 By Cristina Carpio
Celebrity Chef Roger Mooking has become one of Canada's most renowned chefs and a global culinary icon. Canadian raised but born in Trinidad, Roger is strongly influenced by his family. His grandfather migrated to Trinidad from China and opened a grocery store plus a bakery on the island. His dad owned his Chinese restaurant in Bonaire, a small island in the Caribbean. He spent a lot of time with the Chinese chefs absorbing everything he can. At 15 years old, he landed his first cooking gig and ran a breakfast line for a restaurant where he grew up in Edmonton, Alberta. But Roger was not always all about cooking; he spent a lot of his time in the recording studio. "At that point in my life, I used to take all my money from the restaurant and spend it in the recording studio".  He says he got good at making music and it dominated his life for many years. Music also had him move to Toronto at 18 years old. After two decades of performing on stage and releasing albums, Roger accomplished what every Canadian musician would dream of; he became a Juno, award-winning musician.

He claimed he eventually fell out of love with the music business and finally called it quits to focus solely on cooking. He decided to take his culinary passions seriously and enrolled at George Brown Culinary Management in Toronto. He took any job he could in the kitchen to learn and worked at a local French bistro and picked up a few skills from a Swiss-German chef. After graduation, he continued to work and got a job at a hotel's premiere restaurant working under talented Chefs brought in from France.  He learned a lot working the line and worked around some other great chefs where he had the opportunity to learn a variety of food service styles. Roger even ventured into catering and consulting on many food and beverage operations throughout his career including "Twist by Roger Mooking", located at the Toronto Pearson International Airport.  The restaurant showcases Chef Mooking's flair for incorporating global flavors and ingredients into locally sourced North American dishes.
But how did this Trinidadian-Canadian find himself traveling the world and representing Canada in the global culinary stage? His TV journey started with his first show Everyday Exotic where he was the host and co-creator. "My team sold my first show, Everyday Exotic, around the world and then to America and that is when I started working with Cooking Channel and became a part of the Food Network family".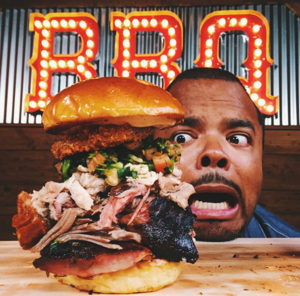 Roger even ventured into writing and became an author of an award-winning cookbook. The opportunities just kept knocking and eventually appeared and hosted some of the popular food shows which aired not only in North America but globally. His current show, Man Fire Food, is now on its 8th season. Man Fire Food is considered one of his biggest hits and his longest-running show. With the popularity only continuing to grow over the years, Roger says it is rare for a show to reach three seasons. He is thrilled that Man Fire Food surpassed and exceeded all of his expectations. " A lot of people who work on this show continue to spend a lot of time and energy into trying to continue to excite the lovers of the show." He says it gets harder every year but the team is so dedicated and always strives to keep it fresh for the fans.
Roger travels mostly around the continental USA but has also gone to other parts of the world in season 8. The show is looking to expand the borders even slightly further.  "I am seeking anyone who is passionate about uniquely cooking with live fire".  He says the uniqueness may come in the form of a technique, how they use the fire, the type of wood they use, the contraption they cook on or simply just the person's personality.  He confessed that he is infinitely curious and not so secretly obsessed with fire from a young age.
Whether it's going to Jamaica and cooking fish on the beach, or visiting Puerto Rico a couple of years before the storms to explore the beautiful island and its food, Roger certainly enjoys making friends all over the world. "We work to make our guests feel comfortable and part of our family while we are with them and that translates on camera as being very natural."
It has been an amazing experience for him to learn all different techniques from chefs, home cooks, and fire aficionados from the show. "They open their toolkit and share with me their most treasured secrets." To him, that is an honour and says that kind of access usually takes years to earn.
With everything that is going on and all the successes, how can someone stay so grounded? "I have kids who don't care that I'm on TV, I'm their dad.  I have a wife who will put me in my place if I fall out of line". He also relies on his closest friends to tell him like it is especially the ones who are Trinidadian and Caribbean just like him. Roger also credits meditation in a big way. "I spent a few tumultuous years of my life training with a monk, and he taught me many ways of self-management, one of the key tools is meditation. "It has a way of connecting you to the ground unlike anything else".
He also does a decent amount of charity work. He claims this takes him outside of his current day to day reality.  He also opens himself up to lend a helping hand when needed especially for people in the culinary industry." People trust me off the bat, and that is a blessing."  But Roger refuses to be called a mentor because he says the people who ask for advice often end up teaching him more than he could ever hope to help them.
Being a global celebrity, Roger does not take his Canadian citizenship and his heritage lightly. "I feel a responsibility and privilege to represent Canada in the world as much as I do to represent visible minorities".  In many ways, he says his perspective is very inclusive and always mindful of speaking to a global audience. His fun presence on camera is also reflective of him paying homage to other countries when filming Man Fire Food. "My goal has always been to use food as a tool to bridge people from different cultures." He finds it interesting that he can share a meal with someone and get a sense of who they are and their upbringing without even speaking the same language. He believes that there are so many nuances in the ritual of eating. His focus is on making food that is deeply rooted in a variety of cultural traditions while finding common ground. He likes making a new dish that speaks all of those languages cohesively. " I am always looking to present food in a simple, approachable package but the thought process and touch points are often poured over and refined till the food, the flavour and the respect for the story are honed."
His advice to young chefs who aspire the same goals is to build their skills before they worry about their brand. He believes time-tested brands have a solid foundation. "Great brands are all built on innovation, but before innovation can take place they need to have an intimate understanding of the fundamentals of the industry to understand how they could disrupt them in their respective ways".  He always tells young chefs that you can build a brand simultaneously, but the risk is that the foundation is not stable enough and that brand disappears just as fast as it came up. He is speaking from experience as he's seen this happen time and time again in the music and television industry specifically.
There is no stopping this husband and father of 4. He considers raising his kids and staying married to a fantastic woman and is without a doubt his most significant achievement. Success comes with a price and Roger, however, balances it all somehow. "It's a team effort, and everyone in the family is a part of the balancing act in their own way. My wife is a superhuman and a true gem of a woman."
He is also grateful to have been able to build a career as a person of colour without sacrificing his integrity and sticking to the greater goal. "In many ways, I have the added responsibility of representing minorities in a very public way, and this is something I am very aware of and try to represent as honorably as possible every day."
What's next for Chef Roger Mooking? Well, he says he doesn't know, but he sure has lots of ideas. "There are such a variety of stars that need to align at the right time in the right place at any given moment to make that next project come to fruition." He says he is always working on being better and dreaming up new things and working towards bringing those things to life.