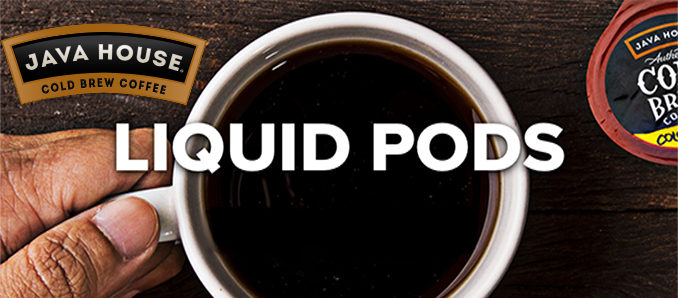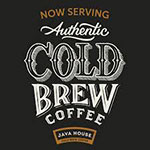 Coffee is one of the most common ways Americans kick-start their day. The latest craze seems to be drinking cold brew; a strong, yet smooth way, to obtain their morning joe. Serving cold brew at your establishment can increase sales and customer satisfaction. However, it's not easy to make batches of cold brew from scratch but with the new JAVA HOUSE® Cold Brew Coffee Pods, food services can quickly serve cold brew to their customers without the hassle of making it.
This is a product that is poised to change the game for food service locations everywhere. Traditionally, coffee grounds are brewed in hot water, which oxidizes them more quickly and causes the resulting coffee to be aromatic but very bitter. In the cold brew process, the final product is smoother, naturally sweeter and less acidic than hot-brewed coffee. JAVE HOUSE® does not use any preservatives, coffee additives, coffee derivatives or reconstituted coffee.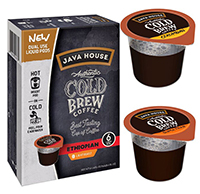 JAVA HOUSE® Authentic Cold Brew Coffee dual-use liquid pods deliver a consistently smooth flavor, whether served hot or cold. To enjoy hot, simply place a pod into a single-serve brewer for a rich yet smooth cup of coffee. To enjoy cold, peel open a pod, pour over ice, add 8 oz. of water and enjoy. It's that easy. With these innovative pods, retailers can now provide customers with a cold brew option in the single-cup coffee category for the first time.
Since the pods can be enjoyed hot, or cold, they make the perfect travel companions for customers. Leaving your favorite coffee home when going on trips is a thing of the past now, with JAVA HOUSE® pods, the compact size can easily be stored in any kind of luggage.
The pods are now available for consumer purchase at Walmart stores and other fine retailers nationwide. JAVA HOUSE® Authentic Cold Brew Coffee Pods are available in four varieties: Colombian, Ethiopian, Sumatran and Decaf. Available in 3-pack, 6-pack or 12-pack with suggested retails at $4.99, $8.99 and $15.99, respectively. To learn more, visit javahouse.com