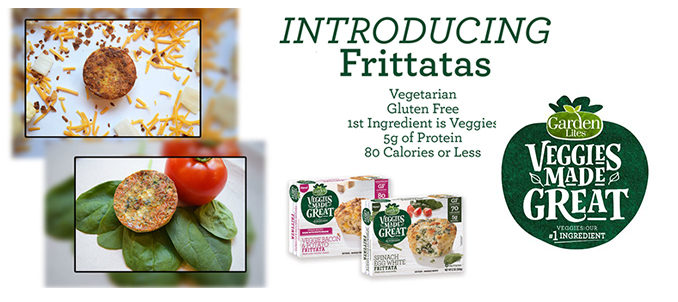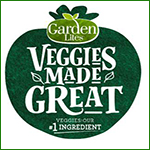 Garden Lites®, the leader in delicious veggie-rich foods, unveils a major brand refresh to strengthen its unique positioning. Garden Lites is prominently featuring its new sub-brand name "Veggies Made Great" on its packaging and boldly highlights "veggies as the #1 ingredient". "At Garden Lites we are passionate about our brand purpose: make surprisingly delicious veggie-rich foods so people can incorporate more veggies into their diet. This is a great way to strengthen our message,' notes Andy Reichgut, Executive Vice President of Garden Lites.
Garden Lites new packaging coincides with the debut of an exciting new breakfast category item, the Garden Lites Frittatas. The new Frittatas tastily add veggies into your breakfast routine with flavors including the Egg White Spinach Frittata and Veggie Bacon & Potato Frittata (with Veggie Bacon made from Pinto Beans). The new Frittata products join the existing vegetable rich line of Garden Lites products such as Garden Lites Muffins, Super Food Veggie Cakes, and Garden LitesSuperfood Mac and Cheese.
Garden Lites Frittatas can now be found in Stop &Shop, Giant Landover and select Costco stores. To see the new Frittata line visit http://www.gardenlites.com/introducing-frittatas
The bright green look of "Veggies Made Great" on every package signals a shift in the visual language in which Garden Lites proudly emphasizes vegetables as the primary ingredient in all Garden Lites products. The packaging change also helps highlight the company's dedication to clean and simple, gluten free, non-GMO, nut free and kosher ingredients as well as proudly displaying The Good Housekeeping Institute's Nutritionist Approved Emblem a prestigious seal and the first health-conscious, lifestyle-aware emblem in the food and beverage industry. The back of the package also show the ingredients in a clear veggie wheel graphic.
"This dynamic new Garden Lites packaging is a radical change sure to scream from the frozen food aisle as to why to purchase," says Andy Reichgut, Executive Vice President of Garden Lites. "We are confident that the brand refresh will drive new consumers to the brand."
The Garden Lites Frittata line is the latest product to reinforce the company as an innovative leader in the frozen food category. The Garden Lites product line continues to exceed all projections, with a sales spike of over 100 percent over the past two years. With the explosive growth still ongoing, Garden Lites recently moved to a new 40,000 square foot plant in Avenel, New Jersey, where they manufacture their broad variety of products.
Garden Lites products can be found nationwide at such retailers including: Costco, Kroger, Meijer, Target, Shop Rite, Publix, Stop & Shop, Giant, HEB, Ralph's, Fry's, and Whole Foods or at www.thehealthfoodstore.com
About Garden Lites®:
Garden Lites® is a Classic Cooking, LLC brand based in Avenel and Rahway, NJ that produces delicious vegetable snack foods. Since 2009, Garden Lites has raised the bar in healthy foods by delivering full flavor that's also veggie rich. Garden Lites has the Good Housekeeping Nutrition Seal of Approval and is the recipient of numerous awards, including Cooking Light – The Healthiest Frozen Foods in the Supermarket: Breakfast; Grocery Headquarters Trailblazer Award; Parents Magazine 25 Best Frozen Food for Families; – Gluten Free Digest Chocolate Muffins; Pioneers of Better For You: Refrigerated and Frozen Foods and Runner's World Editor's Pick.
For more information on Garden Lites products, visit www.GardenLites.com and www.thehealthfoodstore.com be sure to "Like" on Facebook and Follow on Twitter!