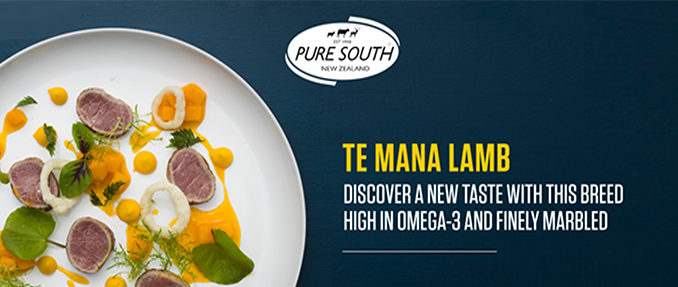 New Zealand farming cooperative Pure South breaks the rules with the debut of its new premium TE MANA Lamb.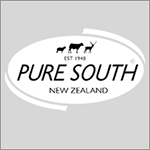 TE MANA lamb has emerged from an unprecedented 10-year programme with lamb specifically bred in the New Zealand high country. The free-range premium lamb is the result of combining the finest breed, New Zealand's unique landscape, and grazing on chicory herb pastures for 30 days. With naturally elevated levels of Omega-3 and exquisite Wagyu beef-like marbling, never before seen in lamb, TE MANA lamb is more versatile in cooking, retaining both shape and texture.
Aged for 21 days for optimum flavour, TE MANA lamb is an elite product, hailing new levels of delicacy, flavour and tenderness. It cleverly re-introduces healthy essential fats back in to lamb, due to the unique addition of intramuscular fat. This fat melts during the cooking process, much like in beef, adding a luxury flavour. Perfect for foodservice, restaurants and fine dining, UK chefs are lining up to try for themselves.
Chef Michael Wignall, who held two Michelin stars at Gidleigh Park hotel, comments:
"The flavour profile of TE MANA Lamb is extraordinary, and the ethos behind it exceptional. I went to New Zealand to see first-hand for myself and I was blown away by the environment the lambs are raised in. Farms with 60,000 hectares, mountainous ranges and being fed for the last 30 days on chicory. This unique combination has led to a unique and high-quality tasting lamb."
Pure South marketing manager Claire Bedouin adds:
"This new and exciting lamb is quite extraordinary in taste and behavior. Delicate and flavorsome it is a stand-out product for any professional kitchen. Its unique properties offer up a versatile
product which delivers both on flavour and impact whilst retaining its looks on the plate."
TE MANA Lamb offers chefs and restaurants a premium lamb with outstanding provenance, with each lamb having its own identification code and being fully traceable.
TE MANA lamb is farm assured, raised without the use of antibiotics, grass fed, free range and GMO free. Farmed in New Zealand, it is the perfect environment to rear livestock. Its vast and diverse landscape is filled with lush meadows and mountain pastures allowing the lambs to roam freely. Crucially for foodservice, supply is available all year round.
TE MANA lamb is available to purchase from Pure South in a range of pack sizes, either chilled or frozen.
Hind is available as boneless leg, femur leg, ABO leg, hind shank, rump and boneless rump cap on or off. Middle is available as boneless loin, cap on or off, tenderloin, bone in short loin, whole saddle, rib plate, frenched rack cap on or off, carres rack and standard rack. Fore is available as oyster shoulder, square cut shoulder, boneless shoulder, BRN shoulder, saratoga rack, fore shank and neck fillet. Offal's and whole carcase are also available.
www.puresouth.co.uk
Editors Notes: High res images and bespoke recipes available on request.
Alliance Group NZ is New Zealand's only true 100% farmer owned cooperative. With a turnover of 1.53Billion it is one of the world's largest lamb, venison and beef producers. It has around 4000 shareholders made up of farmers and exports to more than 65 countries worldwide.
Its sheep meats are all naturally produced, and grass-fed. Primarily marketed under its Pure South brand, their lamb, mutton and venison are farmed without the use of hormones or steroids, creating a key point of difference on the world stage.