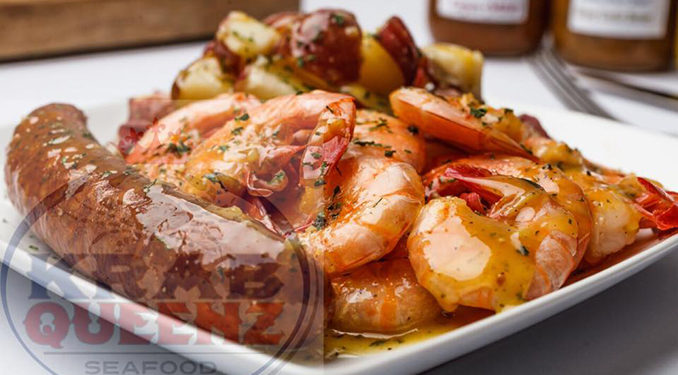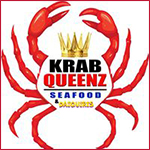 Award-winning actor, comedian and social media sensation Kwaylon Rogers, also known as BlameItOnKway, will return to his former stomping grounds of Houston, Texas for the grand opening of his first restaurant KRAB QUEENZ on November 18th, 2018. The event will kick off with an invite-only red carpet and ceremonial ribbon cutting at 12:00 PM and will then open up to the public for the grand opening festivities along with a charitable holiday toy drive. Many of Kway's celebrity friends and social media influencers will also be in attendance to lend their support.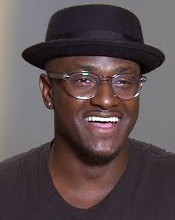 With 2 locations already established in Baton Rouge, Louisiana, Kway decided to partner with Krab Queenz and bring some Louisiana flavor to the taste of Texas. With Texas being a melting pot of culinary comfort and the people of Houston having an appetite that's almost as big as its geographic footprint, the Louisiana export KRAB QUEENZ is sure to make its mark in this great city, with it's savory seafood and delicious daiquiris. The new location will not only serve as a welcoming Houston hotspot but will provide an entertaining lifestyle and authentic southern experience for its local community and customers.
Kway prioritizes his goal to leave a legacy in the very city that pushed his career by offering good jobs, good food, good vibes and most importantly giving back. By utilizing his platform, Kway will also use Krab Queenz as a charitable hub, where he will host a variety of donation drives, fundraisers and other community initiatives.
Kway is the first and only influencer to secure social media collaborations with international stars including Janet Jackson, Jennifer Lopez, Tyler Perry and now the first influencer to officially launch a business in the hospitality industry. Together, Kway and Krab Queenz plan to create a brighter and more beautiful future for the next generation in Houston, TX while demonstrating to millennials and Generation Z that good deeds, good vibes and entrepreneurship are possible to co-exist in the same hub.
Krab Queenz Grand Opening & Ribbon Cutting Details:
Date: November 18, 2019
Address: 10852 Westheimer Road, Houston, Texas 77042
Time:
Press & Media Viewing: 12 PM – 1:00 PM
Red Carpet:1:30 PM – 2:30 PM
For press/media inquiries please contact
Derrian Perry at 281-761-1606 or by email: derrian@iamphreshy.com
Linda Luna at 310-774-1999 or by email: linda@thepowerhouseagency.com
About Kway:
Kwaylon Rogers was born on February 11th, 1991 in Dallas, Texas and raised in Oak Cliff (an urban inner-city of Dallas). Growing up in a disadvantaged community, Kway found fun in telling jokes, role-playing and pulling pranks on his family and friends. He enjoyed making people laugh including his teachers who tried their best not to allow his humor to disrupt the classroom, eventually leading him to be titled the class clown, which followed him through high school. In 2009, Kway and his family moved to Houston, where he attended TSU, majoring in Social Work. While in college, Kway worked at a local CVS, where a regular customer took notice in Kway's charismatic personality and recruited him to a position at Nordstrom in 2012. As Kway found a calling in high-end retail, his retail career would lead him to a position at Saks Fifth Avenue in 2014.
It was during that time that Kway began posting comedic and musical content on Instagram with his mom's wigs, eventually leading him to create his alter-ego character Titi in 2015. As Kway was gaining popularity, it was his 15 second viral video skit 'Bring it down 3 more notches' that made him an overnight sensation, gaining over 250 thousand new fan followers including Rihanna and Nicki Minaj. Soon after, Kway would trademark Titi's signature look with the green hair and pink lipstick. Even with the new found fame, Kway continued to work in retail as he took a position with Christian Louboutin in 2016; however, with his fame rising and in-demand booking requests, Kway took his sister's advice and took Titi seriously and full-time, thus leading him to move to Los Angeles in 2017. This leap of faith move proved to be a major blessing as Kway was hand-selected by Rihanna to be the face of the 2018 Fenty Beauty campaign for her MATTEMOIUSELLE lipstick collection. Kway has also been the first and only social media influencer to collaborate with international artists Janet Jackson and Jennifer Lopez and is working on a major project with Tyler Perry for 2019. In October 2018, Kway also premiered his first scripted show 'Titi Do You Love Me' on the new digital network Zeus Network, which received positive reviews. With the numerous viral videos Kway has created, it makes sense that he would be featured as one of Paper Magazine's 'Breaking The Internet' recipients in 2017. In addition, Kway earned the Best Social Media Comedian in the LMAO Category at the 2018 BET Social Media Awards as well as the Digital and Social Media Excellence Recipient at the 2018 Sheen Magazine's Kimmie Awards. With currently over 6 million fans on social media (Instagram, Facebook, YouTube and Twitter) and hard-earned accomplishments, there is no stopping Kway. He is a true force to be reckoned with as fans continue to anticipate his next move, so keep watching! Kway currently resides in Los Angeles, CA with his baby yorkie, Brodie.
About Krab Queenz:
Krab Queenz Seafood is known for its savory seafood and delicious daiquiris. Originating in Baton Rouge, LA by Tonique Clay, the Louisiana export is making its way to Houston in November 2018, which is co-owned by Tonique, Kway and his manager Natasha Burton.