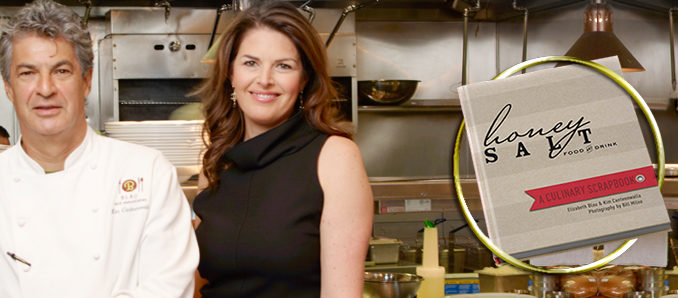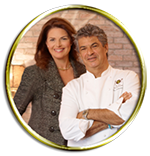 A Culinary Scrapbook by Elizabeth Blau and Chef Kim Canteenwalla
View Digital Magazine version.
Innovation is the process of creating a new method, idea or product. In the Food & Beverage world, there are leaders and there are innovators. Elizabeth Blau has managed to become both.
With an impressive career spanning nearly three decades, James Beard Award Nominee Elizabeth Blau is the founder and CEO of restaurant development company Blau + Associates and is widely credited with the transformation of Las Vegas into the world-class culinary destination it is today. It should be no surprise then that Blau's husband and partner is none other than Kim Canteenwalla, an extraordinary chef who has spent the last 40 years, since his teenage years working at the Four Seasons in Toronto, honing his craft.
A renowned restaurateur and chef respectively, Blau and Canteenwalla's unique touch thus define their work in Las Vegas and around the world. "She has become an industry leader whose passion for the business has never wavered," writes the one and only Shep Gordon in the cookbook's forward. "Her husband Kim, who is a masterful chef and has cooked around the world, shares this incredible dedication…"
Blau and Canteenwalla travel extensively. The line between life, work and adventure quickly blur when clamming knee deep in Cape Cod for exquisitely fresh inspiration for family suppers.
Whether wading waist deep in a cranberry bog, picking fresh blueberries or selecting the ripest gems in a local farmers market, the pair lives a delicious and inspiring life. As professional hosts, they have an authentic passion for generously sharing these treasures with their family, friends, and guests.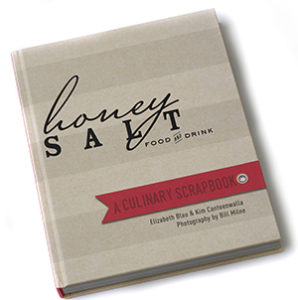 Being that Blau and Canteenwalla are long-time food professionals, each has been collecting cookbooks for decades. When the pair wed in 2003, their combined culinary library was considerable. The couple designed their Las Vegas home to be built around 25 foot, floor to ceiling, built-in bookcases to accommodate their prized collection. Collaborating on their own book one day was inevitable.
It was natural for the couple to dream of the book they would one day write to share their delectable journey. It was when Blau and Canteenwalla first opened Honey Salt that actually compiling their cookbook became a true goal. Their off-strip, farm to table restaurant became a serious dining destination for locals and tourists alike, cultivating a true sense of community in their dining room and beyond. Soon, the opportunity came to open a second Honey Salt restaurant, this time in the enchanting city of Vancouver, British Columbia. Inspiration was everywhere and the pair set out to make their cookbook dream a reality.
When Blau and Canteenwalla began to dive deeper into this project, they initially imagined a somewhat traditional collection of restaurant recipes and stories. However, innovation is something Blau and Canteenwalla bring to every endeavor. The duo wanted to bring the spirit of hospitality and the philosophy of flavor that thrive in their Honey Salt restaurants to life, all while drawing on the adventures and stories that inspired them. Blau had an idea of how to bring the two concepts together that had actually been near and dear to her heart since childhood; she had been a passionate scrapbooker since she was a little girl. The method of combining precious family photographs, moments and stories into scrapbooks had aptly allowed Elizabeth Blau to chronicle an amazing life of food, family, and friends. Family vacations became a bound book of memories. "It was so much better than boxes of photographs collecting dust and going unappreciated and not remembered," Blau said.
When Blau looked into the cookbook industry and saw that book sales were down due to the development of the digital world, she proceeded to do what she does best; innovate. The idea of a culinary scrapbook seemed like the perfect fit! Not only did it flow from Blau's lifelong passion and hobby, but it would also amalgamate the multi-dimensional aspects of hospitality, cooking, and story-telling that Blau and Canteenwalla were known for.
One real challenge lay before them; there was no such thing as a culinary scrapbook. Blau quickly found that the publishing industry did not know quite what to do with the idea nor how to position such a unique piece of material. So, more determined than ever, they decided to self-publish. In 2018, after three years, the now critically acclaimed "Honey Salt Food and Drink: A Culinary Scrapbook" was born. "This was a natural progression for us. The whole process was such an adventure, just like our stories in the book." Along the way, Blau and Canteenwalla incorporated anecdotes and sections they never even expected; from Cole's Snacks & Treats, a delightful collection of their son Cole's favorite recipes, to We Love Cheese, an Italy trip highlight turned full Formaggio education they simply could not resist. This project in some ways became a scrapbook of itself.
Honey Salt is my favorite cookbook of 2018. I love and collect cookbooks and was hoping someone would disrupt the cookbook industry with something exciting, delicious and entertaining. Elizabeth Blau has done it and exceeded my hopes.
Industry accolades confirm my assessment. Following the book's launch, Honey Salt Food and Drink: A Culinary Scrapbook is being showcased as one of the year's 10 best cookbooks from The Manual, The Food & Wine Radio Network. More accolades are sure to follow.
Blau and Canteenwalla are extremely excited about all the acclaim and support they have received. Any chance of a follow-up? "Definitely! This was our dream and such an amazing learning experience. We love the holidays, all the holidays, and I'm already working on the next book Honey Salt Holidays – A Culinary Scrapbook Part 2!!!