And It's Ninth Consecutive Year As A Michelin-Starred Restaurant Executive Chef Srijith Gopinathan Creates An Elevated Dining Experience While Focusing On Traditional Indian Recipes Using California's Freshest Produce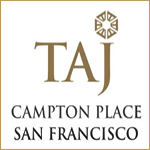 San Francisco's Campton Place Restaurant has again been awarded one Michelin Star as Chef Srijith (Sri) Gopinathan continues to evolve his signature Cal-Indian cuisine, blending California's hyper-fresh produce with the complexity of Indian spices. This award marks Campton Place Restaurant's ninth consecutive year as a Michelin-starred restaurant, firmly establishing Chef Sri's status among the culinary elite.
Chef Sri has continued to refine his signature Cal-Indian cuisine, artfully fusing California produce and cooking techniques with the regional inspiration, aromatics and traditional spice blends of India. Chef Sri's signature Spice Route tasting menu, available at the daily dinner service, offers a captivating journey through Eastern and Western flavors and showcases highly-finessed techniques and unexpected flavor combinations.
Inspired equally by his California surroundings and South Indian upbringing, Chef Sri's constantly evolving menu and experimental approach has led to the creation of signature dishes, including Campton Place's Spice Potand Maine Lobster with sago, green mango, nasturtiumand coconut. New fall menu items include Alba white truffle naan with truffle vanilla ice cream andGuinea Hen two ways, roasted with warm tomato Tokku, Kohlrabi and lime yogurt and slow cooked with root vegetables and Kallappam.
Offering exceptional service, an incredible wine list, and an iconic Union Square location within Taj Campton Place, Campton Place Restaurant is located at 340 Stockton Street in San Francisco, serving breakfast and dinner daily. For more information or reservations, visit tajcamptonplace.com/dining or call (415) 781-5555.
About Taj Campton Place
Taj Campton Place is one of San Francisco's most iconic hotels, located in the heart of the city along Stockton Street at Union Square. Part of Taj Hotels Palaces Resorts Safaris, which is known for its world-renowned landmarks, authentic Grand Palaces and idyllic beach resorts across the world, Taj Campton Place offers an unrivalled fusion of modern luxury, warm hospitality and world-class service. Featuring 110 elegantly appointed guest rooms, including nine suites, the hotel offers a Michelin-starred dining experience at the eponymous Campton Place Restaurant, led by Executive Chef Srijith Gopinathan. For further information or reservations, please visit www.tajcamptonplace.comor call (415) 781-5555.