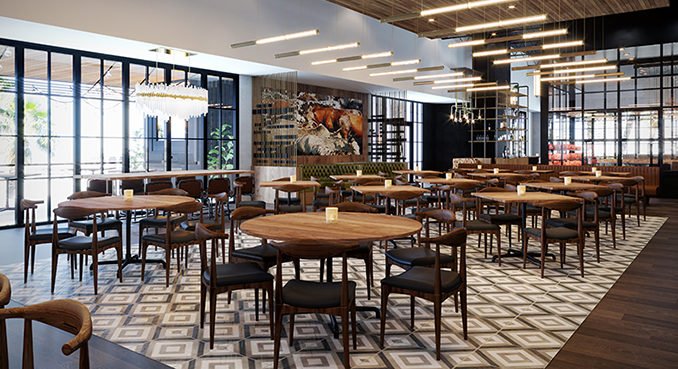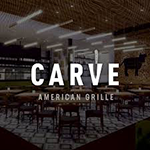 Perry's Restaurants announces their newest restaurant and bar concept, CARVE American Grille, coming to Austin in late summer 2019. Located in the new Lantana Place development adjacent to the Yeti Headquarters in the Oak Hill and Barton Creek areas of Austin, CARVE will feature an innovative menu of ingredient-focused dishes using live fire, smoke, and wood grilling techniques that enhance the ambiance and flavors. Even a signature dessert and cocktail will deliver a delicious and memorable smoky experience.
"With Austin's thriving culinary scene, we knew the city was a natural fit for CARVE's eclectic and surprising menu that we've been developing over the past several years," said Chris Perry, founder and owner of Perry's Restaurants. "We are looking forward to bringing the great quality food and service our customers have come to expect from our restaurants to this contemporary, elevated rustic setting."
"We are so excited to have this new restaurant concept by acclaimed restaurateur Chris Perry join our growing list of fine tenants in Lantana Place and know it will be heavily supported by the surrounding communities," said Beau Armstrong, CEO of project developer Stratus Properties. "Residents in this part of southwest Austin have been waiting a long time for a high-quality dining experience of this caliber."
CARVING A NEW DESIGN
The 8,800 square foot space will include the main dining room, three private dining rooms and a spacious bar with outdoor patio seating and Hill Country views. Developed in partnership with renowned restaurant architect Aria Group Architects, Inc., Carve will feature contemporary design elements and architectural centerpieces including four fireplaces on the patios, climate controlled private rooms and wooden accents to encapsulate the fire and wood grill theme. In addition, the Butcher room will pay homage to the company's heritage and butcher shop beginnings by allowing guests to take home their favorite cuts for preparation.
PERRY'S RESTAURANTS
Founded in 1979, Perry's Restaurants features concepts by renowned restaurateur Chris Perry, including Perry's Steakhouse & Grille, one of the country's premier steakhouses with 14 locations in Chicago, Denver, Birmingham and Texas, and four locations slated to open next year; two original butcher shops now known as Perry & Sons Market and Grille; as well as CARVE American Grille slated for opening in 2019. For more information and updates on Perry's Restaurants, please visit www.PerrysRestaurants.com.
LANTANA PLACE
Lantana Place is a neighborhood scale mixed-use retail and entertainment project anchored by a ten-screen MovieHouse & Eatery and a Marriott AC boutique hotel. The project will have 60,000 square feet of high-quality retail, restaurant, fitness, wellness, and medical space. The surrounding neighborhoods offer high-end housing, dense multi-family, major employers AMD, NXP, and Yeti, among others, as well as several large private schools.