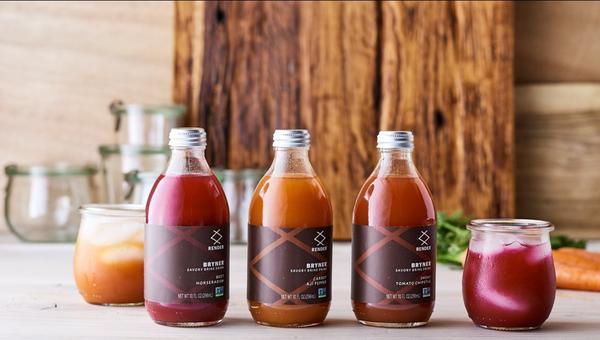 Render, the first company to partner with a range of celebrated chefs bringing innovative restaurant quality food and beverage products to consumers is launching their next chef collaborations at the show, upcycled drinks – Bryner and Weyla!
Come by their Booth #2521 (South Hall) , meet the team, and try out the new beverages as well as Render's insanely addictive (and healthy!) snack State Bird Crunch which launched last year.
Bryner – a savory, vegetable drink developed with James Beard, award-winning author, and chef Nicolaus Balla of Duna in San Francisco, famed for producing housemade versions of everything from pickles to paprika. Bryner repurposes, rather than discards, pickle brine from a local artisanal Sonoma pickle brinery. The upcycled pickle brine, which adds flavor and body, is blended with savory vegetables, vegan Worcestershire, and spices. Gluten-Free, and Non-GMO, Bryner is available in three varieties: Beet Horseradish, Smoky Tomato Chipotle, and Carrot Ají Pepper.
Weyla – a sparkling fruity beverage, was developed with James Beard, award-winning author of the Bar Tartine cookbook, and internationally acclaimed chef Cortney Burns of Loom in Massachusetts, who makes cheese to rival the best creameries. Weyla repurposes, rather than discards, whey from a local Sonoma creamery. Blended with fruit, herbs, and botanicals, whey adds delicious flavor and body to make this elevated, sustainable beverage. Inspired by the non-alcoholic pairings at Bar Tartine, Weyla is available in three aromatic varieties: Blueberry Juniper Orange, Strawberry Fennel Tarragon, and Cranberry Ginger Hibiscus.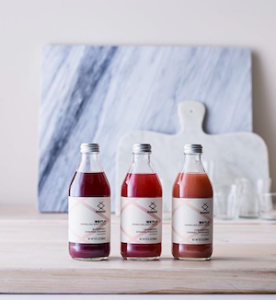 Bryner and Weyla were crafted in the spirit of honoring great ingredients and minimizing food waste. Whether enjoyed
alone, with a meal, or mixed with a favorite spirit, the beverages showcase a wellspring of culinary talent.
More on Render – Never before have restaurant chefs from around the country contributed their product ideas and creativity to a single brand. Render products don't chase nutritional trends; they deliver wholesome food made with whole ingredients because that's the way it's done in restaurants. Render was founded by chefs Dana Peck, Ali Bouzari, Dan Felder, and Kyle Connaughton, who have built and run the research and development labs of some of the world's best restaurants, they have teamed up with award-winning chefs to bring Michelin-worthy ideas from culinary icons into packaged food and drink.