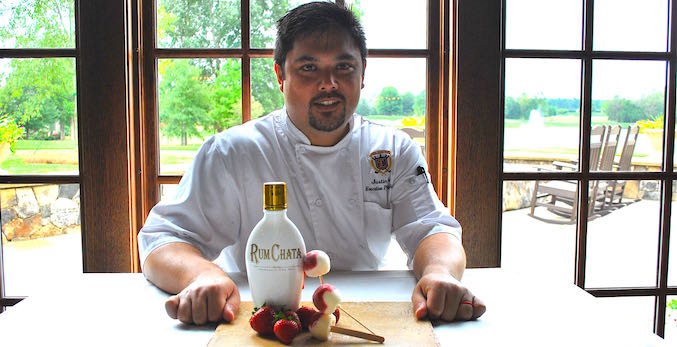 Infusing alcohol into desserts has become one of the biggest trends to hit the food and beverage market. The latest creation to join the club is RumChata infused strawberries and cream popsicles, created by pastry chef Justin Fry.
Chef Fry has extensive experience with pastries and chocolate, having studied at Johnson & Wales Culinary School and interned in Washington D.C. Now serving as the Executive Pastry Chef at The Longview Club in Charlotte, North Carolina, Chef Fry created these boozy treats for an adult pool party hosted at the club.
"The desserts I created were after different drinks." Chef Fry says, "I had an Irish coffee cupcake, a piña colada cake and a strawberries and cream popsicle."
The popsicles were a massive hit at the party, so, Chef Fry decided to give his recipe for others to make at home. This simple recipe only takes 20 minutes to prepare and can be enjoyed at any adult party.
"If somebody is going to have a cocktail party or a summer party it's a pretty versatile treat." Chef Fry says.
These popsicles are a great way to impress guests without creating a mess in the kitchen. The recipe calls for strawberry puree mixed with brown sugar and RumChata mixed with cream and seasoning to create a delicious, creamy, alcohol-infused treat.
The recipe can be found below and follow Chef Fry on Instagram, @jfry122, for more incredible pastry creations.
The Club at Longview Pastry
Recipe: Strawberries n' Cream
Ingredients:
strawberry puree
brown sugar, 142g
vanilla paste, 10g
pinch of salt
buttermilk, 480g
cream, 240g
simple syrup, 120g
Rum Chata, 120g
Yield, 1 purple flexi
Whisk the puree, brown sugar, vanilla paste, and salt. Pipe it into the purple flexi and fill half way. Then, whisk together the remaining ingredients. Pipe the cream into the molds until full. Be careful not to mix, but to swirl with the strawberries. Freeze halfway, then place sticks in the molds. Finish freezing with sticks in place.
Article written by: Ariana Baio