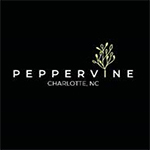 Husband and wife team, Chef Bill and General Manager Anita Greene, with Robert and Robb Lackey proudly announce the concept of their upcoming restaurant, Peppervine. In addition to helming the kitchen and dining room of Banner Elk's Artisanal, Chef Bill and Anita present their seasonally inspired, artful cuisine and elevated service at Peppervine, slated to open in January 2019. Partnering with Robert and Robb Lackey of Imagine One, the brand with a host of music, events, and restaurants such as Cafe Rule & Wine Bar in Hickory, the new restaurant is located in Charlotte, NC's SouthPark neighborhood.
Bringing his refined artistry, Chef Bill Greene leads the kitchen in presenting dishes that are intended to nourish as well as inspire. The restaurant will boast an approachable, yet upscale environment in which the menu will offer modern textures and flavors that support local farms. Chef Bill will continue to present his seasonal, progressive dishes which have already drawn attention from a range of clientele, garnering accolades such as StarChefs' Rising Star Chef Award, OpenTable Top 100, and Andrew Harper's Restaurant of the Year.
Peppervine's progressive American menu will emphasize local farms, seasonal products, wild seafood, and pasture-raised meats. The housemade products such as breads, stocks, charcuterie, and ice cream will artfully be showcased in dishes such as the baked-to-order Pimento Cheese Scones with pepper jelly and sorghum butter; Squid Ink Bucatini with charred octopus, saffron-tomato, bone marrow, and vinegar kale; Alaskan King Crabaccompanied by yuzu butter, smoked pineapple kimchi, and king trumpet mushrooms; and Smoked Pekin Duck Breast with eggplant, shishito, and umeboshi.
To complement Chef Bill's menu, Anita Greene and the team of Imagine One Hospitality will provide a welcoming environment with elevated service. As an integral part of the restaurant, thoughtful hospitality will extend through all elements of the dining experience from the well-executed cocktail to the notable wine list with sommeliers on staff. The team developed and led by Anita, will follow a rigorous training in order to skillfully provide superior service.
Wine, food, and drink come together in a warmly designed space with a light color scheme illuminated by large windows and soaring ceilings. Significant features include a prominent glass wine display showcasing the extensive wine list, rotating original artwork, and installation piece separating the dining room. The multiple dining areas, inside and out, include a private dining room and elegant bar will be ideal for casual meals with friends, celebrating special occasions, and business dinners.
The upcoming dining destination and SouthPark local hotspot is set to open in January 2019. Stay up to date on developments for Peppervine by visiting www.peppervine.com, follow on Instagram (@peppervineclt), and like the Facebook page (PeppervineCLT).
Imagine One is the parent company of a host of businesses, including air and water filtration, music & events, and restaurants such as Café Rule in Hickory. Founded by Robert Lackey more than 40 years ago, it now encompasses over 40 companies, creating more than 20,000 products that can be found in more than 45,000 stores. Imagine One is known for changing entire industries, including fan & lighting, convenience stores, and postal products. As a brand, Imagine One has a long history of revolutionary markets, bringing creativity, design, branding, innovation and developing businesses in a way to transform the consumer marketplace.