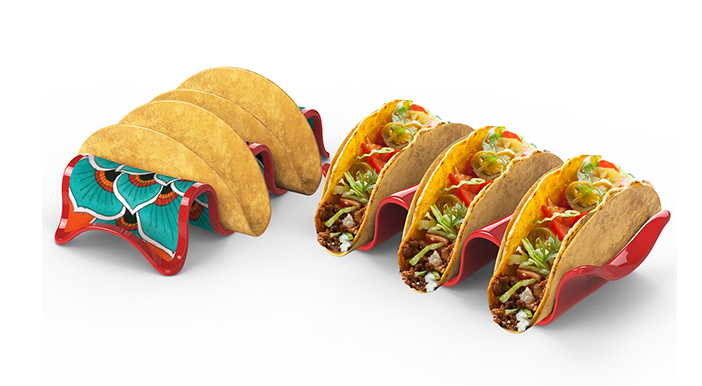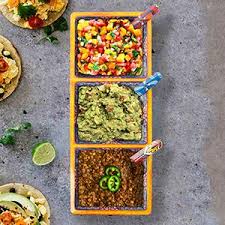 Take your March Madness and Mardi Gras parties to a whole new level with Prepara's amazing Taco Accessories. Prepara has everything you need to make your taco meal a state of perfection! Check out the Single and Multi Taco Holder for assembling your tacos, the Taco Spoons to help load up your tacos, the 3 Section Taco Tray for piling up the fillings, and the Taco Savor for keeping the tortillas warm. Every day is taco day with Prepara's Taco Accessories. Check out Prepara's taco accessories below!
Prepara's brand mission is to create high-quality kitchenware products that are ingenious, novel and utilitarian: each one designed for the enjoyment of people looking to eat and prepare healthier, tastier food while embracing a lifestyle of well-being and longevity. Enjoy good food!
The Single and Multi Taco Holder has a beautiful soft shape for cradling your yummy tacos. The decorative holder has the look of traditional ceramic with a durable melamine construction. Works with both soft and hard taco shells. Available in blue, red and yellow with unique graphic patterns. (Single $3.99 and Multi $6.99).
The Taco Spoons (Set of 2) are uniquely designed and make filling and packing tacos easy. Perfectly sized to fit between shells, these spoons ensure less mess and more taco enjoyment. Available in yellow, blue and red ($4.99).
The 3 Section Taco Tray has connected bowls for serving all the taco fillings. Perfect for passing around the table and pairing with Taco Spoons. Made from melamine construction. Available in blue and yellow with unique patterns ($24.99).
The Taco Savor is great for tacos, burritos and fajitas. The Tortilla Savor keeps your warmed wraps ready to eat. Holds up to 24 corn or four tortillas. ($26.99).